Breaking News, Latest Updates Highlights of August 14
Updated: Wed, 14 Aug 2019 07:50 PM IST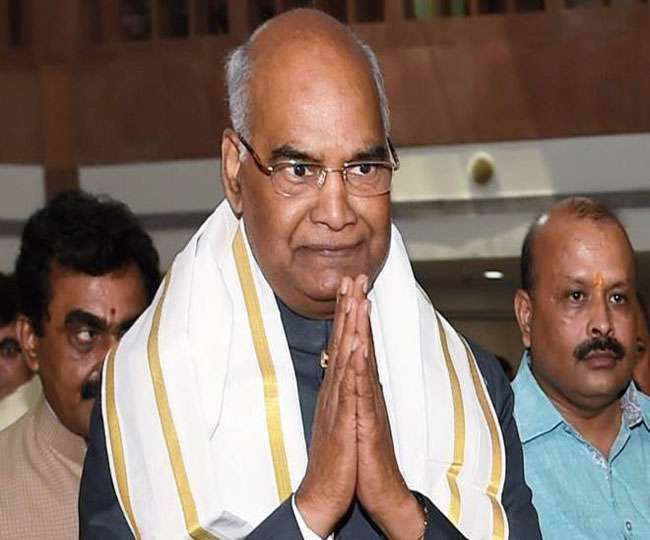 New Delhi | Jagran News Desk: In our Jagran English's latest updates blog, we try to cover all news that is impacting readers. Here we provide a 360-degree coverage on all genres including politics, business, India, world, sports and entertainment.
Today we will have a special focus on the crisis going in Kashmir and the political reactions on it.
Here are Highlights of August 14:
19:21 pm: President Kovind: Our country has reached the pinnacle of innovation, science and technology with the nation's Chandrayaan and Mangalyaan projects
19:20 pm: President Kovind: India has always flourished on the principle of 'live and let live'. Our culture has always been that of inclusivity, with people of different languages, cultures and regions living together with brotherhood and unity.
19:19 pm: President Kovind: Earlier this summer, the people of India participated in the 17th general election, the largest democratic exercise in human history. For this, I must congratulate our voters. They turned up at polling stations in large numbers & with much enthusiasm.
19:17 pm: President Kovind: In all the parts of the nation, communication means are being expanded. Better roads are being constructed. Transportation infrastructure is also being strengthened. Roads are being constructed in the hinterlands. Air connectivity is being bettered and air fare has been made more affordable.
19:13 pm: President Kovind: These include progressive, egalitarian laws and provisions related to RTE; accessing public info through RTI; reservations in education and employment and other facilities for deprived communities; and justice for our daughters by abolishing unequal practices such as instant triple talaq.
19:12 pm: President Kovind: I'm confident that the recent changes made in Jammu-Kashmir and Ladakh would be of immense benefit to those regions. They will enable the people to access and enjoy the same rights, same privileges and same facilities as their fellow citizens in the rest of the country.
19:10 pm: President Kovind: The Parliament has functioned extraordinarily this session and many important bills have been passed. I hope and wish that state assemblies will also follow this trend.
19:09 pm: President Kovind: It is our responsibility of the citizens of the country to work towards the growth and progress of the country.
19:08 pm: President Ram Nath Kovind: This year also marks the 550th birth anniversary of one of the greatest, wisest and most influential Indians of all time Guru Nanak Dev ji. He was the founder of Sikhism but the reverence and respect he commands go far beyond just our Sikh brothers and sisters.
19:07 pm: President Ram Nath Kovind: We complete 72 yrs as a free nation at a very special juncture. In a few weeks from now, on 2 October, we will celebrate the 150th birth anniversary of the Father of our Nation Mahatma Gandhi, the guiding light of our successful effort to liberate our nation.
19:05 pm: President Kovind: Gandhiji's guidance is relevant even today. This is the day when we feel love for our nation deeply.
19:02 pm: President Ram Nath Kovind addresses the nation on Independence Day eve.
19:00 pm: President Ram Nath Kovind to address the nation shortly on Independence Day eve.
18:57 pm: EAM S Jaishankar at the launch event of MEA Performance SmartBoard: Our government has consistently striven towards expanding the use of different transparency tools across ministries. The creation of Dashboards is one such approach to make sense of a large quantity of data that the Ministry receives.
17:59 pm: Delhi: TMC MLA Sovan Chatterjee meets BJP Working President JP Nadda. Chatterjee joined the party earlier today.
15:40 pm: AgustaWestland case: Christian Michel seeks regular bail in both cases filed against him by Enforcement Directorate (ED) & Central Bureau of Investigation (CBI). Michel is currently lodged in Delhi's Tihar Jail.
A special court has sought a response from the Central Bureau of Investigation (CBI) and Enforcement Directorate (ED) on bail plea of Christian Michel in Agusta Westland case. Hearing on the plea to be held on 19th August.
15:04 pm: Indian Meteorological Department (IMD): Red alert issued for Malappuram, Kozhikode and Kannur for today.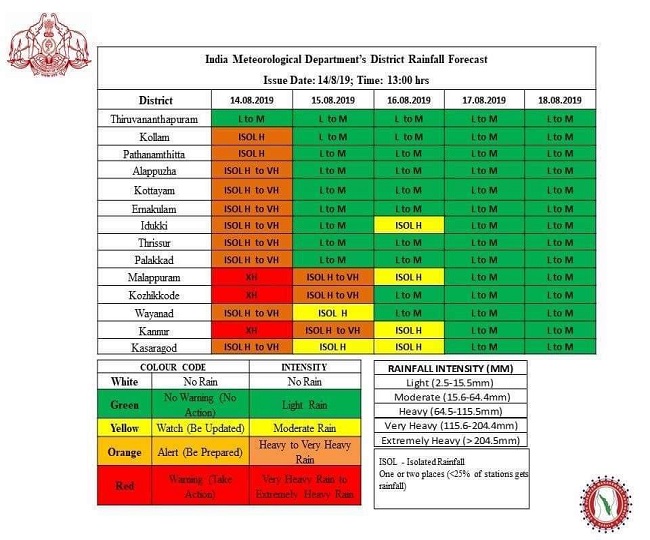 15:02 pm: Bharatiya Janata Party (BJP) suspends former Himachal Pradesh Minister Anil Sharma from the party.
14:34 pm: Kashmir politician Shah Faesal arrested in Delhi while going abroad, taken back to Srinagar
13:10 pm: All India Tennis Association(AITA) has written to International Tennis Federation(ITF) asking to change venue of upcoming Davis Cup or postpone it for some time until situation is bit sorted. In this situation, we can't go and play in Pakistan. We've mailed ITF regarding this.
12:58 pm: Hearing on Ratul Puri's anticipatory bail plea in Delhi High Court, deferred for 20th August. Court has asked the Enforcement Directorate to file a status reply in the matter.
12:50 pm: Department of Information and Public Relations, Jammu & Kashmir: Fake news is being spread in name of DC Anantnag, Khalid Jehangir on social media. Divisional Commissioner Kashmir has referred matter to Cyber Crime investigation team with directions to arrest miscreants involved.
12:33 pm: Indian Air Force's Wg Cdr Amit Ranjan, Sqn Ldrs Rahul Basoya, Pankaj Bhujade, BKN Reddy, Shashank Singh awarded Vayu Sena Medal (Gallantry) for bombing Jaish-e-Mohammed terrorist camp in Pakistan's Balakot town. All officers are Mirage 2000 fighter aircraft pilots.
12:09 pm: Mashaal Malik, wife of arrested separatist leader Mohammad Yasin Malik, addressed a flag hoisting ceremony in Islamabad, on Pakistan's Independence Day today: ANI
11:46 am: Notice to Airmen (NOTAM) at Delhi Airport is applicable only for Chartered (non-scheduled) flights, from 6 am to 10 am and 4 pm to 7 pm, on August 15. Transit flight can't operate during the NOTAM period, Schedule flights to operate as per their schedule.
There will be no impact of NOTAM at Delhi Airport on aircraft of IAF, BSF, Army or Aviation. State-owned aircraft/helicopter can fly with the Governor/Chief Minister of State.
11:28 am: Ayodhya land case: Advocate CS Vaidyanathan, appearing for a Hindu party, says "Wiliiam Foster published a book 'Early Travels in India' which contains accounts of seven English travellers to India. The books describe Ayodhya and building of Ram temple"
11:28 am: Ayodhya land case: Advocate CS Vaidyanathan, appearing for a Hindu party, says "during the reign of Akbar and Jahangir, there were early travelers to India like William Finch, William Hawkins who made references in their writing about Ayodhya.
11:10 am: It is belief of Hindus that Ayodhya is Lord Ram's birthplace; court shouldn't go beyond to see how rational it is: Deity's counsel to SC.
10:54 am: Indian Army's Sapper Prakash Jadhav of 1 Rashtriya Rifles (Mahar) to be conferred with Kirti Chakra (posthumously) on August 15, for his gallant role in operation in Jammu and Kashmir. Eight Army personnel to be conferred with Shaurya Chakra, five of them posthumously.
10:52 am: Ayodhya land case: Hearing in the case has started in Supreme Court. It is the 6th day of the day-to-day hearing in the case.
10:31 am: Former TMC MP Kunal Ghosh to appear before Enforcement Directorate (ED), today, for further interrogation in connection with Saradha chit fund case. He had earlier appeared before ED on 17th July.
10:31 am: Indian Air Force's Squadron Leader Minty Agarwal to be conferred with Yudh Seva Medal for her role as a fighter controller during the February 27 aerial conflict between India & Pakistan post IAF airstrikes in Balakot.
10:31 am: Indian Air Force's (IAF) Wing Commander Abhinandan Varthaman to be conferred with Vir Chakra on Independence Day.
10:16 am: BJP Working President JP Nadda to chair a meeting of party's General Secretaries at party headquarters in Delhi today evening. Party's membership programme to also be reviewed in the meeting.
9:25 am: Central Railway: Due to heavy rains and water logging/landslide on Mumbai and Pune divisions of Central Railway, Miraj-Londa section on South Western Railway and Southern Railway, the following trains are cancelled/short originated/short terminated/diverted today: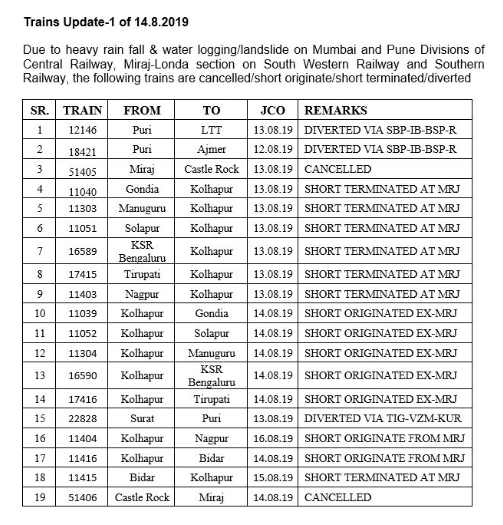 8:19 am: Faridabad Deputy Commissioner of Police (DCP), Vikram Kapoor, has allegedly committed suicide at his residence by shooting himself. More details awaited.
Posted By: Aalok Sensharma