Breaking News Latest Updates Highlights of August 11
This is done to ensure that our readers don't miss any important update which might impact them.
Updated: Sun, 11 Aug 2019 04:28 PM IST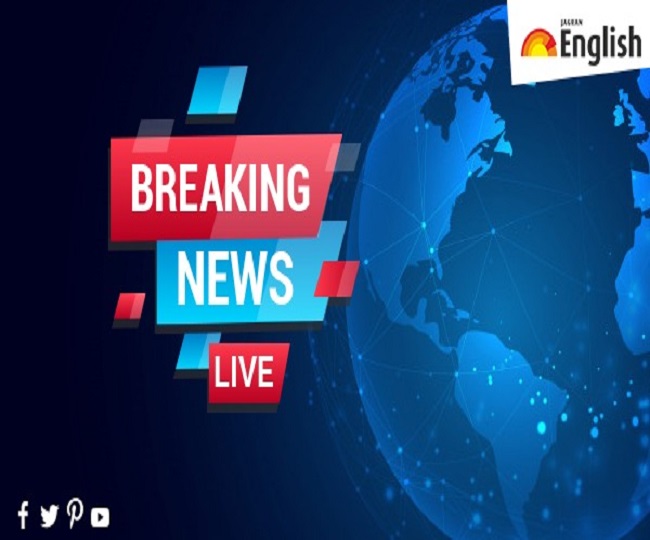 New Delhi | Jagran News Desk: At Jagran English, we try to provide all the relevant news to our readers. We release that everything that happens around the world does not impact our readers and that's why we have decided to come up with this idea of 'one page' and 'one-click'.
So today Jagran English will keep you updated with the latest developments of the day.
Here we provide a 360-degree coverage on all genres including politics, business, India, world, sports, and entertainment.
Here are the Highlights of August 11:
04:18 pm: Kolhapur: Food materials are being collected and kept in a madrasa in Shiroli to help flood-affected people. The food materials will be distributed among people in the flood-hit areas
04:00 pm: J&K Civil Administration: 300 special telephone booths being established to help the public communicate with relatives. Liaison Officers activated through Resident Commissioner, Delhi in various places including Aligarh to held students from J&K communicate with families&celebrate Eid. The government has made sufficient stocking of essential items. Wheat has been stocked to suffice for 65 days, rice for 55 days, mutton for 17 days, poultry for 1 month, Kerosene Oil for 35 days, LPG for 1 month, High-Speed Diesel (HSD) & petrol for 28 days.
03:55 pm: Andhra Pradesh: Two dead and one injured in a fire that broke out in Aurobindo Pharma factory in Pydibhimavaram village of Srikakulam. Police at spot, investigation underway.
03:50 pm: Delhi Police: Police Control Room call received at Farsh Bazar(Shahdara) at 9:05 am today that friend of the person calling committed suicide by hanging, the video of which he(caller) saw on Facebook. Body sent for post-mortem. Deceased was a Delhi Metro employee. Probe underway
03:45 pm: Jammu and Kashmir Raj Bhavan: Governor Satya Pal Malik has extended warm greetings to the people on the auspicious occasion of Eid-ul-Azha and prayed for their well-being and prosperity.
03:30 pm: Punjab CM's Office: Expressing concern on reports of 'discernible slowdown' in Pakistan's activities for #KartarpurCorridor development, CM Capt Amarinder Singh urged Pak not to back out from their commitment on the project, which is of supreme religious importance to Sikh community
03:00 pm: #Maharashtra: A relief camp has been set up by the Rashtriya Swayamsevak Sangh (RSS) in flood-affected Sangli district. The organization will also distribute food packets to people in the area.
02:35 pm: Union Minister Dr Jitendra Singh: Common man in Kashmir is rejoicing abrogation of Art370. Wherever Section 144 was imposed, it is being taken off. On the eve of Eid, there is much more atmosphere of peace this time compared to several other occasions of Eid in the years gone by.
02:20 pm: West Bengal: Zomato food delivery executives in Howrah are on an indefinite strike protesting against delivering beef and pork, say, "The company is not listening to our demands & forcing us to deliver beef & pork against our will. We have been on strike for a week now."
01:35 pm: Indian Air Force: Mi-17 rescued 6 people stranded near Narayanpur Dam, Raichur district, Karnataka. A pregnant woman in need of medical aid was attended to by an IAF medical officer on-board the helicopter and later transferred to a hospital on landing.
01:25 pm: Chennai: Union Home Minister, Amit Shah today released the book 'Listening, Learning and Leading' on Vice-President Venkaiah Naidu's two years in office.
1:10 pm: Kerala: Flight operations from the Kochi international airport have been resumed.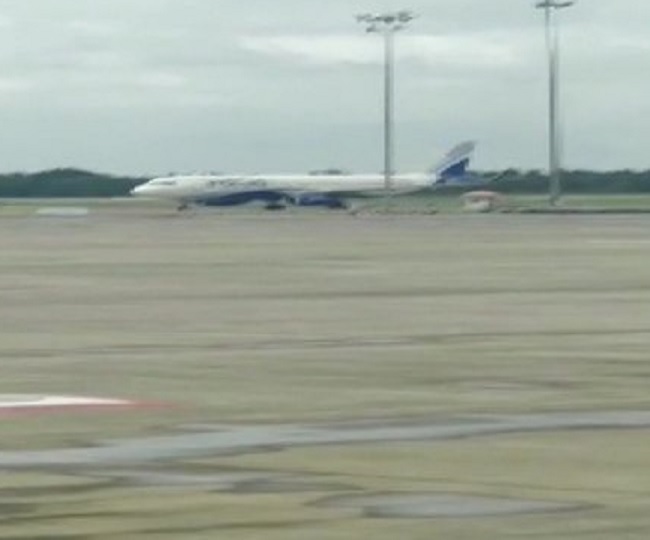 01:05 pm: Gonda: A woman was tied to a tree and was thrashed on the suspicion of child-theft in Raheli village under Nawaganj Police Station. Police say,'A case has been registered and 9 people have been arrested; strict action is being taken.
12:45 pm: Rear Admiral Mahesh Singh NM,Flag Officer Commanding Karnataka Naval Area:Navy has deployed 8 relief teams&2 helicopters in Belagavi&Uttar Kannada dist. The teams have so far managed to rescue nearly 2,200 people. As of y'day evening,waters have started receding
12:40 pm: Jannayak Janata Party (JJP) leader, Dushyant Chautala during a press conference in Delhi: Bahujan Samaj Party and JJP will contest Haryana assembly elections together.
12:10 pm: Prime Minister Narendra Modi, Defence Minister Rajnath Singh and Union Home Minister Amit Shah to attend the prayer meeting of late Former EAM & BJP leader Sushma Swaraj, on 13th August in Delhi.
12:06 pm: Rahul Gandhi tweets, "For the next few days I will be based in my Lok Sabha constituency, Wayanad (#Kerala) that has been ravaged by floods. I will be visiting relief camps across Wayanad and reviewing relief measures with District & State officials."
11:58 am: Kerala Chief Minister Pinarayi Vijayan: 60 deaths have been confirmed until today in the state.
11:50 am: Amit Shah: As a legislator, I firmly believe Art 370 should've been removed long ago. As a Home Minister, there was no confusion in my mind about the consequences of removing Art 370. I'm confident terrorism in Kashmir will finish & it'll move ahead on the path of development now
11:33 am: Tamil Nadu: Water-level in Hogenakkal waterfall increases after water is released from the Krishna Raja Sagara dam in Karnataka.
11:25 am: Delhi: Finance Minister Nirmala Sitharaman holds a meeting with representatives from the real estate sector and home buyers.
11:15 am: 12th batch of Kailash Mansarovar pilgrims return to India via Lipulekh Pass on the India-China border, after completing the pilgrimage.
11:00 am: Maharashtra: Incessant rains in the Kolhapur region has led to damage to property; villagers in Shiroli collect water as floodwaters begin to recede.
10:24 am: I-T Department conducted a search&seizure operation on Aug 6 in the case of one of the major producers of beer and Indian-made foreign liquor (IMFL) in Tamil Nadu. The search action was launched at 55 premises at various places in Tamil Nadu, Kerala, Andhra Pradesh & Goa. The search action by I-T Department at various places in Tamil Nadu, Kerala, Andhra Pradesh & Goa on August 6, has thus far resulted in the detection of undisclosed income of Rs 700 crore which had not been disclosed for taxation.
09:50 am: Kerala: 9 bodies have been recovered so far in the incident of landslide that occurred at Kavalappara, Nilambur in Malappuram district on August 8.
09:40 am: Chhattisgarh: Security personnel, school students and locals in Raipur form a 15-km long human chain holding the tricolour, ahead of Independence Day.
09:34 am: Maharashtra: National Disaster Response Force (NDRF) personnel carry out rescue & relief operations in Sangli district.
09:19 am: Due to flooding, landslides and trees & boulders falling on railway tracks caused by heavy rains, and consequent disruption of rail traffic, the following changes have been made in train services in #Kerala.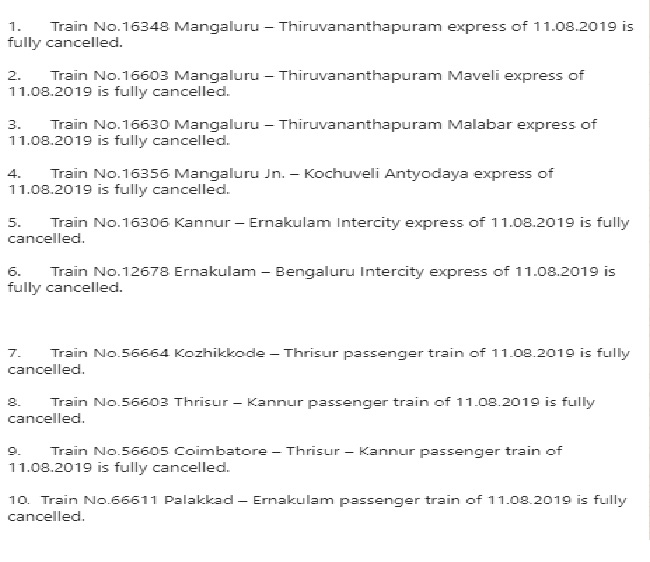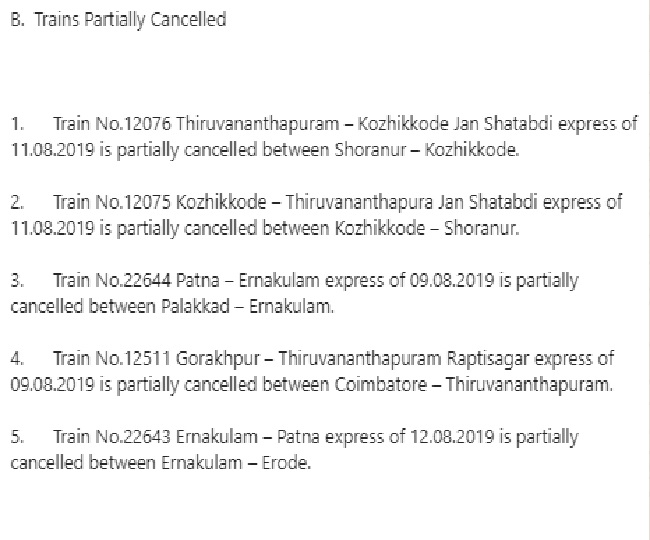 09:16 am: At least 22 people died in Gujarat on Saturday as torrential rains battered central Gujarat, while rains in Kerala have claimed 57 lives in last 3 days.

09:12 am: Union Home Minister Amit Shah will do an aerial survey of the flood-affected areas of Belagavi district, Karnataka today
09:09 am: #JAMMU: People trade at a livestock market in the city ahead of #EidAlAdha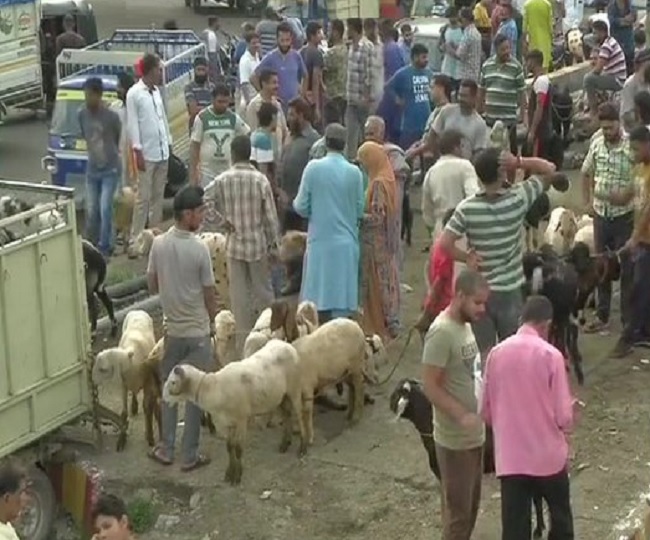 Posted By: Talib Khan