Breaking News Latest Updates Highlights of April 9
Breaking News Latest Updates Highlights of April 9
Updated: Fri, 09 Apr 2021 04:43 PM IST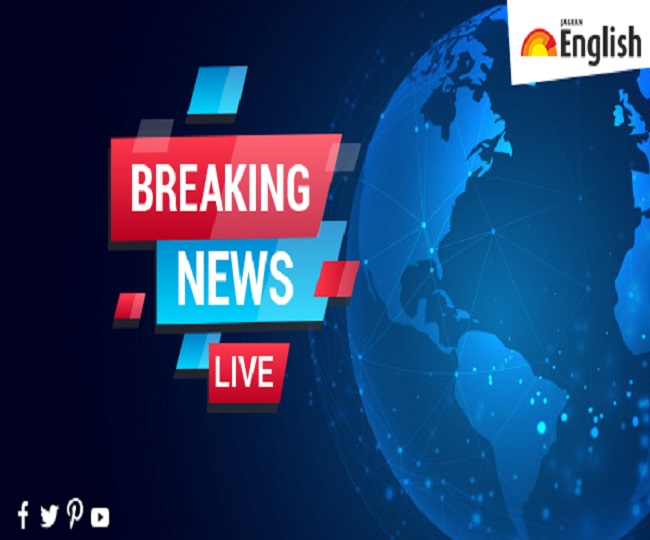 New Delhi | Jagran News Desk: Each and everything that happens around us impacts in some way and that's why it becomes important for us to know what's happening around the world. Thus at English Jagran, we provide our readers with 360-degree coverage in all genres to give them a brief insight into what's happening around the world.
Here are the Highlights of April 9:
3;30 pm; A Special NIA Court in Mumbai allows CBI access to the documents with NIA for CBI's preliminary inquiry against Anil Deshmukh
3;15 pm; Mumbai: Court sends suspended Mumbai Police Officer Sachin Waze to judicial custody till 23rd April, he was in NIA custody earlier. Waze is an accused in Mansukh Hiren death case.
2;50 pm; Madhya Pradesh: Indore Municipal Corporation (IMC) has employed 700 rag pickers on its trenching ground. "Credit for this initiative goes to Swachh Bharat Urban Mission, which aims is skill rag pickers so that they can work in the organised sector," says Commissioner, IMC.
2;30 pm; Odisha: Long queues seen outside vaccination centres in Bhubaneswar, people allege that mismgmt by the centre & reports of vaccince shortage caused this. A woman in the queue says, "I've been standing here for long. People with offline & online bookings standing in same queue."
2;15 pm; National Conference leader Omar Abdullah says that he has tested positive for #COVID19. He is asymptotic and is self-isolating at home
2;00 pm; Delhi CM Arvind Kejriwal has called Dr DS Rana, chairman of Sir Ganga Ram Hospital for a meeting after 37 doctors of the hospital tested positive of covid.
1;45 pm; Train services will continue to be provided as per the demand. There is no shortage of train services and no plan to stop train services: Suneet Sharma, Chairman & CEO, Railway Board
1;30 pm; West Bengal: Convoy of Union Minister Gajendra Singh Shekhawat was allegedly attacked by TMC workers in south Kolkata, yesterday. Stones were also pelted on the convoy.
1;15 pm; Union Home Minister and BJP leader Amit Shah holds a door-to-door campaign in Bhawanipur of Kolkata, ahead of the fourth phase of Bengal polls
12;50 pm; The book has been published in the year when the nation is celebrating Azadi Ka Amrut Mahotsav. This yr also marks 100 yrs of the incident when Harekrushna Mahtab left college & joined in the freedom struggle. When Gandhi ji started Dandi Yatra, he led the movement in Odisha: PM
12;40 pm; Delhi: Prime Minister Narendra Modi releases a Hindi translation of the book 'Odisha Itihaas', written by 'Utkal Keshari' Harekrushna Mahtab. Union Minister Dharmendra Pradhan and BJD MP & son of Harekrushna Mahtab, Bhartruhari Mahtab also present at the event.
12;00 pm; In the three phases, BJP has got unprecedented support from the people of Bengal. As per our estimation, BJP will win between 63 to 68 seats in the three phases: Home Minister and BJP leader Amit Shah in Kolkata
11;45 am; Fire breaks out at a building in Ghodbunder Road, Thane. One fire engine is at the spot, fire fighting operation underway. Around 20 people are stranded in the building: Thane Municipal Corporation (TMC).
11;30 pm; Ahmedabad: A fire that broke out at Ankur School in Krishna Nagar has been brought under control and cooling process is underway. No casualties reported.
11;10 am; In the wake of rising #COVID19 cases, KGMU administration has decided to conduct screening of various departments. On 7th April more than 30 doctors had tested positive here and screenings are being done since then: Sudhir Singh, Spox, King George's Medical University, Lucknow
10:50 am: Mumbai NCB conducted raids in four locations across the city. Following the raid, four drug peddlers have been arrested in possession of drugs: NCB official
10;35 am; All the public religious services in Churches, Chapels & institutions of Bengaluru Urban & Bengaluru Rural districts of our Archdiocese will be suspended from 7th to 20th April. However, Churches/Chapels maybe kept open for private visits and adoration: Archdiocese of Bangalore
10;25 am; Pune: Case registered against at least 50 traders at Vishrambaug Police station for violating COVID guidelines during their yesterday's protest against restrictions imposed by state government, in view of rising COVID cases
10;15 am; Delhi: Two men arrested for robbing people by using two monkeys. The monkeys have been handed over to the Wildlife SOS centre. Police had received a complaint on 2nd March that the two had released the monkeys on a man and robbed him of Rs 6000. One more accused is absconding.
10;00 am; Election Commission of India issues notice to CM & TMC leader Mamata Banerjee asking her to explain her stand by 10th April, regarding her statements against Central Forces on 28th March & 7th April This is the second notice issued to her by Election Commission
9;45 am; 25,40,41,584 samples tested for #COVID19 up to 8th April 2021. Of these 13,64,205 samples were tested yesterday: Indian Council of Medical Research (ICMR)
9;30 am; India reports 1,31,968 new #COVID19 cases, 61,899 discharges, and 780 deaths in the last 24 hours, as per the Union Health Ministry Total cases: 1,30,60,542 Total recoveries: 1,19,13,292 Active cases: 9,79,608 Death toll: 1,67,642 Total vaccination: 9,43,34,262
9;15 am; In view of surge of #COVID19 patients, all the non-COVID services provided at Rajiv Gandhi Super Speciality Hospital are hereby suspended with immediate effect till further orders: Rajiv Gandhi Super Speciality Hospital, Delhi
9;00 am; Maharashtra: Crime Branch of Mumbai Police recovered 272 Remdesivir injections that were kept at a shop in Andheri for black marketing. Two persons have been arrested.
8;45 am; Proceedings shall be held physically or virtually or in a hybrid of the 2 modes as per existing notifications. Physical appearance & examination of witnesses in the suit court are postponed to a date after 30th April subject to review of the COVID situation: Calcutta High Court
8;30 am; Shopian encounter: Three terrorists killed. Two more terrorists firing from inside the mosque. Encounter is still going on.
8;20 am; West Bengal: Girindra Nath Barman,TMC candidate from Mathabhanga, was allegedly attacked by BJP workers while he was returning from election campaign, yesterday. "BJP goons vandalised his car & attacked him. He has sustained head injuries. We demand action," said a TMC worker.
8;10 am; Encounter has started at Nowbugh in Tral area of Awantipora. Police and security forces are carrying out the operation. Details awaited: Kashmir Zone Police
8:00 am: CM said that for the Corona curtailment, the wearing of masks should be implemented strictly. If people do not wear masks they should be fined Rs 1000 per person: Telangana Chief Minister's Office (CMO)
7:49 am: CM K Chandrashekhar Rao urged people in Telangana state to follow all Covid guidelines&be alert to contain the spread of Covid. CM suggested that in crowd rush places like Hyderabad, Rangareddy&Medchel districts people in Corporations&Municipalities should be alert. CM instructed the officials concerned to increase the Corona tests, as there is a surge in the Corona cases. He said all the front-line workers should be vaccinated cent percent. The CM wanted the entire process should be completed in a week's time: Telangana CMO
7:41 am: 700 vaccination centres could not work for two days due to vaccine shortage. With the stock we've, we can continue vaccination for two days (till April 9) & we expect to get vaccines within two days: Bijay Panigrahi, COVID-19 Vaccination In-Charge in Odisha
7:30 am: Earlier today, a configuration change caused Facebook services to be unavailable to some people. Since then, we have quickly investigated and resolved the issue: Facebook
7:22 am: Print and Electronic Media shall be exempted from restriction of movement during night curfew on production of valid identity card instead of possession of e-pass: Delhi government
7:10 am: 37 doctors of Delhi's Sir Gangaram Hospital test positive for COVID19: Hospital sources
Posted By: Talibuddin Khan