Breaking News April 7 LIVE: Tripura CM Biplab Kumar Deb tests positive for COVID-19
Catch all the LIVE Updates here
Updated: Wed, 07 Apr 2021 02:53 PM IST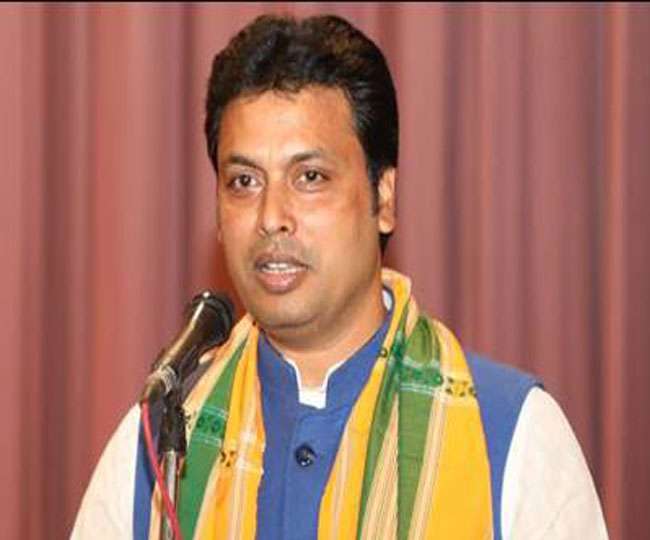 New Delhi | Jagran News Desk: Each and everything that happens around us impacts in some way and that's why it becomes important for us to know what's happening around the world. Thus at English Jagran, we provide our readers with 360-degree coverage in all genres to give them a brief insight into what's happening around the world.
Here are the LIVE Updates of April 7:
2:50 pm: Union Home Minister and BJP leader campaigns for Rajib Banerjee, party candidate from Domjur constituency in Howrah.
2:25 pm; FIFA suspends Pakistan Football Federation due to third-party interference
2:15 pm: Mumbai: CBI has submitted an application in Special NIA Court seeking permission to investigate suspended Mumbai Police officer Sachin Waze during its preliminary inquiry over corruption allegations against former Maharashtra Home Minister Anil Deshmukh
2:00 pm; We want free & fair polls, public should be allowed to cast their votes. CRPF shouldn't obstruct them from entering the polling center. I respect CRPF who are real jawans but I don't respect BJP CRPF who are doing nuisance, attacking women & harassing people: WB CM in Cooch Behar
1:45 pm: Punjab Government imposes night curfew from 9pm-5am across the entire State till April 30, also bans political gatherings in the State
1:25 pm: The price of COVID19 drug Remdesivir to be capped between Rs 1100-1400 per dose. We need a high number of Remdesivir doses as 50,000 doses are consumed daily in the State: Rajesh Tope
1;10 pm: We have a vaccine wastage rate of 3% in Maharashtra which is half of the national average vaccine wastage rate of 6%: Maharashtra Health Minister Rajesh Tope on COVID19
12:50 pm: West Bengal: Union Minister and BJP leader Amit Shah holds a roadshow in Singur.
12:35 pm: We are working on war footing to increase the number of beds in Pune, Mumbai, Nashik and other parts of the State: Maharashtra Health Minister Rajesh Tope
12:25 pm: Tripura CM Biplab Kumar Deb tests positive for COVID19
12;10 pm: Odisha reported 791 new #COVID19 cases, 266 recoveries and 1 death on April 6. Total positive cases: 344647 Total recovered cases: 338416 Active cases: 4255 Death toll: 1923
11:55 am: Cumulative Vaccination Coverage exceeds 8.7 Crores with more than 33 Lakh doses given in the last 24 hours. More than 33 lakh vaccination doses were administered in the last 24 hours: Ministry of Health
11:40 am: The report submitted by Mumbai Police states, "Sachin Waze was posted in Crime Intelligence Unit after oral instructions from the then Police Commissioner Param Bir Singh. Waze was reporting to Singh directly, bypassing several other officers".
11;35 am: Mumbai Police Commissioner Hemant Nagrale has submitted a report to Maharashtra Home Department about the reinstatement of Sachin Waze and his nine months tenure in Mumbai CIU, Crime Branch
11;25 am: If a jawan reports to his duty a day after his leave ends then action is taken against him. Now that a jawan is missing since April 3 no action has been taken by govt.We want govt to search for a mediator so that he is released: Meenu, wife of CRPF jawan Rakeshwar Singh Manhas
11;10 am: Jammu & Kashmir: Family of CRPF jawan Rakeshwar Singh Manhas, who was part of the party that was attacked by naxals in Chhattisgarh & has been held captive by naxals, requests the government to take action & ensure his release.
10:50 am: PM Modi to chair a meeting of high-level committee to commemorate 400th birth anniversary of Sri Guru Tegh Bahadur Ji, on Apr 8, via video conferencing. Home Minister Amit Shah to also attend the meeting which will discuss a year-long calendar of events to mark the occasion: PMO
10:20 am: Param Bir Singh's corruption allegations against Anil Deshmukh: Petitioner Dr Jaishri Patil(file pic)files caveat before SC as Deshmukh & Maharashtra govt is expected to approach SC against Bombay HC order HC asked CBI to start preliminary inquiry within 15 days into allegations
10:00 am: RBI keeps repo rate unchanged at 4%, maintains accommodative stance; Reverse repo rate stands at 3.35%
9:35 am: Mumbai: Former Mumbai Police Commissioner Param Bir Singh arrives at the NIA office, in connection with the Antilia bomb scare case
9:20 am: Kerala: A 21-year-old polling booth agent of the Indian Union Muslim League (IUML) was killed in Panur, Kannur district last night, his brother admitted to hospital with injuries. Police have detained one person in connection with the incident
9:15 am: India reports 1,15,736 new #COVID19 cases, 59,856 discharges, and 630 deaths in the last 24 hours, as per the Union Health Ministry Total cases: 1,28,01,785 Total recoveries: 1,17,92,135 Active cases: 8,43,473 Death toll: 1,66,177 Total vaccination: 8,70,77,474
8:45 am: 25,14,39,598 samples tested for #COVID19, up to 6th April. Of these, 12,08,329 samples were tested yesterday: Indian Council of Medical Research (ICMR)
8:25 am: COVID19 cases rising in 5 other districts apart from Bengaluru Urban. We're in constant consultation with these districts. We've sent more vaccine doses to these Dists&asked them to do more tests. Few guidelines need to be issued for Mysuru:Karnataka Health Minister Dr K Sudhakar
8;00 am: Panacea Biotec to produce 100 million doses of Sputnik V vaccine in India per year: Statement
7:55 am: In Punjab, 80% of cases are due to the UK variant of COVID19. This has been confirmed by genome sequencing. The increase in cases is event-driven like large weddings, local body elections, farmer protest, etc could have a role in it: Union Health Minister Dr Harsh Vardhan
7:50 am: In Bijapur attack,24 security personnel lost lives,31 injured & 1 in our custody. 4 People's Liberation Guerrilla Army personnel lost lives. Ready to negotiate with govt,they can announce mediators. Will release him. Police Jawans not our enemies:Communist Party of India (Maoist)
7:41 am: Seeing the surge in #COVID19 cases due to Kumbh Mela, the district administration has acquired Bharat Bhoomi Tourist Complex, Garhwal Mandal Vikas Nigam Rishikesh as COVID care centres with immediate effect: District Magistrate Dr Ashish Kumar Srivastava
7:32 am: We were tasked to bring him (gangster-turned-politician Mukhtar Ansari) here (to Banda jail). He was brought here late in the night: Satya Prakash Sharma, CO Sadar The BSP MLA was ferried in an ambulance amidst tight security from Punjab's Rupnagar jail to Uttar Pradesh
7:23 am: PM Modi to interact today with students, teachers, parents at 'Pariksha Pe Charcha'
7:10 am: Biden says every adult in US eligible for Covid-19 vaccination from April 19
Posted By: Talibuddin Khan