Ayodhya Verdict: Temple at disputed site, alternate land for Muslims | SC ruling explained in 10 points
Publish Date: Sat, 09 Nov 2019 11:36 AM IST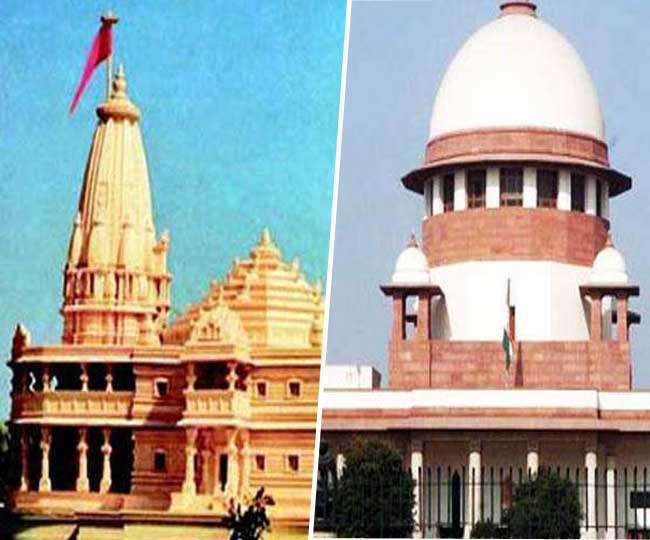 New Delhi | Jagran News Desk: The verdict in the vexatious matter of Ayodhya land dispute was pronounced by the CJI Ranjan Gogoi-led five-judge constitution bench of the Supreme Court. In the verdict, the bench ruled that 'alternate land of 5-acres is allotted to the Sunni Waqf Board for the construction of Mosque'. The top court also 'decreed the disputed site of Ayodhya to the deity'.
Also Read: Ayodhya Verdict LIVE | 2.77-acre disputed land given to Hindus for Ram Mandir in historic SC ruling
As the Supreme Court pronounced the verdict, here are the key points from the judgment:
The claim of Nirmohi Akhara is only of management. Nirmohi Akhara is not a 'Shabait' says Supreme Court. The top court also holds that Ram Janma Bhoomi is not a juristic person.
There is adequate material in the ASI report to conclude the following: Babri Masjid not constructed on vacant land. There was a structure underlying the disputed structure. The underlying structure was not an Islamic structure says the Supreme Court.
The mere existence of a structure beneath the mosque cannot lead to a title today even if the SC finds that it was a Hindu temple
The outer courtyard became a focal point of worshipping by Hindus Riots of 1934 indicate that the possession of inner courtyard became a matter of serious contention Muslims have not been able to establish possessory title to the inner courtyard, Supreme Court
Both Suit 4 of Sunni Board and suit 5 of Ram Lalla have to be decreed and relief should moulded. Every judge of this court has the task to uphold the Constitution, SC Cannot differentiate between one religion and another, rules the Supreme Court.
SC says Allahabad HC was wrong in dividing the disputed site into three parts
A suitable plot of land measuring 5 acres to be handed over to Sunni Waqf Board either by the Central Government or State Government. Sunni Wakf Board at liberty to construct a mosque at the allotted land.
Centre will hand over the disputed site to the Board of trustees and a suitable alternative plot of land measuring 5 acres at Ayodhya will be given to Sunni Waqf Board.
Final directions: Suit 3 by Nirmohi Akhara dismissed as barred by limitation. Suit 4 and suit 5 within limitation. Central Govt should within 3 months formulate a scheme envisaging setting up Trust Possession of inner and outer courtyards to be handed over to the Trust.
SC says Centre will formulate a scheme in three months to set up a board of trustees for construction of temple at the disputed structure
Posted By: Talib Khan