Ayodhya Verdict | 'SC indeed supreme but not infallible, don't patronize us,' says Asaduddin Owaisi
Publish Date: Sat, 09 Nov 2019 02:26 PM IST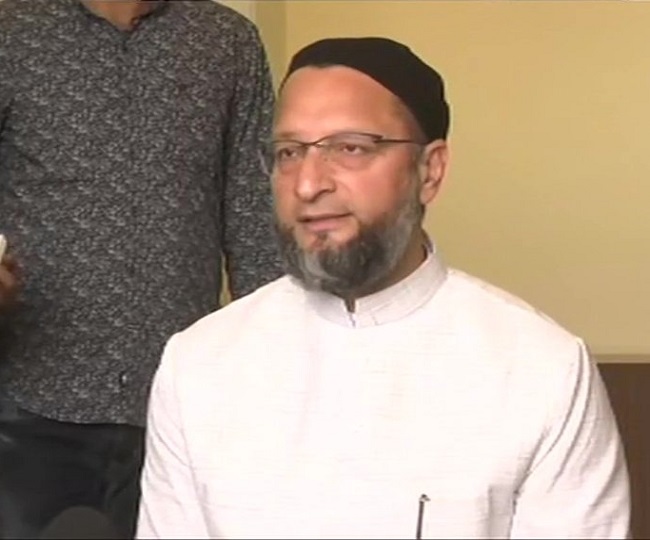 New Delhi | Jagran News Desk: All India Majlis-e-Ittehadul Muslimeen (AIMIM) President Asaduddin Owaisi on Saturday said that they are not satisfied by the Supreme Court's verdict in the Ayodhya dispute case and the Muslim parties should reject the five acre land offer.
"Not satisfied with the verdict. Supreme Court is indeed supreme but not infallible. We have full faith in the constitution, we were fighting for our right, we don't need five acre land as donation. We should reject this five acre land offer, don't patronize us," ANI quoted Owaisi as saying.
Owaisi also attacked Congress over its stand and said that the grand old party has shown its 'true colours'.
"Congress has shown their true colours, but for Congress party's deceitness and hypocrisy, idols would not have been placed in 1949, had the locks not opened by Rajiv Gandhi the masjid would still be there,had Narasimha Rao discharged his duties the masjid would still be there," he said.
Earlier, Uttar Pradesh Sunni Central Waqf Board's Zafaryab Jilani expressed dissatisfaction over the apex court's Ayodhya verdict, saying it has a lot of contradictions and they will seek a review of it.
"Respect the verdict but the judgement is not satisfactory. There should be no demonstration of any kind anywhere on it," said Zafaryab Jilani.
"We will file a review petition if our committee agrees on it. It is our right and it is in Supreme Court's rules as well," he added.
Also Read | 'Be it Ram Bhakti or Rahim Bhakti...': PM Modi appeals for peace and harmony after SC ruling
The Supreme Court on Saturday pronounced its verdict in the Ayodhya land dispute. In an unanimous verdict, the top court cleared the way for the construction of a Ram Temple at the disputed site at Ayodhya, and directed the Centre to allot a 5-acre plot to the Sunni Waqf Board for building a mosque.
The court also said that the mosque should be constructed at a "prominent site" and a trust should be formed within three months for the construction of the temple at the site many Hindus believe Lord Ram was born.
"The lands of our country have witnessed invasions and dissentions. Yet they have assimilated into the idea of India everyone who sought their providence, whether they came as merchants, travellers or as conquerors," said the verdict.
"The history and culture of this country have been home to quests for truth, through the material, the political, and the spiritual. This Court is called upon to fulfil its adjudicatory function where it is claimed the two quests for the truth impinge on the freedoms of the other or violate the rule of law," it added.
Posted By: Aalok Sensharma