Ayodhya Verdict | 'Red-letter day in India's history': Uddhav Thackeray on SC ruling; may visit temple town on Nov 24
Thackeray also thanked veteran BJP leader LK Advani for the 'Rath-Yatra' and said he will be meeting him soon ti seek his blessings.
Updated: Sat, 09 Nov 2019 05:00 PM IST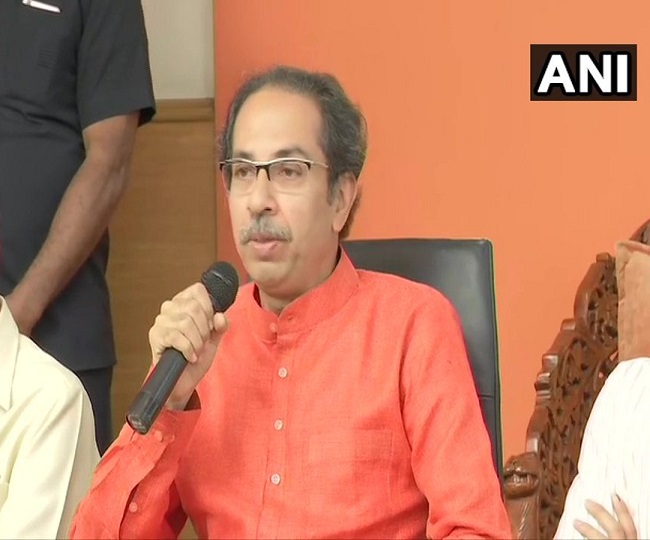 Mumbai | Jagran News Desk: After the Supreme Court pronounced the verdict in the disputed Ram Janambhoomi Babri Mashjid case on Saturday, Shiv Sena chief Uddhav Thackeray said that everyone has accepted the verdict and he will be going to Ayodhya on November 24.
"Today's day will be written in golden letters in the history of India. Everyone has accepted the verdict. I will be going to Ayodhya on 24 November," ANI quoted Thackeray as saying.
Thackeray also thanked veteran BJP leader LK Advani for the 'Rath-Yatra' and said he will be meeting him soon to seek his blessings.
Click here for all the LIVE updates
Thackeray said he remembers his father and Sena founder Balasaheb Thackeray, VHP leader late Ashok Singhal, BJP's Atal Bihari Vajpayee, Pramod Mahajan and LK Advani who had led the Ram janmabhoomi movement in 1990s.
"I will also visit LK Advani ji to thank him and congratulate him. He had taken out 'Rath-Yatra' for this. I will surely meet him and seek his blessings," he added.
"Last year on November 24 (2018), I had gone to Ayodhya and performed an 'aarti' there. Before that, I had gone to Shivneri - the birthplace of Chhatrapati Shivaji Maharaj - and carried some soil from there to Ayodhya. I felt that soil to be magical and was confident a miracle would occuraIt has happened in less than a year," Thackeray recalled.
Also Read | Ayodhya Verdict: Sunni Central Waqf Board welcomes SC ruling, says wont challenge it
Referring to the apex court verdict, he said one chapter has closed and it is pertinent for all to make a new beginning.
"If everyone shows understanding and maturity like today, our country will be a superpower," he said referring to the ground situation in view of the verdict.
The Supreme Court today announced the verdict in the much-awaited Ayodhya land case and cleared the way for the construction of a Ram Temple at the disputed site at Ayodhya, and directed the Centre to allot a 5-acre plot to the Sunni Waqf Board for building a mosque.
Also Read | 'Be it Ram Bhakti or Rahim Bhakti...': PM Modi appeals for peace and harmony after SC ruling
The court also said that the mosque should be constructed at a "prominent site" and a trust should be formed within three months for the construction of the temple at the site many Hindus believe Lord Ram was born.
However, Thackeray -- despite questioning by media -- declined to answer any political questions pertaining to the deadlock with the Bharatiya Janata Party over the government formation imbroglio in the state.
Posted By: Aalok Sensharma