Ayodhya Verdict | BJP, Congress hail Supreme Court ruling, AIMPLB says 'verdict not justice'
Updated: Sat, 09 Nov 2019 03:29 PM IST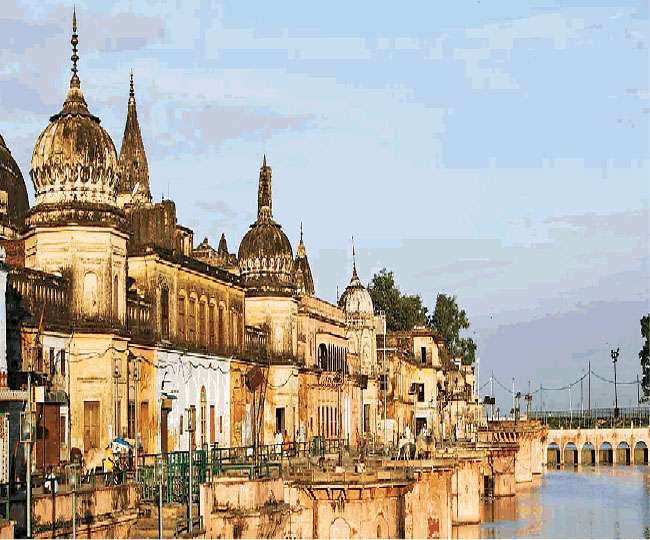 New Delhi | Jagran News Desk: The much-awaited verdict in the Ayodhya land dispute was given by the Supreme Court on Saturday. The verdict was delivered by the 5-judge constitution bench. The bench, which was led by Chief Justice Ranjan Gogoi, included justices SA Bobde, DY Chandrachud, Ashok Bhushan and S Abdul Nazeer.
In the verdict, the bench ruled that 'alternate land of 5-acres is allotted to the Sunni Waqf Board for the construction of Mosque'. The top court also 'decreed the disputed site of Ayodhya to the deity'.
Click here for the LIVE updates
As soon as the verdict was given by the Supreme Court, various political leaders welcomed the Supreme Court's decision and said that everyone should respect the judgment and urged people to maintain peace.
Here are some reactions:
* Nitin Gadkari, BJP: Everyone must accept the Supreme Court judgement and maintain peace.
* Rajnath Singh, BJP: The Judgment of Honourable Supreme Court on Ayodhya is historic. The Judgement will further strengthen India's social fabric. I urge everyone to take the verdict with equanimity and magnanimity. I also appeal to the people to maintain peace and harmony after this landmark verdict," said Rajnath Singh.
Also Read | 'Be it Ram Bhakti or Rahim Bhakti...': PM Modi appeals for peace and harmony after SC ruling
* All India Muslim Personal Law Board: The verdict is not justice. We will file a review petition if our committee agrees on it. It is our right and it is in Supreme Court's rules as well.
* Nitish Kumar, JD(U): Supreme Court's judgement should be welcomed by everyone, it will be beneficial for the social harmony. There should be no further dispute on this issue, that is my appeal to the people.
* Arvind Kejriwal, AAP: We welcome the Supreme Court judgement on Ayodhya which ended decades old dispute. I appeal for peace and harmony.
* Randeep Surjewala, Congress: Supreme Court's verdict has come, we are in favour of the construction of Ram Temple. This judgement not only opened the doors for the temple's construction but also closed the doors for BJP and others to politicise the issue.
Also Read | Temple at disputed site, alternate land for Muslims; SC ruling explained in 10 points
* BS Yediyurappa, BJP: Let us all wholeheartedly welcome the apex court verdict. This is neither a victory for anyone, nor a defeat for anyone. Don't react emotionally. Let harmony and peace prevail.
* Sri Sri Ravishankar: This is a historic judgement, I welcome it. This case was going on for a long time and finally it has reached a conclusion. Peace and harmony should be maintained in society.
* RSS Chief Mohan Bhagwat: We welcome this decision of Supreme Court. This case was going on for decades and it has reached the right conclusion. This should not be seen as a win or loss.We also welcome everyone's efforts to maintain peace and harmony in society.
* Baba Ramdev: This is a historic verdict. A grand Ram temple will be built. Decision to allot alternate land to Muslim side is welcome, I believe Hindu brothers should help in the construction of the Masjid as well.
* Asaduddin Owaisi: Not satisfied with the verdict. Supreme Court is indeed supreme but not infallible. We have full faith in the constitution, we were fighting for our right, we don't need 5 acre land as donation. We should reject this 5 acre land offer, don't patronize us.
Also Read | As SC pronounced its verdict in 70-year-old Ayodhya case, a look at five judges who delivered the historic ruling
* MNS chief Raj Thackeray: I am happy today. All 'karsevaks' who gave sacrifices during the entire struggle..their sacrifice has not gone waste.Ram Temple must be constructed at the earliest. Along with Ram Temple, there should also be 'Ram Rajya' in the nation,that is my wish.
* Shia Cleric Maulana Kalbe Jawad: We humbly accept SC verdict, I am thankful to god that Muslims by and large have accepted this verdict and the dispute has ended now. Though its their(Muslim Personal law board) right to file review petition I think matter should just end now.
* NCP chief Sharad Pawar: The supreme court's unanimous decision will help address a serious concern before the country. The judiciary has talked about protecting interests of all the sections of the society. It is a good thing. I urge all the people of the country that an important, landmark judgement has been given. All sections of the society should welcome and respect it.
Also Read | 'SC indeed supreme but not infallible, don't patronize us,' says Asaduddin Owaisi
* Former Prime Minister HD Deve Gowda: Only my feeling is the poor people who built the Babri Masjid about 300 to 400 years back and the people who are fighting now you cannot blame our minority friends. What happened in the past, so that is a big issue. So I don't want to go to the past. Let us all respect the Ayodhya verdict. Let us all follow the founding principles of peace and non-violence of our country.
* Vice President M Venkaiah Naidu: Further to today's unanimous verdict by 5-Judge bench of Supreme Court on Ayodhya issue, let's leave the past behind and move towards building an India of peace, harmony and prosperity. India is the winner from this judgement. Our desire and ability to live together has triumphed. Let's all move forward together towards peace and prosperity nurturing our collective illustrious heritage.
Posted By: Aalok Sensharma