By Abhinav Gupta
Updated: Sat, 09 Nov 2019 08:05 PM IST
Minute Read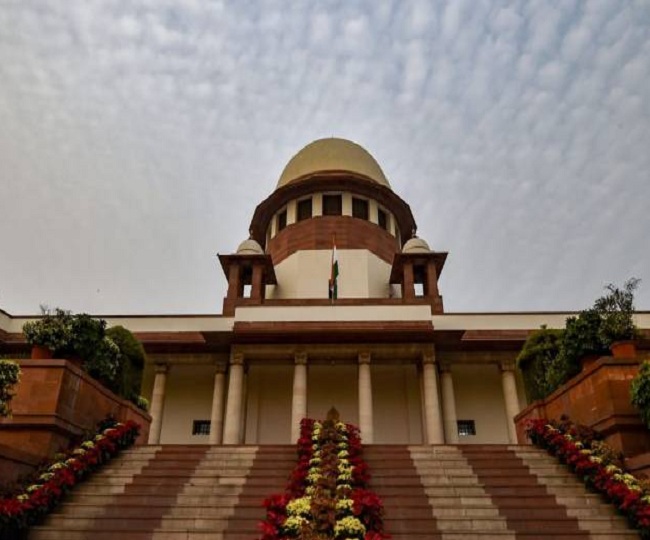 New Delhi | Jagran News Desk: The five-judge Supreme Court bench, led by Chief Justice Ranjan Gogoi, delivered its much-awaited verdict in the 70-year-old politically sensitive Ram Janmabhoomi-Babri Masjid land dispute at Ayodhya.
A Constitution bench, headed by Chief Justice Ranjan Gogoi and comprising Justices SA Bobde, DY Chandrachud, Ashok Bhushan and S Abdul Nazeer, backed the construction of a Ram temple by a trust at the disputed site in Ayodhya, and ruled that an alternative five-acre plot must be found for a mosque in the Hindu holy town.
The judgement was widely welcomed by Hindu politicians and groups, while the Muslim leadership said they will accept the verdict, even though they described it as flawed. Still, they called for peace and calm, and leaders across the political spectrum noted that it was now time to move on.
Here are the Live Updates on Supreme Court verdict in Ayodhya land dispute case:
18:54 pm: It is a moment of fulfillment for me because God Almighty had given me an opportunity to make my own humble contribution to the mass movement, the biggest since India's Freedom Movement, aimed at the outcome which SC's verdict today has made possible: LK Advani
18:53 pm: I join all my countrymen in wholeheartedly welcoming the historic judgement delivered by the five-member Constitution Bench of the Supreme Court today in the Ayodhya matter: LK Advani
18:17 pm: Ayodhya verdict a golden chapter in Indian judicial history, says PM Modi
18:13 pm: India has several more challenges, targets and visions. We will achieve them together: PM Modi
18:10 pm: I need to ensure that no one falls behind as new India marches forward: PM Modi
18:09 pm: The SC verdict has shown that the most difficult issues can be resolved within the ambit of the Constitution: PM Modi
18:06 pm: After the verdict, the way every section of society, of every religion, has welcomed it is a proof of India's ancient culture and tradition of social harmony: PM Modi
18:05 pm: The entire country of 1.25 cr Indians have written a golden page in the nation's history today: PM Modi
18:05 pm: The whole country wanted that the Ayodhya case be heard daily, which happened and today a verdict has been delivered. This case which was going on for decades has concluded finally: PM Modi
18:03 pm: The verdict was welcomed by one and all with an open heart: PM Modi
18:02 pm: PM Modi begin his address to the nation.
17:40 pm: Prime Minister Narendra Modi to address the nation at 6 pm.
16:52 pm: There is no report of any untoward incident from anywhere in the state. We are keeping a close watch (on the law and order situation). Our team is on the job," UP Director General of Police O P Singh.
16:22 pm: Today's day will be written in golden letters in the history of India. Everyone has accepted the verdict. I will be going to Ayodhya on 24 November. I will also visit LK Advani ji to thank him & congratulate him. He had taken out 'Rath-Yatra' for this. I will surely meet him and seek his blessings: Uddhav Thackeray
15:13 pm: "The Supreme Court has pronounced its verdict on the Ayodhya issue. While honouring this decision of the court, we all should maintain mutual harmony. This is a time for brotherhood, trust and love among us all Indians," Rahul Gandhi said in a tweet in Hindi.
14:30 pm: "I am happy today. All 'karsevaks' who gave sacrifices during the entire struggle..their sacrifice has not gone waste. Ram Temple must be constructed at the earliest. Along with Ram Temple, there should also be 'Ram Rajya' in the nation,that is my wish," said MNS chief Raj Thackeray.
14:01 pm: Not satisfied with the verdict. Supreme Court is indeed supreme but not infallible. We have full faith in the constitution, we were fighting for our right, we don't need 5 acre land as donation. We should reject this 5 acre land offer, don't patronise us: Asaduddin Owaisi
14:00 pm:
#WATCH Uma Bharti,BJP on #AyodhyaVerdict: Court ne ek nishpaksh kintu divya nirnaya diya hai. Main Advani ji ke ghar mein unko maatha tekne aayi hoon, Advani ji hi veh vyakti the jinhone pseudo-secularism ko challenge kiya tha...unhi ki badaulat aaj hum yahan tak pahunche hain. pic.twitter.com/YYtY4RCz06

— ANI (@ANI) November 9, 2019
13:30 pm: This is a historic verdict. A grand Ram temple will be built. Decision to allot alternate land to Muslim side is welcome, I believe Hindu brothers should help in the construction of the Masjid as well: Baba Ramdev
13:26 pm: We welcome the decision of the Honourable Supreme Court. I appeal all to help maintain peace and harmony in the country. The Uttar Pradesh government is committed towards maintaining an atmosphere of peace and security in the state: UP CM Yogi Adityanath
13:09 pm: It's time to put everything behind us and together work towards building a grand temple: RSS chief
13:07 pm: We welcome this decision of Supreme Court. This case was going on for decades and it has reached the right conclusion. This should not be seen as a win or loss. We also welcome everyone's efforts to maintain peace and harmony in society: Mohan Bhagwat
13:04 pm: RSS welcomes Supreme Court's ruling: Sangh chief Mohan Bhagwat
13:03 pm: Home Minister Amit Shah speaks to all Chief Ministers of the country to review the security of states and asks them to take all required measures to maintain law and order.
12:18 pm: Supreme Court's verdict has come, we are in favour of the construction of Ram Temple. This judgement not only opened the doors for the temple's construction but also closed the doors for BJP and others to politicise the issue: Randeep Surjewala
12:14 pm: We respect the verdict of the Supreme Court in the Ayodhya case. We appeal to all the parties concerned and to all communities to abide by the secular values and spirit of fraternity enshrined in our Constitution and to maintain peace and harmony. It is the responsibility of each one of us to reaffirm our tradition of mutual respect and unity among all that has defined our society through the ages: Congress
12:13 pm: Zafaryab Jilani, All India Muslim Personal Law Board: We will file a review petition if our committee agrees on it. It is our right and it is in Supreme Court's rules as well.
12:02 pm: Can't accept SC verdict as justice, will explore legal recourse: AIMPLB. It asks people not to hold any kind of demonstration, urges them to maintain harmony.
12:00 pm: Defence Minister Rajnath Singh on Ayodhya Verdict: It is a landmark judgement. Appeal to public to maintain peace and calm.
11:59 am: Zafaryab Jilani, All India Muslim Personal Law Board: Respect the verdict but the judgement is not satisfactory. There should be no demonstration of any kind anywhere on it.
11:35 am: Zafaryab Jilani, Sunni Waqf Board Lawyer: We respect the judgement but we are not satisfied, we will decide further course of action.
11:25 am: Varun Kumar Sinha, Lawyer of Hindu Mahasabha: It is a historic judgement. With this judgement, the Supreme Court has given the message of unity in diversity.
11:16 am: SC appreciates role of mediators Justice Kalifulla, ace mediator Sriram Panchu and Sri Sri Ravi Shankar who came very close to settlement
11:15 am: SC dismisses plea of Nirmohi Akhara seeking control of entire disputed land. Possession of disputed 2.77 acre land will remain with Centre.
11:13 am: A suitable plot of land measuring 5 acres to be handed over to Sunni Waqf Board either by Central Government or State Government. Sunni Wakf Board at liberty to construct a mosque at the allotted land.
11:11 am: Centre will hand over the disputed site to the Board of trustees and a suitable alternative plot of land measuring 5 acres at Ayodhya will be given to Sunni Waqf Board.
11:11 am: Final directions: Suit 3 by Nirmohi Akhara dismissed as barred by limitation. Suit 4 and suit 5 within limitation. Central Govt should within 3 months formulate a scheme envisaging setting up of Trust Possession of inner and outer courtyards to be handed over to the Trust.
11:10 am: SC says Centre will formulate a scheme in three months to set up a board of trustees for construction of temple at the disputed structure
11:08 am: SC orders allotment of alternative land to Muslims for setting up of a mosque while decreeing the disputed site to deity
11:06 am: On balance of probabilities, clear evidence that Hindus worshipped in Outer Courtyard As regards Inner Courtyard, no evidence by Muslims to show exclusive possession by them prior to 1857: Supreme Court
11:05 am: SC says Allahabad HC was wrong in dividing the disputed site into three parts
11:04 am: Both Suit 4 of Sunni Board and suit 5 of Ram Lalla have to be decreed and relief should moulded. Every judge of this court has the task to uphold Constitution, SC Cannot differentiate between one religion and another, rules Supreme Court.
11:03 am: Desecration of mosque by placing idols in 1949 and demolition is contrary to law: SC
11:03 am: Sunni Waqf board failed to make claim on adverse possession over the mosque as it remained a contested site between Hindus and Muslims: SC
11:03 am: Destruction of mosque in 1992 was in breach of SC order, says CJI-led bench
11:02 am: The outer courtyard became a focal point of worshipping by Hindus Riots of 1934 indicate that the possession of inner courtyard became a matter of serious contention Muslims have not been able to establish possessory title to inner courtyard, Supreme Court
11:01 am: But Hindus always believed that the birthplace of Ram was in the inner courtyard of the mosque, says SC
11:00 am: But documents show that prior to 1857, Hindus were not barred from worshipping in the inner courtyard. The railings segregating the outer and inner courtyard was made in 1857: SC
10:59 am: Though there were obstructions, Muslims continued to offer namaz inside the inner courtyard. So, the Muslims have not abandoned the mosque: SC
10:57 am: There is evidence that Ram Chabutra, Sita Rasoi was worshipped by the Hindus before the British came. Evidence in the records shows that Hindus were in the possession of outer court of the disputed land: Supreme Court
10:56 am: Titles can't be decided on faith and belief but on the claims. Historical accounts indicate the belief of Hindus that Ayodhya was the birthplace of Lord Ram: Supreme Court
10:56 am: It is clearly established that while Muslims offered prayers inside the inner courtyard, the same was done by Hindus in the outer courtyard: SC
10:54 am: Mere existence of a structure beneath the mosque cannot lead to a title today even if the SC finds that it was a Hindu temple: Supreme Court (Times of India)
10:53 am: Act of placing idols inside the central dome in December 22-23, 1949 has been challenged by Sunni Waqf Board. SC says Sunni Board's suit is maintainable.
10:50 am: Accounts of travellers and historians mention faith of Hindus that the place is birthplace of Lord Ram. The account of travellers has to be read with circumspection: Supreme Court
10:49 am: Faith and belief of Ayodhya being birthplace of Ram is undisputed so is that of Muslims to worship at the mosque: SC
10:48 am: Title of the land can be decided only on legal evidence, SC says
10:44 am: There is adequate material in ASI report to conclude the following: Babri Masjid not constructed on vacant land. There was a structure underlying the disputed structure. The underlying structure was not an Islamic structure, Supreme Court.
10:42 am: Ram Janma Bhoomi not a juristic person, holds Supreme Court (Reported by Bar and Bench)
10:41 am: The claim of Nirmohi Akhara is only of management. Nirmohi Akhara is not a Shabait: Supreme Court
10:41 am: Chief Justice of India Ranjan Gogoi while reading out judgement: This court must accept faith and accept belief of worshippers. Court should preserve balance.
10:40 am: Places of Worship Act reaffirms commitment of India to protect the interests of all religious community. Idols were placed at the structure in 1949: CJI Ranjan Gogoi
10:38 am: This Court set up under Constitutional scheme should defer from interfering with faith and belief of worshippers. Secularism basic feature of the Constitution: Bar and Bench
10:37 am: Babri mosque was built by Mir Baqi. It is inappropriate for the Court to get into area of theology: CJI Ranjan Gogoi
10:36 am: We will initiate strict legal action against mischief-mongers or those found indulging in any activity which may adversely affect the peace and public order. Activities on social media platforms will be under observation: Delhi Police
10:34 am: We have dismissed the Single Leave Petition(SLP) filed by Shia Waqf Board challenging the order of 1946 Faizabad Court: CJI Ranjan Gogoi
10:32 am: SC bench reads out historic verdict. The Ayodhya Judgment will be an unanimous judgment. Pronouncement of judgment to last for half an hour, reports Bar and Bench.
10:30 am: At least 40,000 police personnel have been deployed in Mumbai, officials said. The situation will be monitored through drone units and live CCTV feeds from the police control room.
10:29 am: Five-judge Supreme Court bench to deliver verdict shortly. Senior advocates K Parasaran, CS Vaidyanathan, Rajeev Dhawan, Solicitor General Tushar Mehta and other lawyers representing different parties in the case arrive in courtroom.
10:25 am: Union Home Secretary Ajay Bhalla arrives at Home Minister Amit Shah's residence for high level security meeting
10:23 am: Delhi: All five Supreme Court judges who will deliver the verdict in Ayodhya land case have reached the Supreme Court
10:21 am: As nation awaits SC verdict in 70-year-old Ayodhya case, a look at five judges who will pronounce the historic ruling
10:15 am: Ram Lalla deity lawyer, CS Vaidyanathan (extreme right) in conversation with Dr Rajeev Dhavan, senior lawyer for Sunni Wakf Board, outside the CJI courtroom.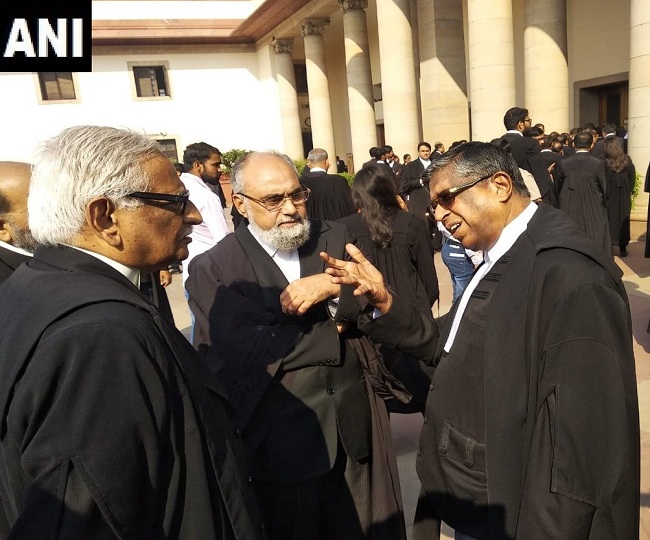 10:10 am: Home Minister Amit Shah calls a high level security meeting at his residence. National Security Advisor (NSA) Ajit Doval, Intelligence Bureau (IB) Chief, Arvind Kumar, and other senior officials to attend the meeting.
10:06 am: CJI Ranjan Gogoi leaves for Supreme Court from his residence.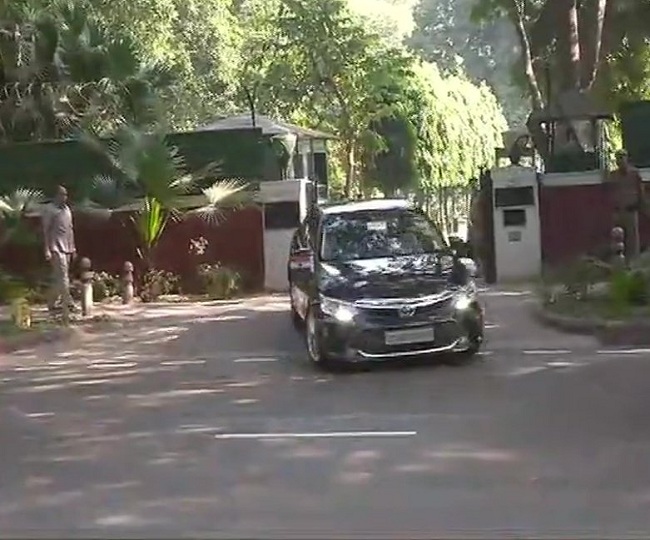 10:04 am: Rajasthan Government: Section 144 imposed in Ajmer district; All schools and colleges to remain closed today
09:52 am: Lawyers gather outside Chief Justice of India Ranjan Gogoi's court.
09:45 am: Congress leader Priyanka Gandhi Vadra referred to Mahatma Gandhi as she appealed to people to maintain peace.
"As you all know, the judgment of the Supreme Court on the Ayodhya case is going to come today. Whatever the decision of the court, we all have the responsibility to maintain the thousands of years old tradition of unity, social harmony and mutual love of the country," she tweeted in Hindi.
"This is Mahatma Gandhi's country. It is our duty to stay on the message of peace and non-violence," she tweeted.
09:43 am: Paramilitary forces have been deployed in Ayodhya and aerial surveillance is being done. Intelligence machinery has been geared up, random checks are also being conducted. An ADG rank officer has been deployed in Ayodhya to keep an eye on operations: OP Singh
09:41 am: Bharatiya Janata Party (BJP) National President Amit Shah calls a meeting of party spokespersons at this residence.
09:29 am: Internet services to be suspended for 24 hours in Jaipur Commissionerate, from 10 am today.
09:28 am: Rajasthan Government: Section 144 of CrPC (prohibits assembly of more than 4 people in an area) in Bundi; All schools to remain closed today
09:16 am: 60 companies of paramilitary force, RPF and PAC and 1200 police constables, 250 Sub-inspectors, 20 Dy-SPs & 2 SPs deployed. Double layer barricading, public address system, 35 CCTVs&10 drones deployed for security surveillance: ADG UP Ashutosh Pandey
09:15 am: Section 144 imposed in Rajasthan's Jaisalmer to maintain law and order.
09:13 am: In September 2010, the Allahabad High Court pronounced the verdict. The verdict said the site of Babri mosque is to be divided into three parts, each going to Nirmohi Akhara, Ram Lalla and the Sunni Central Waqf Board of Uttar Pradesh. Within months, Hindu groups and Muslim groups moved Supreme Court challenging the High Court verdict.
09:09 am: Ahead of Ayodhya Verdict, appeal to everyone to accept the judgement of the Honourable Supreme Court. Let us continue to live in peace and harmony. The spirit of brotherhood is the hallmark of our secular fabric: Odisha Chief Minister Naveen Patnaik
09:08 am: Devotees are visiting the temple of Shri Ram Lalla. There are no restrictions on visiting the temple. All markets are open, the situation is completely normal: ADG (Prosecution) UP Police, Ashutosh Pandey.
09:03 am: Ahead of the Ayodhya verdict, the Rajasthan government has imposed Section 144 in five districts in the state. All schools and colleges will be closed across the state today. Mobile internet services have been snapped in Bharatpur.
08:53 am: Ayodhya Case | From 1862 to 2003: What the five ASI surveys on disputed land suggest
08:52 am: Delhi: Security personnel outside Supreme Court ahead of verdict in Ayodhya land case; Section 144 is imposed in the area.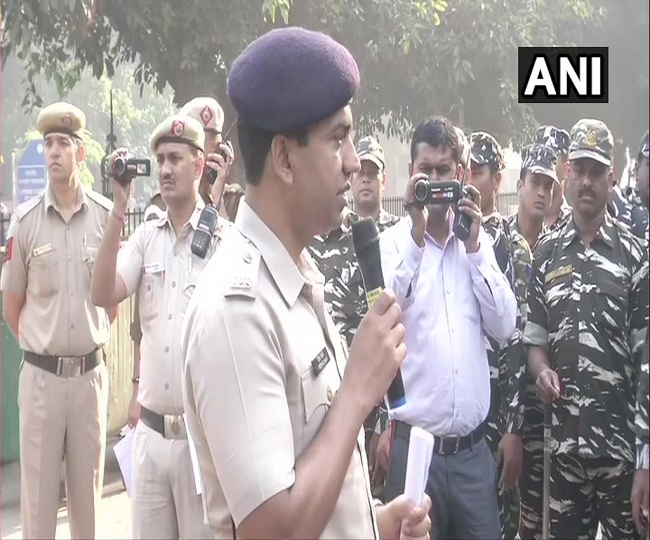 08:51 am: We have taken confidence building measures, we did around 10,000 meetings across the state with religious leaders & citizens. We are appealing to people of the state to not spread rumors on social media: UP DGP O P Singh
08:50 am: Rashtriya Swayamsevak Sangh (RSS) Chief Mohan Bhagwat to address the media at 1 pm today, following Supreme Court judgment in Ayodhya land case.
08:36 am: The Uttar Pradesh government has created temporary jails in every district while internet services may be banned in some places to check spread of rumours through social media.
08:34 am: Ayodhya Case | 'Ruling shouldn't be a matter of win or loss': PM Modi appeals for peace ahead historic verdict
08:32 am: Internet services have been snapped in Aligarh in Uttar Pradesh.
08:29 am: Fourteen appeals have been filed in the apex court against the 2010 Allahabad High Court judgment, delivered in four civil suits, that the 2.77-acre land in Ayodhya be partitioned equally among the three parties -- the Sunni Waqf Board, the Nirmohi Akhara and Ram Lalla.
08:28 am: In the Union Territory of Jammu and Kashmir, prohibitory orders under Section 144 of the CrPC have been issued, banning assembly of more than four people.
08:27 am: Security heightened in Ayodhya ahead of the verdict in Ayodhya land dispute case today; Section 144 (prohibits assembly of more than 4 people in an area) has been imposed in the state of Uttar Pradesh.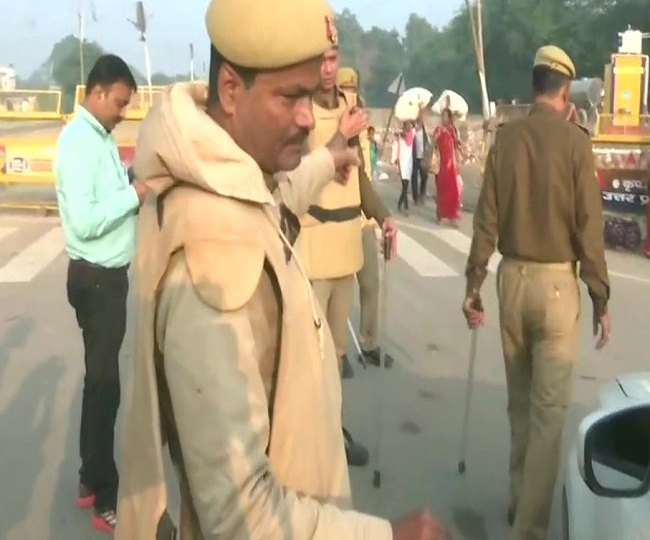 08:25 am: Security stepped up outside Hanuman Garhi Mandir.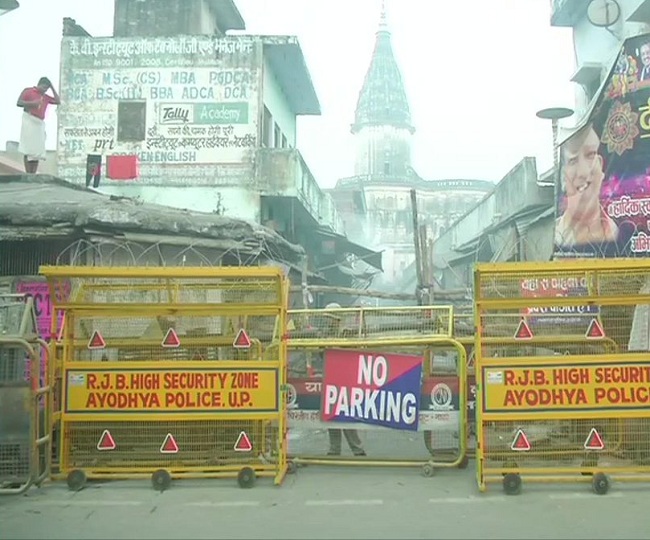 08:23 am: Security deployed in the area around Ram Janmabhoomi police station.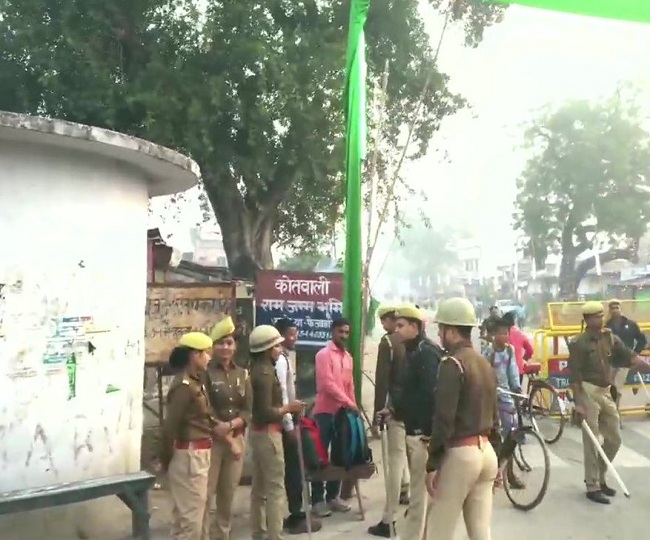 08:22 am: We have full faith in our judiciary. I appeal to all to accept Supreme Court's verdict and maintain peace: Nitin Gadkari
08:10 am: Several review meetings were held in other states, apart from Uttar Pradesh, following a general advisory issued by the Ministry of Home Affairs on Thursday. The Centre has sent around 4,000 paramilitary personnel to Uttar Pradesh. The railway police has cancelled leaves of its personnel and stepped up vigil at 78 major stations.