Ayodhya Case | A chronology of events in the Ram Janambhoomi-Babri Masjid land dispute
The verdict on the Ayodhya land case was announced on Saturday where a five-judge bench led by CJI granted 2.77 acre disputed land to deity Ram Lalla.
Updated: Sat, 09 Nov 2019 01:38 PM IST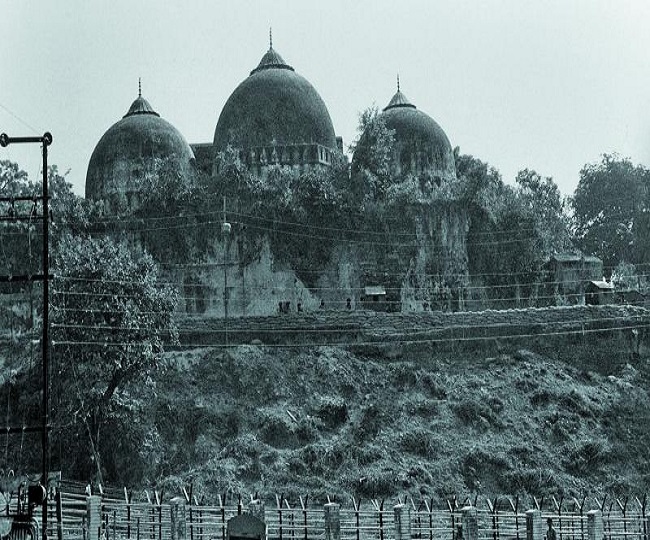 New Delhi | Jagran News Desk: The Supreme Court on Saturday announced the verdict of the 70-year-old politically sensitive issue of Ram Janambhoomi-Babri Masjid land dispute in Ayodhya. In its ruling the apex court granted the entire 2.77 acres of disputed land in Ayodhya to deity Ram Lalla and said possession of land will remain with the Central government. SC also directed Centre and UP govt to allot five-acre land to the Muslims at a prominent place for building a mosque. As the result of the highly vexatious issue was announced on Saturday, here how the case unfolded in the last several decades:
1528: Babri Masjid built by Mir Baqi, commander of Mughal emperor Babur.
1885: Mahant Raghubir Das files plea in Faizabad district court seeking permission to build a canopy outside the disputed structure. The court rejects the plea.
1949 to 1959
In 1949, Ram idols were placed under dome outside the disputed structure. Next year, Gopal Simla Visharad filed a lawsuit in Faizabad court to gain access to worship idols placed inside the disputed structure. In 1959, one of four Akahara groups belonging to Vaishnava Smapardaya 'Nirmohi Akhara', filed a lawsuit seeking ownership.
1981 to 1992
In 1981, Uttar Pradesh's Sunni Waqf board filed a lawsuit seeking possession of the site. Six years later on February 1, 1986, the local court ordered the government to open the site for Hindu worshippers in a historic move.
On August 14, 1989, Allahabad High Court ordered maintenance of status quo in respect of disputed structure.
On December 6, 1992 thousands of Kar Sevaks reached the Ram Janambhoomi-Babri Masjid site and demolished the structure after which communal riots broke out in the country forcing police to lathi-charge and fire bullets in which many people lost their lives.
1993 to 2003
On April 1993, a special Act for acquisition of a certain amount of area at the Ayodhya land site passed by the center in the disputed area. Various aspects of the Act were challenged in writ petitions filed at Allahabad High Court including one by Ismail Faruqui.
October 24, 1994, In the historic Ismail Faruqui case the Supreme Court stated that a mosque is not a necessity to offer prayers. Eight years later, in 2002, the Allahabad High Court starts hearing to decide who owns the disputed site.
Next year, the apex court in the Aslam Bhure case said that no religious activity of any kind would be allowed on the acquired land. It stressed that the SC interim order should be operative till the disposal of civil suits in Allahabad high court to maintain communal harmony.
2010 to 2016
On September 30, 2010, the Allahabad High Court ruled the division of disputed land in a 2:1 majority between Ram Lalla- Nirmohi Akhara and Sunni Waqf Board. The top stayed on its verdict next year.
Six years later, on February 26, 2016, senior BJP leader Subramanian Swamy filed a plea in Supreme Court to seek Ram temple construction at the disputed site.
2017
On March 21, the Chief Justice of India JS Khehar suggested an out of court settlement among three parties.
On August 7, the top court constituted a three-judge bench to hear pleas challenging the 1994 verdict by the Allahabad High Court. The succeeding day, UP's Shia Waqf board tells Supreme Court that a mosque could be built at a reasonable distance from the disputed site in a Muslim dominated area.
On September 11, the Supreme Court directs Allahabad High Court's Chief Justice to nominate two additional judges from the district court within a span of ten days as observers to deal with the maintenance of the disputed site.
On November 20, the Shia Waqf Board told the Supreme court that mosque can be built in Lucknow and temple in Ayodhya.
On December 1, 32 civil right activists file a plea challenging Allahabad High Court decision in 2010. Four days later, final hearing on Ayodhya land case appeal starts before a bench of then CJI Dipak Misra and Justices S. Abdul Nazeer and Ashok Bhushan.
2018
The supreme begins hearing civil appeals from February 8, 2018. On March 14, the top court rejected all interim pleas in the case.
Next month, Rajeev Dhavan filed a plea in Supreme Court to refer to issue reconsideration of the observations in 1994 judgment to a larger bench. On July 6, the UP government told the Supreme Court that some Muslim groups were trying to delay the hearing for the above reason.
On September 27, the Supreme Court declined to refer the case to a five-judge constitution bench. A newly constituted three-judge bench led by CJI Ranjan Gogoi heard the case and ordered the dispute appeals will be listed in January 2019 before an appropriate bench to fix a date for hearing.
2019
January 4: A two-judge CJI bench delays the appeal saying an 'appropriate bench' will take the decisions.
On January 8, the Supreme Court sent a notification that a five-judge bench led by CJIs (Justices S.A. Bobde, N.V. Ramana, U.U. Lalit and D.Y. Chandrachud) will hear the Ayodhya case disputes. On January 10, the hearing couldn't start as Justice U.U. Lalit recuses himself from the bench.
On January 29, the hearing was again postponed as Justice Bobde was on medical leave while Justices Ashok Bhushan and S. Abdul Nazeer replacing N.V. Ramana and U.U. Lalit.
On February 20, the Supreme Court released a circular that informed that the Ayodhya bench will assemble on February 26.
On this day, the Supreme Court proposed a court-monitored mediation process between both Muslim and Hindu parties litigating the Ayodhya dispute. It provided eight weeks for Muslim appellants to examine the official translation of Ayodhya case records.
The bench on March 8 send Ayodhya land dispute case for mediation by former Supreme Court Judge Justice F.M.I. Kalifulla as Chairman, spiritual guru Sri Ravishankar and senior advocate Sriram Panchu.
On August 2, the mediation effort between Hindu and Muslim parties in Ayoda case fails. A constitution bench led by CJI Gogoi said the court will hear appeals on a daily basis from August 6.
August 6: The constitution bench began hearing the cross-appeals by the Hindu and Muslim sides challenging three-way partition of disputed 2.77 acres of the disputed Ayodhya land among Nirmohi Akhara, Ram Lalla and Sunni Waqf Board.
August 7: Justice Bobde asks, "Whether Jesus Christ was born in Bethlehem... Has such a question ever arisen in any court," while Ram Lalla's lawyer says that unshakable faith is proof of Lord Ram's birthplace.
August 8: The SC asks whether a birthplace can be considered as 'juristic person'.
August 13: The SC says it is no hurry to finish the hearing on Ayodhya land case.
August 14: The top court poses queries to Hindu parties' counsel.
August 16: The apex court asks Hindu parties for proof that Babri Masjid was built over a temple.
August 20: The Supreme Court said that an inscription on mosque slab spoke of Vishnu temple.
August 21: SC asks lawyers to provide evidence to claim temple at the site.
August 22: Gopal Singh Visharad, an appellant tells the court that Hindus have an unfettered right to worship at the site that is believed to be the birthplace of Ram.
August 23: SC tells UP to respond on Ayodhya case judge's protection plea while Nirmohi Akhara quizzed on rights to Ayodhya site.
August 27: The Akhara group objects to a separate lawsuit filed by Ayodhya deity.
August 28: The top court said that it may be possible that Babur may not have built Babri Masjid.
August 30: The Hindu Mahasabha argued that emperor Babur was an invader and that law 'institutionalise' the rights of an invader. Shia Waqf Board, on the other hand, questioned the claim of Sunni section over the disputed land.
September 3: Senior advocate Rajeev Dhavan claimed that the installation of idols inside Babri Masjid on the intervening night of December 22-23 in 1949 led the escalation of heightened tensions and legal battle. Meanwhile, the SC issued a notice to a man from Chennai for intimidating Rajiv Dhawan.
September 4: Rajeev Dhawan told the SC that both Muslims and Hindus alike used to worship in mosque-temple while the top court looked into litigant complaint of intimidation.
September 14: SC says that a devotee's faith cannot be questioned.
September 16: A mediation panel tells the Supreme Court that Ayodhya parties want the talks to resume.
September 17: Rajeev Dhawan said that Hindu parties' arguments were complete based on theology and not legality or concrete proof.
September 18: Supreme Court gives jurisdiction to the mediation committee to resume talks while Ram Chabutra becomes a focal point in Ayodhya hearing.
September 19: Constitution bench comprising CJI Rajan Gogoi, Justices SA Bobde, DY Chandrachud, Ashok Bhushan and Abdul Nazeer resumes the hearing. The SC sets October 18 as the deadline for completing Ayoda case hearing. Meanwhile, Tamil Nadu professor who wrote a threatening letter to Rajeev Dhavan apologised and the apex court closes contempt case.
September 22: A special CBI court issued summons to former UP CM and BJP leader Kalyan Singh, directing him to appear before it on September 27 in connection with Babri Masjid's demolition case for conspiring to demolish the mosque.
September 24: The SC says the faith in Hindus will be hard to rebut
September 25: In a dramatic move, Muslim side accepts Ayodhya as Lord Ram's birth place
September 25: The Muslim parties said that it cannot argue on Archeological Study of India (ASI) report on excavations at Babji Masjid site in 2003 claiming it is filled with "palpable and inherent" infirmities and inconsistencies..
September 26: SC raises doubts on ASI findings.
September 27: ASI report not an ordinary opinion, inferences were drawn by experts, tells the SC.
October 3: Hindu side says the right to worship is a civil right
October 4: SC says it will wrap up hearing on Oct 17, judgment by Nov 17
October 13: All India Muslim Law Board (AIMPLB) said it cannot give up claim to Ayodhya site.
October 16: The Supreme Court concludes hearing; reserves order.
November 9: The Supreme granted the entire 2.77 disputed land to deity Ram Lalla saying the possession will remain with Central government receiver. The top court directed centre and state government of Uttar Pradesh to allot five-acre of land to the Muslims for building a mosque.
(with PTI inputs)
Posted By: James Kuanal