'Avoid endoscopy, treat COVID-19 patients in separate wards': Centre issues guidelines for ENT doctors
In a statement, the Health Ministry said that these guidelines are aimed to minimise the spread of COVID-19 infection among ENT doctors, nursing staff, support staff, patients and their attendants. (pic credits: PTI)
Publish Date: Fri, 05 Jun 2020 02:15 PM IST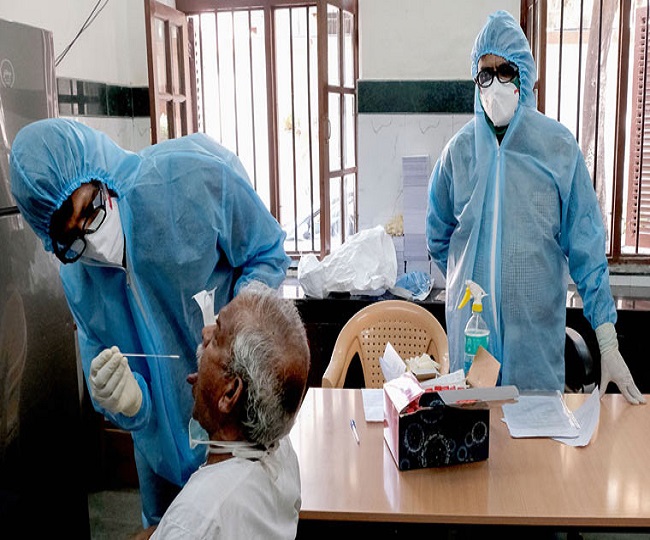 New Delhi | Jagran News Desk: With the alarming spike in the number of coronavirus cases in the country, the Ministry of Health and Family Welfare on Friday issued guidelines for the ENT doctors (Ear, Nose and Thorat) to contain the spread of the deadly infection.
In a statement, the Health Ministry said that these guidelines are aimed to minimise the spread of COVID-19 infection among ENT doctors, nursing staff, support staff, patients and their attendants.
The Health Ministry further said that teleconsultation should be done to identify patients requiring physical examination in clinic.
It also said that only one patient will be allowed to enter the examination room, adding that sufficient time should be given for patient evaluation and for time in-between patients. It further said that doctors and clinics should discourage walk-in patients without appointment.
Here's the complete standard operating procedures issued by the Centre for ENT doctors:
All patients entering ENT OPD should be screened. Patients having symptoms suggestive of COVID-19 (whether ENT symptoms or respiratory symptoms) should be seen in a separate "Covid-19 screening Clinic" and not in the ENT OPD.
Patients should wear face masks and social distancing norms needs to be followed.
ENT doctors should wear Level I PPE kit (N95 mask, gown, gloves, goggles/ face shield).
ENT doctors should avoid performing endoscopy. But if it is performed, then it should be in a separate demarcated area with Level II PPE kit (Cover-all gown, N 95 mask, gloves and goggles).
Only one patient's care-taker should be allowed at a time who is also screened like above. They should comply to strict precaution for COVID-19 like wearing of mask, frequent hand washing and social distancing.
Distancing of at least 2 meters in between patient beds is mandatory. Ward should be demarcated into separate areas for patients with high aerosol generating potential (e.g. Tracheostomised patients) and for patients with ENT patients.
Posted By: Aalok Sensharma