As millions respond to PM Modi's '9 pm-9 min' appeal, here's what his tweet in Sanskrit means
Updated: Sun, 05 Apr 2020 10:14 PM IST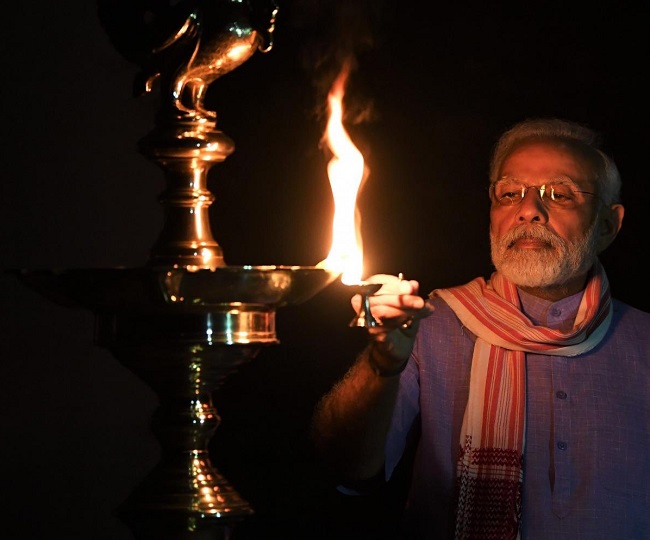 New Delhi | Jagran News Desk: Millions of people on Sunday switched off lights at their homes and lit candles, diyas or turned on mobile phone torches for nine minutes at 9 pm to show 'solidarity' in fight against the novel coronavirus.
Soon after the nine minutes, PM Modi shared his pictures lighting diyas and wrote a shlok in Sanskrit. "Shubham karoti kalyanmarogyan dhansampada shatrubudhuvinsaya deepjyotir namastute," PM Modi wrote in Sanskrit.
शुभं करोति कल्याणमारोग्यं धनसंपदा ।
शत्रुबुद्धिविनाशाय दीपज्योतिर्नमोऽस्तुते ॥ pic.twitter.com/4DeiMsCN11

— Narendra Modi (@narendramodi) April 5, 2020
The meaning of these shlokas means "salutations to the light of the lamp" which bring health, prosperity, destroys inimical feelings and "salutations to the light of the lamp".
PM Modi had on Friday urged people to turn off lights at their homes for nine minutes at 9 pm to display the country's collective resolve and solidarity to defeat the virus.
"Today when crores of people are inside homes, then some of us may think how will they fight this battle against COVID-19 alone. Such questions might come up in your mind? But please remember, none of us is alone. The strength of 130 crores of Indians is with each one of us," the Prime Minister had said.
Also Read | On PM Modi's '9 pm-9 min' appeal to defeat 'darkness' of coronavirus, people resort to cracker bursting
On PM Modi's appeal, millions of Indians switched off lights at their homes and lit candles, diyas or turned on mobile phone torches at their balconies as soon as the clock struck 9.
#WATCH Delhi: PM Narendra Modi lights a lamp after turning off all lights at his residence. India switched off all the lights for 9 minutes at 9 PM today & just lit a candle, 'diya', or flashlight, to mark India's fight against #Coronavirus as per his appeal. pic.twitter.com/9PVHDlOARw

— ANI (@ANI) April 5, 2020
However, at many places people also resorted to fireworks and thalis, whistles and police sirens were also heard. At some places, Hindu devotional songs, mantras and national anthem were also played.
This is the second time PM Modi has sought to rally people amid the ongoing lockdown to combat the novel coronavirus. Earlier, he had asked them to clap or beat utensils on March 22 for five minutes at 5 pm on 'Janata Curfew' to show gratitude to health and other essential service providers with sounds of bells, conches and claps.
The novel coronavirus has affected over 3,000 people in India and claimed the lives of 79 so far. To control the spread of the infection, PM Modi on March 24, had announced the 21-day nationwide lockdown and said that breaking the chain of transmission was the only way to defeat the deadly virus.
Posted By: Aalok Sensharma