As lockdown nears end, PM Modi meets Amit Shah, Hardeep Singh Puri among others to discuss roadmap after May 3
Prime Minister Narendra Modi on Friday held a meeting with top union minister, including Home Minister Amit Shah, Aviation Minister Hardeep Singh Puri, Commerce Minister Piyush Goyal among others, to discuss the roadmap after May 3. (File Image)
Publish Date: Fri, 01 May 2020 04:35 PM IST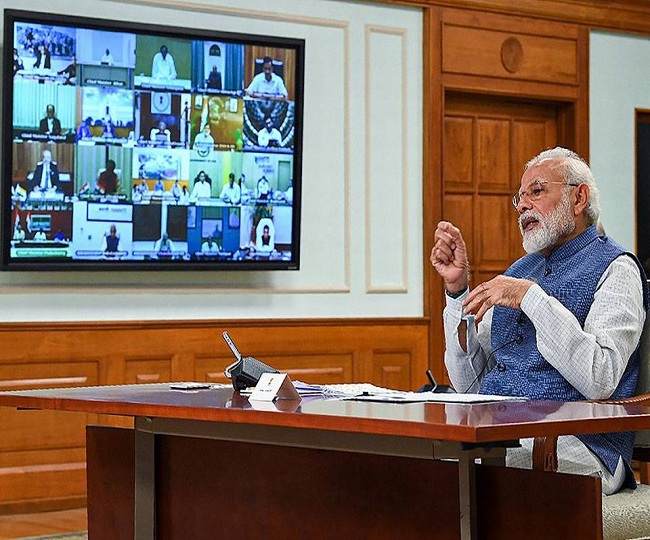 New Delhi | Jagran News Desk: With just two days left for the end of nation-wide lockdown in-place to contain the spread of the coronavirus, Prime Minister Narendra Modi on Friday held a meeting with top union minister, including Home Minister Amit Shah, Aviation Minister Hardeep Singh Puri, Commerce Minister Piyush Goyal among others, to discuss the roadmap after May 3.
According to reports, restarting flights and trains was one of the main agendas of the meeting between the ministers. The Centre is also taking feedback from state governments to decide the manner in which the lockdown should be lifted.
Also Read: 130 districts identified as Red Zones for 'no activity' after May 3; Delhi, Mumbai among them: Report
The government today issued a list of red zones or COVID-19 hotspots which was reduced from 170 to 130 in 15 days. Seven major cities in the country, including national capital Delhi, are "red zones"; Mumbai and Delhi alone account for more than 10,000 cases between them.
Meanwhile, the home ministry yesterday had indicated that the government is thinking to provide considerable relaxations for many districts in Green Zone from May 4, while asserting that the restrictions will continue in districts under Red Zones.
Earlier on Wednesday, the MHA issued an order to allow the movement of migrant workers, students, tourists and other persons stranded at various places in the country due to the coronavirus lockdown. In its order the MHA stated that special buses will be running between states to ferry the stranded workers, students to their native states.
However, several states objected to the decision to transport of stranded people through buses and demanded special trains. In view of the growing demand by the states, the Centre today allowed special trains to ferry migrant workers, students and tourists.
Also Read: Special trains to ferry migrant workers, students stranded due to coronavirus lockdown: Centre
Meanwhile, states like Punjab, West Bengal and Telangana want an extended lockdown to control the spread of the highly infectious virus. During his last interaction with chief ministers on Monday, PM Modi had said the economy would need to be given importance too while fighting the COVID-19 pandemic.
Posted By: Talib Khan