Updated: Thu, 14 Oct 2021 05:28 PM IST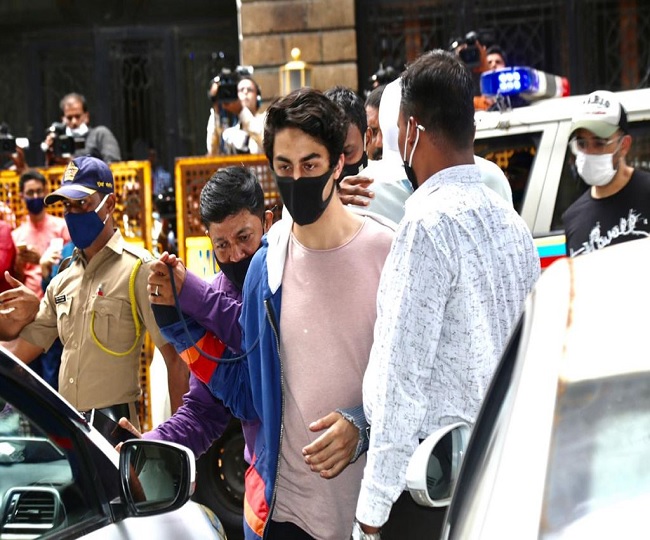 New Delhi | Jagran News Desk: The Special NDPS Court in Mumbai on Thursday reserved its order on Bollywood superstar Shah Rukh Khan's son Aryan Khan's bail application in drugs on cruise case. The court will now pronounce its order on October 20 when the court proceedings will resume after Dussehra Holidays. With this Aryan Khan, Arbaz Merchant and Munmun Dhamecha will remain in the Arthur road jail and Byculla jail for women respectively till October 20.
After hearing extensive arguments of the investigating agency NCB and defence lawyers on Thursday, special judge V V Patil posted the matter for orders on October 20. This is the second day of Aryan Khan's bail hearing after the court adjourned it to today on Wednesday.
During the hearing, Additional Solicitor General (ASG) Anil Singh stated that Aryan is a regular consumer of drugs for the past few years and granting him bail could hinder the investigation in the case which is in a crucial stage.
"Aryan Khan is not taking drugs only once... the statement that has been received shows that he used to consume it for the last few years. Drugs have been found from Arbaaz Merchant (Aryan's friend, from whom 6 grams of charas were seized)... Aryan was with him. When the IO (investigating officer) asked if he had drugs, Arbaaz said he had drugs in his shoes... Arbaaz admitted that both (he and Aryan Khan) were going to consume it on the cruise," ASG Anil Singh said.
"The investigation is at preliminary stage, this is not the stage for grant of bail... In conspiracy there cannot be direct evidence because only conspirator will know the conspiracy. So Supreme Court has said there can only be circumstantial evidence," ASG Anil Singh added.
Arguing for Aryan Khan, senior advocate Amit Desai said asserted that the WhatsApp chats, the NCB is referring to, can often appear suspicious given the nature of language millennials nowadays.
"Please bear in mind one other reality. Today's generation have a means of communication, which is English... not the Queen's English.. it's sometimes what the older generation will call a torture. The way they communicate is very different," he said.
"Conversions on chats can often be misunderstood. WhatsApp chats are supposed to be private conversations. But I am told there are no messages or conversations on the mobile about the rave party," Desai added.
Earlier in the day, Aryan Khan and 5 others were shifted to the common cell from quarantine barrack in the Arthur road jail after their Covid report came negative. Aryan Khan, Arbaz Merchant and Munmun Dhamecha, who were arrested by the NCB earlier this month after the anti-drugs agency raided a rave party on the Goa-bound Cordelia Cruise off the Mumbai coast.
Posted By: Talibuddin Khan