Arrest or surrender by Vikas Dubey? Timeline of events suggest gangster scripted his arrest to evade encounter
Vikas Dubey apparently did not use any disguise to evade the police and neither did he have any arms since weapons are prohibited in the temple complex.
Updated: Thu, 09 Jul 2020 07:56 PM IST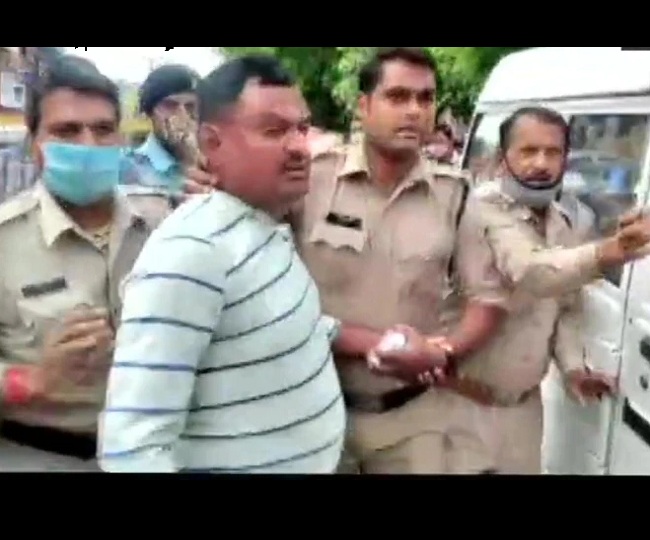 New Delhi | Abhinav Gupta: Wanted for the killing of eight Uttar Pradesh policemen in Kanpur, gangster Vikas Dubey was nabbed from outside the Mahakal Temple in Madhya Pradesh's Ujjain after nearly a week-long game of hide-and-seek.
According to Ujjain Collector Ashish Singh, Dubey was going to Mahakal Temple when he was identified by a security personnel. The guard informed the police and the gangster revealed his identity after being pushed for it.
As per a News18 report, Dubey was nabbed after a tip-off by the flower vendor outside Mahakaleshwar temple. Dubey talked to him after removing his mask when the seller found him suspicious and informed the official.
A video released by news agency ANI shows Dubey being held by the scruff of his collar by the police and shouting: "Main Vikas Dubey hoon Kanpur wala (I am Vikas Dubey of Kanpur)." This indicates towards the possibility of the gangster planning a public arrest so that he evades the possibility of an encounter.
Several reports have claimed that Vikas reached the temple around 8 am and informed the security guards about his identity and asked them to inform the police. Soon, the cops came and took him away.
Agency reports quoted temple officials admitting that Dubey disclosed his name on the counter where he was giving money for donation and then asked them to inform the police.
However, PTI quoted temple sources giving a slightly different account. They said Dubey reached the temple gate in the morning and purchased a Rs 250 ticket from a counter near the police post. When he went to a nearby shop to buy prasad for the deity, the shop owner identified him and alerted police, they added.
It is not clear if he was arrested immediately, before he could enter the temple, or later when he came out of the temple after performing darshan, as some media reports said.
In a photograph that has gone viral, shows Dubey sitting comfortably on a sofa inside the temple complex. The photo seems to indicate that Dubey himself approached the authorities to evade an encounter by the police.
On the other hand, MP Home Minister Narottam Mishra praised the MP Police for the the gangster's arrest. Speaking to the media, Mishra said: "Hamari police kisi ko nahin chhodti. Hamare jaanbaaz police jawanon ne usey dhar dabocha (Our police never lets any criminal go scott free. They have nabbed him)."
Mishra said the details of his arrest and related process would be made public by the police later. Mishra said Dubey has been known to be "cruel and crafty" from childhood. The police had to be extra cautious. Mishra said the police was alerted by the intelligence agencies.
Everything points to Vikas having travelled all the way from Faridabad to the high security zone of Mahakaal to avoid a death in police encounter. Dubey apparently did not use any disguise to evade the police and neither did he have any arms since weapons are prohibited in the temple complex.
"This is a pre-planned surrender because it seems too simple to be true. Vikas had successfully eluded the police in three states for one week and it is rather unusual that he would enter a temple without a mask and get arrested. He knew that he would be shot dead if he gave himself up to UP police," a retired DGP was quoted news agency IANS as saying.
Another senior police official admitted that the arrest/ surrender seems extremely well planned. "The gangster wanted to surrender in a 'safe state'. He did not go to court because of police presence and, therefore, chose the temple. Unless the police decide to make another mistake, Vikas Dubey will not be harmed physically now," he said.
Dubey had been eluding the police since the past one week and though four dozen teams of Special Task Force and state police were chasing him, they could not nab him. Five associates of Vikas Dubey have been shot dead in UP after the killing of eight policemen last week. Two of his associates, Prem Prakash Pandey and Atul Dubey were shot dead on Friday, hours after the massacre.
Amar Dubey was shot dead on Wednesday in Hamirpur and Prabhat and Bauan Dubey were shot dead in Kanpur and Etawah respectively on Thursday morning.All of them were reportedly involved in the shootout.
Whatever the truth is, the development comes as a major embarassment for the UP STF which had been claiming since Wednesday that Dubey was hiding in Delhi-NCR, was blissfully unaware that he had moved across to Ujjain in Madhya Pradesh - 773 kms from Faridabad in Haryana where Dubey was reportedly seen last on Tuesday.
(With inputs from agencies)
(Disclaimer: The views expressed in the article are of the author and the organisation is They do not purport to reflect the opinions or views of the organisation or its members.)
Posted By: Abhinav Gupta