Updated: Thu, 09 Apr 2020 10:41 AM IST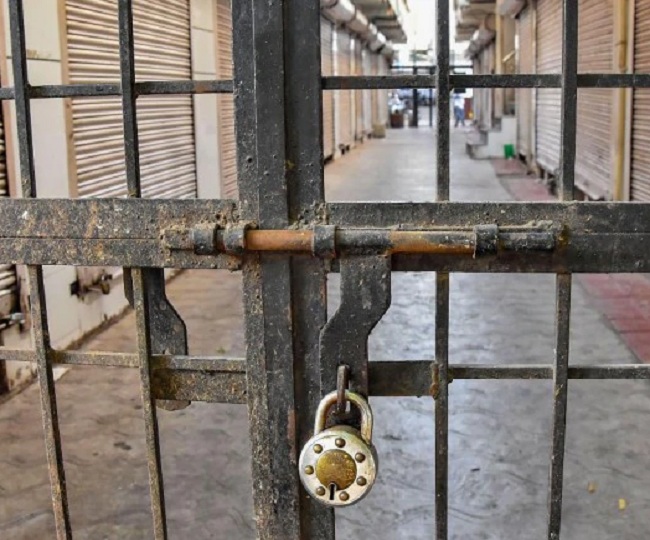 New Delhi | Jagran News Desk: Amid the alarming spike in coronavirus cases across the country, Delhi and Uttar Pradesh governments have sealed 20 and 104 COVID-19 hotspots respectively to contain the spread of the virus.
In Delhi, the 20 hotspots include parts of Sangam Vihar, Malviya Nagar and Jahangirpuri that have been notified as "containment areas".
The Uttar Pradesh government announced that it would seal coronavirus disease (Covid-19) hotspots identified in 15 districts of the state till the end of the 21-day nationwide lockdown on April 14.
The districts where orders will be implemented are Agra, Ghaziabad, Gautam Buddh Nagar, Lucknow, Varanasi, Shamli, Meerut, Bareilly, Bulandshahr, Kanpur, Basti, Ferozabad, Saharanpur, Maharajganj, and Sitapur.
The move has left people with a flurry of questions like what is a "hotspot", if their locality is identified as a hotspot and what restrictions are imposed in such areas.
What's a COVID-19 hotspot
As per state government officials, areas in districts where six or more people have tested positive for coronavirus are identified as "hotspots".
The area is earmarked based on assessment of risk factor, probability of high degree of virus spread and whether people are taking the lockdown seriously.
"It is a geographical area, which could be a mohalla or a colony or a sector, where the probability of community spread is high," IG (Agra Range) A Satish Ganesh was quoted by Times of India as saying.
Restrictions in a hotspot
In effect, these localities would be under a curfew-like situation with the state government announcing the cancellation of all the passes issued to locals. All entry and exit points are barred to stop movement of people in and out of the area.
There would complete prohibition on the movement of people in these areas and the authorities would make arrangements for the doorstep delivery of all essential commodities, including food, milk, medicines.
These sealed localities would be sanitised and all the affected people and those coming in direct contact of the patients would be identified.
What's prohibited
No movement of people in and out of the area
Visiting grocery and medicine stores also not allowed
Media not allowed in the area
What's allowed
Groceries and other essentials ordered to homes
Ambulances with special permission in case of medical emergency
Rigorous door-to-door monitoring
Sanitisation of the area
Lists of hotspots in Delhi, Noida and Ghaziabad
Delhi
Entire affected street near Gandhi Park, Malviya Nagar, New Delhi
Entire affected street of Gali No 6 , L 1 Sangam Vihar, New Delhi.
Shahajahanabad society, plot no 1, Sector 11, Dwarka.
Dinpur Village
Markaz Masjid and Nizamuddin Basti
Nizamuddin West (G and D block) areas.
B Block Jhangirpuri.
H. No 141 to H. No 180, Gali no. 14, Kalyanpuri Delhi
Mansara Appartments , Vasundhara Enclave, Delhi
3 Galis of Khichirpur including Gali containing H. No. 5/387 Khichirpur Delhi
Gali No 9, Pandav Nagar , Delhi 110092.
VarDhaman Appartments , Mayur Vihar, Phase I , Extension, Delhi
Mayurdhwaj Appartments , I P Extension, Patparganj, Delhi
Gali no. 4, from H. No. J- 3/115 ( Nagar Dairy) to H. No. J- 3/108( towards Anar wali Masjid Chowk), Kishan Kunj Extension, Delhi
Gali No. 4, from H. No J- 3/101 to H. No. J - 3/107 Krishan Kunj Extension Delhi.
Gali No. 5, A Block ( From H No. A- 176 to A-189), WestVinod NagarDelhi 110092.
J & K , L and H pockets Dilshad Garden
G, H, J, Blocks old Seemapuri
F- 70 to 90 block Dilshad Colony
Pratap khand , Jhilmil Colony
Manasarovar Garden in Rajouri Garden
Jahangirpuri
Deoli Extension
Nabi Karim
Zakir Nagar
Chandni Mahal
Sadar Bazaar, Central District
Bengali Market, Babar Road, Todarmal Road, Babar lane and school lane
Shastri Market and JJ cluster, South Moti Bagh
Shashtri Market
Uttar Pradesh
According to the state's Additional Chief Secretary Awanish Kumar Awasthi, a total of 104 hotspots spread across 81 police station in these districts have been identified, wherein a "complete lockdown" has been enforced from midnight on Wednesday.
Agra had the highest number of hotspots at 22, followed by Ghaziabad with 13, and Lucknow, Gautam Buddh Nagar and Kanpur accounting for 12 hotspots each.
Gautam Buddh Nagar
Sector 41, Noida
Hyde Park Sector 78 Noida, Supertec Capetown Sector 74 Noida
Lotus Boulevar, Sector 100, Noida
Alpha-1 Greater Noida
Nirala Green Shire Sector 02, Greater Noida and Patwari Village
Logix Blossom County Sector 137 Noida, Paras Tierra, Sector 137, Noida and Wazipur village
AS Dolce Zeta- 1 Greater Noida
Ace Golf Shire Society, Sector 150, Noida
Sector 27 and Sector 28
Omicron 3, Sector 3, Greater Noida
Mehak Residency, Achega, Greater Noida
Jay Pee Wish Town, Sector 128
Sector 44
Village Vishnoi, Dadri
Sector 37
Village Ghodi Bacheda
Stellar Mi Omicrom 3, Greater Noida
Palm Olympia, Gaur City-2, Greater Noida West
Sector 22, Chauda Village
Grand Omaxe, Sector 93B
Sector 5 and 8, JJ colony
Designer Park, Sector 62
Ghaziabad
Nandgram Nikat Masjid (Police Station: Sihani Gate)
KDP Grand Savanna, Raj Nagar Extension (Police Station: Sihani Gate)
Saviour Park Society, Mohan Nagar (Police Station: Sahibabad)
B-77/G-5 Shalimar Garden Extension 2 (Police Station: Sahibabad)
Pasonda (Police Station: Teela Mod)
Oxy Homez, Bhopura (Police Station: Teela Mod)
Vasundhara Sector-2B (Police Station: Indirapuram)
Sector-6 Vaishali (Police Station: Indirapuram)
Girnar Society, Kaushambi (Police Station: Kaushambi)
Naipura Loni
Masuri
Khatu Shyam Colony, Duhai
Covid-1 CHC, Muradnagar
Posted By: Abhinav Gupta