Anti-CAA protesters of Shaheen Bagh likely to meet Amit Shah at 2 pm today: Reports
A delegation of the protesters under the banner of 'People of Shaheen Bagh' has reportedly sought an appointment with Amit Shah.
Updated: Sun, 16 Feb 2020 06:59 AM IST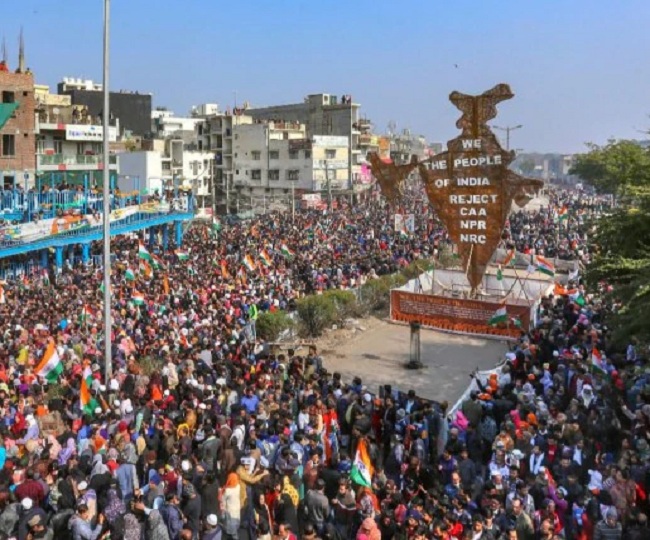 New Delhi | Jagran News Desk: Home Minister Amit Shah is likely to meet on Sunday the protesters of Delhi's Shaheen Bagh who have been holding a sit-in the area against the Citizenship Act for the last two months, as per media reports.
A delegation of the protesters under the banner of 'People of Shaheen Bagh' has reportedly sought an appointment with Shah and if confirmed, the meeting will take place at 2 pm at the Home Minister's residence.
The reported development, though not officially confirmed, comes after Shah on Thursday said that he was open to discussions with anyone, including protesters at Shaheen Bagh, but that any conversation would take place on merit.
"I want to say that they (Shaheen Bagh protesters) should ask for time from my office. Within three days I will give time. I have said anyone I will meet, but nobody wants to discuss. A discussion will have to be done on merits," he had said while at an event hosted by a leading news channel.
Shah had also said that everyone had the right to peacefully protest , adding that he stood with the Delhi Police on its action at Jamia Millia Islamia.
"Delhi Police had gone running after those that burnt buses. Nobody has the right to burn buses. The two things are different. Peacefully protesting, and burning buses, burning someone's Scooty, burning a car. Even those who own the vehicles have rights. To protect their rights, this government only has to do… The JNU matter was different. It was a movement for fee. Movements on fee and on educational issues happen often. Only Aishe Ghosh was not hurt. Lots of people were hurt, people who you don't even care to search for. There were two groups. The second group was also hurt… Law and order cannot be compared like this. Whatever way an andolan is conducted, police will have to react accordingly. Main bahut firmly maanta hun ki us vakt police ne uchit kadam uthaya tha. Ismein mujhe zara bhi do raay nahi hai aur main police ke saath hoon (I firmly believe that police took the right step at that time and there is no doubt that I am with the police)," he was quoted as saying.
Shaheen Bagh has been the epicentre of anti-CAA protests in Delhi for the last two months. The blockade of the Kalindi Kunj-Shaheen Bagh stretch by the protesters has led to alarming traffic situation in several parts, particularly the Ashram-Maharani Bagh-DND stretch.
On February 10, the Supreme Court said people cannot block public road indefinitely and create inconvenience for others but declined to pass an interim direction on pleas for removal of anti-CAA protesters from Shaheen Bagh.
As it observed that people are entitled to protest but it has to be done in an area identified for agitations and cannot be done on a public road or park, the court also took up the issue of an infant dying on returning home from Shaheen Bagh where his parents had taken him along.
"Can a 4-month-old child be taking part in such (Shaheen Bagh) protests?", the court asked while warning two women lawyers for making "explosive submissions" that children participating in the protests against the Citizenship Amended Act(CAA) are being called names, 'terrorist', 'gaddar' (traitor), 'Pakistani', in school.
The 4-month-old baby had passed away in his sleep on the night of January 30 after returning from Shaheen Bagh.
A bench comprising Justices S K Kaul and K M Joseph issued notices to the Centre, Delhi government and Delhi Police asking them to respond to the pleas seeking removal of protesters from Shaheen Bagh and ensuring smooth traffic flow on the Kalindi Kunj-Shaheen Bagh stretch.
Posted By: Abhinav Gupta