Amid political mudslinging, Sonu Sood explains why he is helping stranded migrants; here's what he said
Sonu credits his parents Shakti and Saroj Sood for inspiring him to execute such exceptional humanitarian efforts.
Updated: Wed, 10 Jun 2020 01:22 PM IST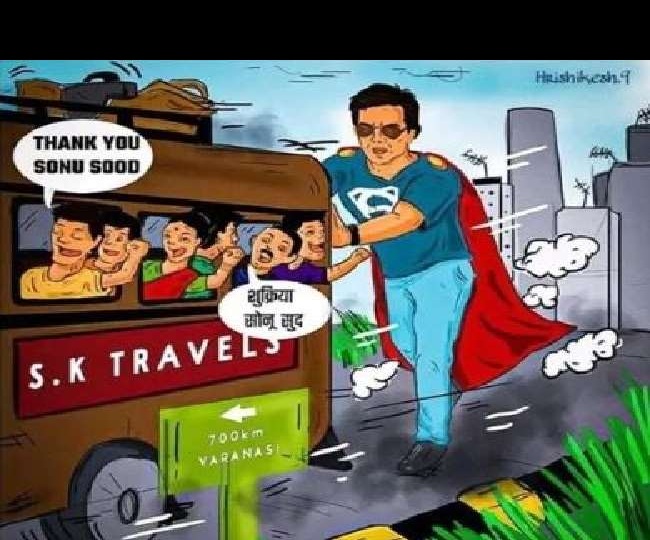 New Delhi | Jagran News Desk: In late 1990s, when 'Dabangg' antagonist Sonu Sood took a train to Mumbai from Moga, a small town located near Punjab's Firozepur-Ludhiana Highway, he might not have anticipated that decades after when the country will come across one of the biggest crises of the century, he will end up becoming the most humanitarian name on the face of this crisis.
"I feel strongly about them (migrants) because I came to Mumbai as a migrant. I boarded a train one day and landed up here. Everyone comes to a city with a dream of a better life," Sonu recently told the news agency PTI while adding that, "Seeing their struggle reminds me of my own here as an actor. It was difficult initially for me. When I see them I can recollect my journey."
Interestingly, when Sonu's 1997-dated Local Train pass worth Rs 420 for his travel between Borivali and Churchgate, went viral, Tweeples said that since he has struggled for real, he's able to understand the pain of others at such moment of crisis-filled reckoning.
Life is a full circle ⭕️ https://t.co/XTVp1ysRaz

— sonu sood (@SonuSood) May 29, 2020
So far, Sonu claims to have helped around 18,000-20,000 migrant workers stuck in Mumbai and beyond to enable their homecoming to their native towns far across in the hinterland, be it in Bihar, Odisha, Uttar Pradesh, Jharkhand or Assam. He has sent off people to their native places through Buses, Trains and even by arranging the air tickets, whereas the groups of people managing to board the trains otherwise were facilitated with water, food packets, sanitisers and basic medicines too. Apart from transitioning from reel life villain to real life hero on the social media, Sonu's efforts were appreciated by Maharashtra Governor Bhagat Singh Koshyari too.
However, lately, Sonu faced an episode of political mudslinging when Shivsena's Member of Parliament Sanjay Raut alleged in party mouthpiece 'Saamna' that Sonu was being propped up by BJP to show Uddhav Thackeray-led Maharashtra government in poor light, and while questioning the financial backing required to execute such an effort, said that the actor was merely enacting a political script.
Within hours, from former Maharashtra Chief Minister Devendra Fadnavis to Defence Minister Rajnath Singh, several BJP leaders lashed out at Shivsena for criticising Sood for his relief work. In a spontaneous turn of events, Sonu met Maharashtra Chief Minister Uddhav Thackeray, state Environment Minister Aaditya Thackeray and state Fisheries Minister Aslam Sheikh to brief them about the efforts he was undertaking and the top governing hierarchs of Maharashtra were reported to have offered whatever help Sonu required to continue the work he was doing.
As reported by India Today, Sonu sidelined himself from the Raut's dig on him by remarking that only time will tell the truth. "It is his opinion. He is a big man. I am sure time will tell the truth and he will realize," Sonu said while adding that, "whatever is happening is all thanks to Uddhav and Aditya Thackeray. They have helped. They are my friends. Aslam Sheikh has been a great help. All this would not have been done without their help."
"I don't have any interest in politics. Not at all," Sood was quoted as saying by India Today.
Sonu credits his parents Shakti and Saroj Sood for inspiring him to execute such exceptional humanitarian efforts.
"Everyone should come forward to do their bit. Every kitchen should make an extra meal for someone, be it a vegetable vendor or a watchman or anyone else. No one in the country should sleep hungry or stay homeless," Sood told PTI.
Posted By: Abhinav Gupta