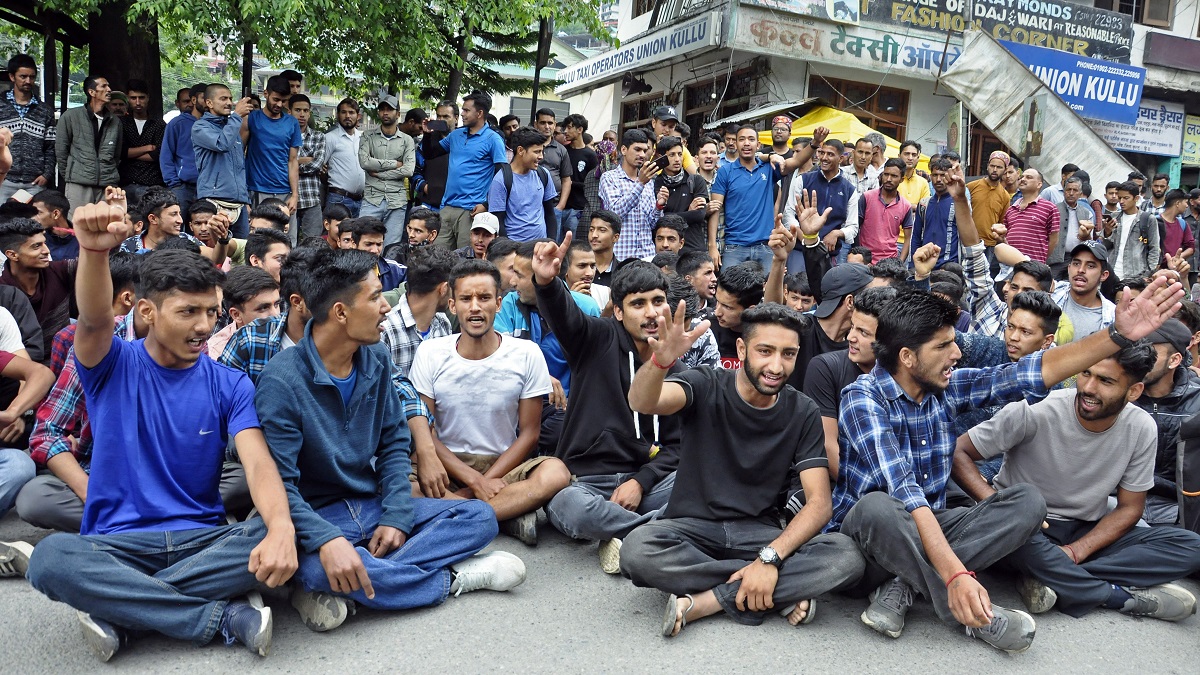 New Delhi | Jagran News Desk: The agitation against the Centre's new Agnipath recruitment scheme continued across India on Saturday, especially in Bihar, where protestors vandalised railway stations and torched a police vehicle, leading to clashes with the officials. A 24-hour bandh was also called in Bihar with protestors demanding an immediate withdrawal of the new scheme.
Here are 10 points you need to know about the story:
1. The bandh in Bihar was supported from many political parties, including the Rashtriya Janata Dal (RJD), which has said the new scheme is detrimental to the interests of the nation's youth. "We support those who are agitating on the streets in protest against 'Agnipath' recruitment. The new short-term recruitment scheme in the armed forces is not in the interest of the country's youth," RJD Bihar president Jagadanand Singh was quoted as saying by news agency PTI.
2. In Bihar, police have arrested around 620 people in three days, and 130 FIRs have been registered amid the Agnipath protest.
3. The East Central Railways had to cancel 60 trains and two terminated due to prevailing law and order problem and threat perception to railway property and passengers in Bihar.
4. Chirag Paswan's Lok Janshakti Party (Ram Vilas) has also expressed concerns over the new scheme, saying he would meet Governor Phagu Chouhan on Saturday and seek the withdrawal of the new model. Earlier, the junior Paswan had also written to Defence Minister Rajnath Singh, raising similar concerns.
5. With the situation worsening, the Bihar government has suspended trains services in the state. "To ensure safety and security of passengers and railway property, trains originating in other zones will be plied through ECR only after 8 PM on Saturday and continue till 4 AM on Sunday. Movement of such trains will be restored at 8 PM on Sunday," ECR Chief Public Relations Officer Virendra Kumar was quoted as saying by PTI.
6. Earlier, the Bihar government had also suspended internet services in 12 districts including Kaimer, Bhojpur, Aurangabad, Rohtas, Buxer, Nawada, West Champaran, Samastipur, Lakhisarai, Begusarai, Vaishali, and Saran till June 19.
7. Internet services and SMS services were also suspended in some parts of Haryana, including Faridabad's Ballabhgarh, as a precautionary measure after protests broke out in Hisar, Fatehabad, and Jhajjar due to the protests.
8. Even the national capital Delhi witnessed protests after AISA members staged demonstrations, forcing Delhi Metro Rail Corporation (DMRC) to close entry and exit gates of several of its metro stations.
9. Amid this, Defence Minister Rajnath Singh, Union Home Minister Amit Shah, and three service chiefs appealed to youths to calm down and end their agitation, saying the Agnipath scheme would be "transformational".
10. On Saturday, the Union Home Ministry also announced to reserve 10 per cent vacancies CAPFs and Assam Rifles for Agniveers. Similar announcement was also made by the Defence Ministry, which said a proposal to reserve 10 per cent of jobs in the ministry for Agniveers has been approved.