9,971 new infections, highest single-day spike, take India's COVID-19 tally past 2.46 lakh-mark; death toll nears 7,000
Of the total 2,46,628 cases, 1,20,406 are active cases, while 1,19,292 people have been cured or discharged from the hospitals across the country. The recovery rate in India also improved to 48.36 on Sunday from, 48.20 recorded on Saturday. (Image Credits: PTI)
Updated: Sun, 07 Jun 2020 09:47 AM IST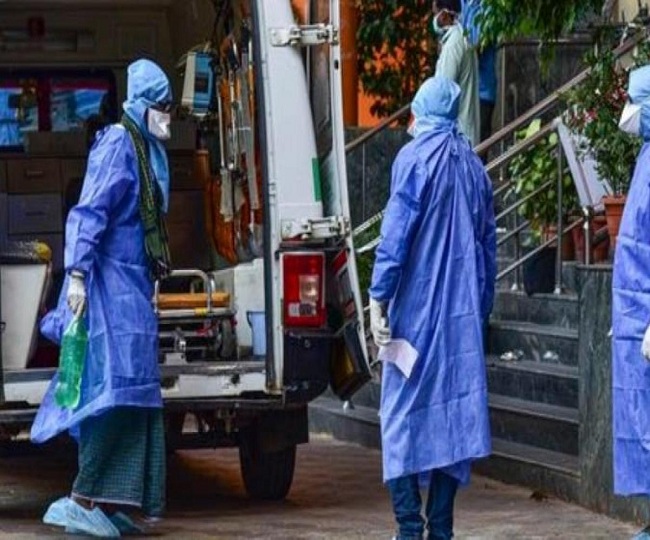 New Delhi | Jagran News Desk: With a record spike of 9,971 new COVID-19 infections in last 24 hours, India's tally of coronavirus on Sunday crosses the 2.46 lakh-mark and reached 2,46,628. The death toll also surged to 6,929 after 287 fatalities were reported in last 24 hours, according to the latest data provided by the Ministry of Health and Family Welfare.
Of the total 2,46,628 cases, 1,20,406 are active cases, while 1,19,292 people have been cured or discharged from the hospitals across the country. The recovery rate in India also improved to 48.36 on Sunday from, 48.20 recorded on Saturday.
With the latest spike in coronavirus cases, India today also surpassed Spain to become the fifth worst affected country from the coronavirus in the world. Now only USA, Russia, Brazil and UK are ahead of India in number of COVID-19 cases.
Among the Indian states, Maharashtra remains to be the worst affected state with positive cases nearing 83,000 and 2,969 deaths. Following Maharashtra, Tamil Nadu is the second worst hit state with 30,152 positive cases and 251 deaths. However, of the total cases in Tamil Nadu 16,395 people have been cured and discharged from the hospitals.
The national capital, Delhi, remains to be third on the list with 27,654 positive cases and 761 deaths. Delhi has witnessed a sharp rise in cases in the past few days. More than 4,000 cases have been reported in the national capital from June 3. The western state of Gujarat remains to be the number four on the list with 19,592 cases and 1,219 deaths. However, of the total only 5,057 are active cases in Gujarat.
Here is the state-wise list coronavirus and deaths in the country:
| S. No. | Name of State / UT | Active Cases* | Cured/Discharged/Migrated* | Deaths** | Total Confirmed cases* |
| --- | --- | --- | --- | --- | --- |
| 1 | Andaman and Nicobar Islands | 0 | 33 | 0 | 33 |
| 2 | Andhra Pradesh | 1817 | 2620 | 73 | 4510 |
| 3 | Arunachal Pradesh | 46 | 1 | 0 | 47 |
| 4 | Assam | 1846 | 547 | 4 | 2397 |
| 5 | Bihar | 2460 | 2425 | 30 | 4915 |
| 6 | Chandigarh | 31 | 273 | 5 | 309 |
| 7 | Chhattisgarh | 653 | 266 | 4 | 923 |
| 8 | Dadar Nagar Haveli | 18 | 1 | 0 | 19 |
| 9 | Delhi | 16229 | 10664 | 761 | 27654 |
| 10 | Goa | 202 | 65 | 0 | 267 |
| 11 | Gujarat | 5057 | 13316 | 1219 | 19592 |
| 12 | Haryana | 1794 | 2134 | 24 | 3952 |
| 13 | Himachal Pradesh | 201 | 194 | 5 | 400 |
| 14 | Jammu and Kashmir | 2302 | 1126 | 39 | 3467 |
| 15 | Jharkhand | 520 | 473 | 7 | 1000 |
| 16 | Karnataka | 3186 | 1968 | 59 | 5213 |
| 17 | Kerala | 1030 | 762 | 15 | 1807 |
| 18 | Ladakh | 50 | 48 | 1 | 99 |
| 19 | Madhya Pradesh | 2721 | 6108 | 399 | 9228 |
| 20 | Maharashtra | 42609 | 37390 | 2969 | 82968 |
| 21 | Manipur | 105 | 52 | 0 | 157 |
| 22 | Meghalaya | 19 | 13 | 1 | 33 |
| 23 | Mizoram | 23 | 1 | 0 | 24 |
| 24 | Nagaland | 107 | 0 | 0 | 107 |
| 25 | Odisha | 1057 | 1716 | 8 | 2781 |
| 26 | Puducherry | 63 | 36 | 0 | 99 |
| 27 | Punjab | 373 | 2092 | 50 | 2515 |
| 28 | Rajasthan | 2599 | 7501 | 231 | 10331 |
| 29 | Sikkim | 7 | 0 | 0 | 7 |
| 30 | Tamil Nadu | 13506 | 16395 | 251 | 30152 |
| 31 | Telengana | 1663 | 1710 | 123 | 3496 |
| 32 | Tripura | 574 | 173 | 0 | 747 |
| 33 | Uttarakhand | 869 | 423 | 11 | 1303 |
| 34 | Uttar Pradesh | 3828 | 5648 | 257 | 9733 |
| 35 | West Bengal | 4236 | 3119 | 383 | 7738 |
| | Cases being reassigned to states | 8605 | | | 8605 |
| | Total# | 120406 | 119293 | 6929 | 246628 |
Posted By: Talib Khan