Updated: Sun, 22 Mar 2020 10:22 PM IST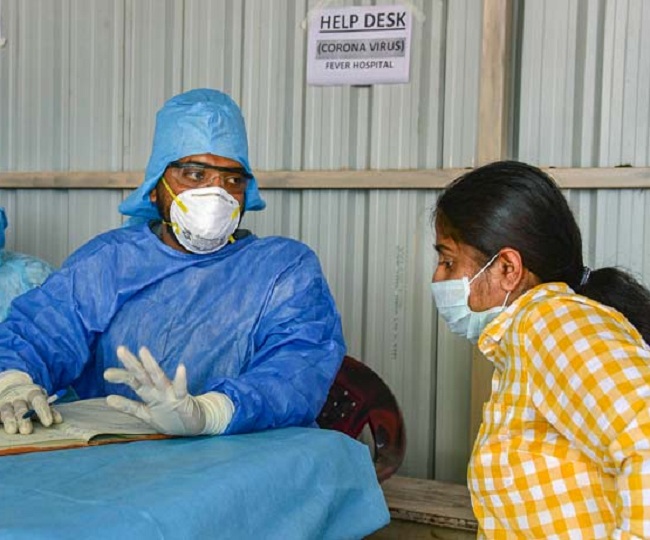 New Delhi | Jagran News Desk: The number of confirmed cases of coronavirus in India swelled up to 360 on Sunday with the death toll climbing to seven. Three casualties were reported in the last 24 hours, including the first deaths from Bihar and Gujarat.
The alarming spike in cases raising the concern of community transmission of the disease has prompted several state governments to announce complete lockdown in around 80 cities across 75 districts where positive cases of coronavirus have been reported, including Delhi, Mumbai, Chennai, Kolkata and Berngaluru.
State governments will issue orders allowing only essential services to operate in these 80 districts with confirmed COVID-19 cases or casualties, a Union Home Ministry official said.
As millions of people stayed indoors following an appeal by Prime Minister Narendra Modi to observe a "Janta Curfew" on Sunday, the central and state governments decided to lock down 75 districts from where COVID-19 cases have been reported to break the chain of transmission, and the Health Ministry said states would earmark hospitals to exclusively treat coronavirus patients.
Meanwhile, in unprecedented steps to contain the spread of the COVID-19 virus, authorities suspended all passenger train and inter-state bus services till March 31.
As per the fresh directives, all passenger trains, suburb trains and metro trains across the country will remain off the tracks till the end of this month.
The Railways announced it was suspending all passenger services from March 22 midnight until March 31 and said only goods trains will run during the period. The suspensions include all suburban train services. Trains that commenced their journey prior to 4 am on March 22 will complete their journeys, it said, adding that passengers can claim a full refund for trains cancelled during this period till June 21.
Also, the government suspended all inter-state bus services until March 31.
The extraordinary decisions were taken a day after the Railways reported three incidents (12 positive cases) of people asked to remain in quarantine travelling on trains and amid an exodus of people from urban areas to their home states, raising fears of the virus spreading to the countryside.
State-wise count of cases
The total number of active COVID-19 cases across the country stands at 329 so far, and 24 people have been cured/discharged/migrated, while seven have died, taking total number of cases to 360, including 41 foreign nationals, the Health Ministry said.
Maharashtra has reported the highest number of COVID-19 cases at 67, including three foreigners, followed by Kerala at 52, including seven foreign nationals, according to the ministry data.
Delhi has reported 29 positive cases, while Uttar Pradesh has recorded 27 cases. Both include a confirmed case of a foreigner each.
Telangana has reported 22 cases, including 11 foreigners. Rajasthan has reported 24 cases, including two foreigners.
In Haryana, there are 21 cases, which include 14 foreigners. Karnataka has 26 coronavirus patients.
Punjab has 21 cases while Gujarat reported 18 cases. Ladakh has 13 cases while Tamil Nadu has 7 cases, which includes 2 foreigners.
Chandigarh and Andhra Pradesh have five cases each. Madhya Pradesh, Jammu and Kashmir, and West Bengal reported four cases each.
Uttarakhand have reported three cases. Bihar, Odisha and Himachal Pradesh reported two cases each. Puducherry and Chhattisgarh have reported a case each.
The Health Ministry said a total of 15,17,327 passengers had been screened at airports across the country so far.
Overview of what all is closed across the country:
The Railways announced suspension of all its passenger services from March 22 midnight to March 31 midnight and said only goods trains will run during the said period amid concerns that coronavirus-infected passengers were spreading the virus.
Other than passenger trains, metro rails and inter-state bus services have also been suspended till March 31.
Uttar Pradesh
Uttar Pradesh Chief Minister Yogi Adityanath announced that 15 districts in the state would be under lockdown in the first phase till Wednesday in wake of the coronavirus outbreak.
The announcement came soon after the Centre and state governments decided to put under lockdown 80 districts across the country, where cases of novel coronavirus have been reported.
"Fifteen districts in the state will be locked down in the first phase from Monday," Adityanath told reporters in Gorakhpur.
The districts where the lockdown has been enforced in the first phase are Lucknow, Agra, Gautam Buddha Nagar, Ghaziabad, Varanasi, Allahabad, Kanpur, Aligarh, Moradabad, Lakhimpur Kheiri, Bareilly, Azamgarh, Meerut, Gorakhpur and Saharanpur.
Delhi
Delhi will be locked down from 6 am on March 23, Chief Minister Arvind Kejriwal announced on Sunday, saying "extraordinary measures" are required to contain the spread of the new coronavirus after six locally transmitted cases surfaced in the national capital.
The lockdown will continue till midnight on March 31, Kejriwal said at a joint press conference with Lt Governor Anil Baijal.
No public transport will operate and Delhi's borders will remain sealed during the lockdown, but the essential services related to health, food, water and power supply will continue, he said but added that 25 percent of the DTC buses will run to transport people associated with essential services.
He also announced a ban on domestic flights, but the Centre later clarified that inter-state flights will continue to land in Delhi.
Punjab
With number of coronavirus patients reaching 21 in the state, the Punjab government on Sunday ordered a lockdown till March 31 as an emergency measure to prevent the spread of coronavirus.
However, the essential services will be exempted from the shutdown which will be effective from Monday at 6 am and will remain in force till 9 pm of March 31, a government statement said.
Posted By: Abhinav Gupta