32 terrorists eliminated by forces in J&K in June alone, 13 including Riyaz Naikoo gunned down in May
Security forces eliminated one of the longest surviving commanders of Hizbul-Mujahideen in Kashmir, Riyaz Naikoo on May 6th in Beighpora of Awantipora.
Updated: Wed, 10 Jun 2020 02:59 PM IST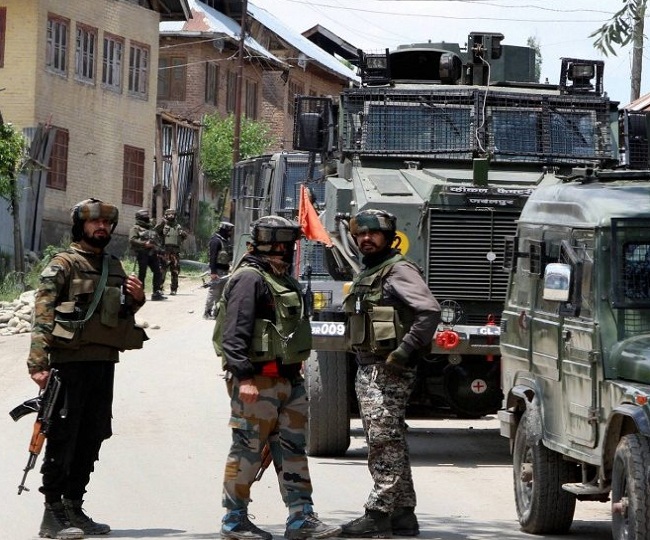 New Delhi | Jagran News Desk: India's response to Pakistan's terror export from across the Line of Control in Jammu and Kashmir has been nothing but remarkably valorous which has broken the backbone of Hizbul Mujahideen and Jaish-e-Mohammed in Kashmir valley this summer.
In a series of successes, Forces eliminated one of the longest surviving commanders of Hizbul-Mujahideen in Kashmir, Riyaz Naikoo on May 6th in Beighpora of Awantipora in South Kashmir leading to a sudden halt of close to two weeks in the stimulus of terror-infiltrated encounter in the valley.
However, videos of terror masterminds such as Syed Salahuddin currently based in Islamabad and sympathetic Hurriyat separatists started making rounds soon after, leading to increase in stone pelting incidences in the valley and subsequent spike in the infiltration activities on the Line of Control in Jammu and Kashmir alongside increased logistical support to the terrorists already active in the valley.
At least 38 terrorists, starting from Riyaz Naikoo's elimination on May 6th, were left dead in a series of encounters, mostly in South Kashmir, including two IED experts, one of them a Multan-based Pakistani terror-figure who was the 'veteran' of Afghan war and was supposed to be instrumental in yet another attempt of Hizbul Mujahideen to execute another Feb. 14 Pulwama-like attack.
In the similar line of events, forces also recovered huge IED loads on May 28, which was stocked up by the terrorists for a Pulwama-type attack on the forces. Significant enough, after the days leading to Riyaz Naikoo's elimination, the casualties among the forces due to the encounters have been minimal, implying clean and robust terror elimination mechanism being adopted by the forces in Kashmir right now.
Forces have eliminated fourteen terrorists in last four days, with a total of 32 terrorists eliminated in June alone, which includes thirteen terrorists killed along the Line of Control in Nowshera and Poonch-Mendhar on June one, and five terrorists eliminated in two separate encounters in Pulwama on June 2 and 3.
Here is the complete timeline of encounters in Kashmir, from May 6th onward:
Wednesday, May 6: Big Day for the forces in Jammu and Kashmir. One terrorist arrested on Satura crossing in Tral, Kashmir, with huge stockload of arms and ammunition. Two encounters break out simultaneously: one in Beighpora in Awantipora and another in Sharsali, in Pulwama's Khrew. Total three terrorists killed. In Beighpora, forces eliminate top-Hizbul commander Riyaz Naikoo with ₹12 Lakh bounty. Forces call it a 'big success' against Pakistan's terror export.
Tuesday, May 18: Two terrorists, including Hizbul's IED expert killed in Doda, Jammu and Kashmir. One Jawan of 10 Rashtriya Rifles also made the ultimate sacrifice.
Wednesday, May 19: Two Hizbul terrorists killed in Nawakadal, Srinagar, including the son of a separatist leader and another a Pakistani national. Huge weapons and ammunition seized. Stonepelting reported in many areas of Srinagar.
Thursday, May 20: Two BSF Jawans patrolling in Pandach area on the outskirts of Srinagar shot dead by two terrorists.
Sunday-Monday, May 24-25: Two terrorists killed in Damhal Hanjipora, Kulgam. Internet was suspended stonepelting in Kulgam, Shopian reported.
Thursday, May 28: Forces recover IED loads in Rajpora, Pulwama district, reported to be a half an hour drive away from the site where an explosive laden car was bombed against CRPF men in February, 2019.
Saturday, May 30: Two Hizbul terrorists killed in an encounter Wanpora, Kulgam.
Sunday, May 31: Two terrorists dead in Poshkreeri, Anantnag.
Monday, June 1: A total of thirteen heavily armed terrorists killed along the line of control in two sectors: ten in Mendhar-Poonch and another three in Nowshera, India Today reported.
Tuesday, 2nd June: Two Hizbul terrorists killed in an encounter in Tral, Pulwama.
Wednesday, 3rd June: Three JeM terrorists killed in Kangan, Pulwama. One a Pakistani national, Abdul Rehman Ilyas Fauji baba, the maker of IED bomb loads recovered on May 28. Forces declare it second biggest success in less than a month after Riyaz Naikoo's neutralisation.
Sunday, 7th June: Five Hizbul terrorists, including a self-declared commander dead in Reban, Shopian.
Monday, 8th June: Four terrorists killed in Shopian's Pinjora area. Second encounter in Shopian district in less than twenty four hours, leaving nine terrorists dead in total.
Wednesday, June 10: In yet another operational success, security forces gunned down five terrorists in an encounter in Jammu and Kashmir's Shopian district on Wednesday, taking the number of terrorists killed in the last four days to 14.
This comes as third major encounter in Shopian in four days. Nine Hizbul Mujahideen militants, including a self-styled commander, were killed in two gun battles with the security forces on Sunday and Monday.
The Army has stated that the support for terrorism in the valley is wiping out, and these 'uncoordinated' acts of terror are "signs of desperation" by terrorists who are finding it hard to find support among people for their cycle of violence.
"There is no semblance of any space where terrorists or separatists are in control," Lt Gen BS Raju, heading the Kashmir-based XV corps, told news agency PTI.
Highlighting the complicity of terror masterminds from across the border, the senior army officer said that Pakistan's persistence in infiltrating terrorists to disturb the peace in the valley was well anticipated and forces are acting against it quite well.
"We are prepared for any contingency, in coordination with all stakeholders like the army, JK police, CAPF, intelligence agencies and the civil administration," Gen Raju said.
Posted By: Abhinav Gupta