'You have guts to come on national media': Sushant Singh Rajput's sister rips into Rhea Chakraborty over TV interview
In a series of hard-hitting tweets, Shweta said that Rhea had tarnished the image of her late brother on national media with all that she said in the interview.
Publish Date: Fri, 28 Aug 2020 09:31 AM IST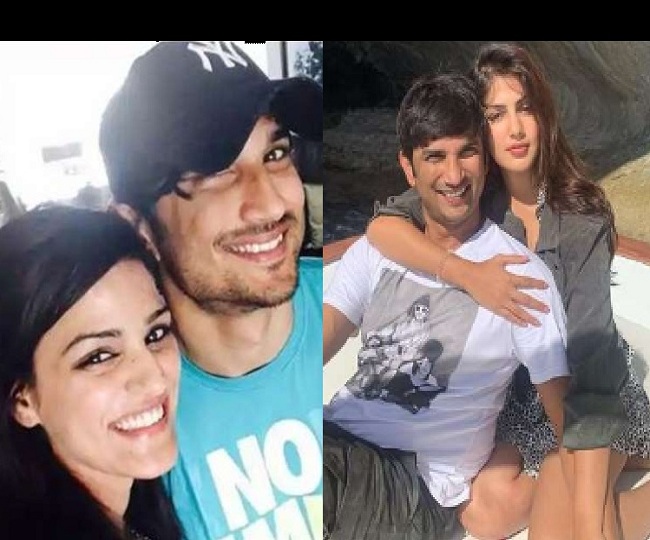 New Delhi | Jagran News Desk: Sushant Singh Rajput's sister Shweta Singh Kirti launched a no-holds barred attack on her late brother's girlfriend Rhea Chakraborty over an interview given by the latter on Thursday.
In a series of hard-hitting tweets, Shweta said that Rhea had tarnished the image of her late brother on national media with all that she said in the interview.
"You have guts to come on National Media and tarnish the image of my pure brother after his death!! You think God is not watching for what you have done! I believe in God and I have faith, now I really want to see what he will do to you. #Godiswithus #JusticeForSushantSinghRajput," Shweta posted from her unverified Twitter account.
In a separate tweet, Shweta demanded that Rhea should be arrested for allegedly drugging Sushant without his consent and manipulating his mind. "I wish Bhai would have never met that girl at all!! Drugging someone without his consent and then convincing him that you are not well, taking him to the psychiatrists... what level of manipulation is this!! How will you ever redeem your soul!!! You are so done!! #ArrestRheaNow," Shweta tweeted.
In another tweet, Shweta took a dig at Rhea for allegedly claiming in the television interview that Sushant's sisters did not care for their brother. "As Rhea mentioned in her interview, We didn't love our brother!! Yeah right, that's why I flew all the way from USA to India in Jan as soon as I got to know Bhai is visiting Chandigarh and is not keeping well. I had to stall my business and leave my kids behind! #Godiswithus," wrote Shweta attaching a copy of her flight's e-ticket along with the tweet as evidence.
Shweta also alleged in another tweet that even after flying down to India, she didn't get to meet her brother Sushant because by that time he had left Chandigarh due to continuous calls from Rhea. "The worst part was I didn't even get to meet him coz by the time I reached, Bhai had already left Chandigarh because of the constant pestering calls of Rhea and some work commitments. Family was always there standing rock solid for him!! #JusticeForSushantSinghRajput #Godiswithus."
"Jan was the time when Bhai made a SOS call to Rani Di, he was drugged, confined and isolated. Soon after he reached Chandigarh there were 25 calls made by Rhea in less than 2-3 days time frame. WHY??What was the urgency to call him back!!" she added.
In a video that went viral on Thursday, Sushant's father KK Singh openly declared that actress Rhea Chakraborty had been administering poison to his son for long, and is his murderer. Sushant's death is being currently investigated by the CBI.
Rhea, who is the prime suspect in the sensational death case, opened up about her relationship with the late actor on Thursday, denying that she was "living off" his money.
Chakraborty, along with her family members, is also accused of misappropriating Rajput's wealth by the actor's family but she dismissed the allegations in a TV interview.
After Mumbai Police, Enforcement Directorate and Central Bureau of Investigation are investigating varous angles in the actor's death.
Opening up about her much-talked-about Europe trip with the late Bollywood star, who died by suicide on June 14 in Mumbai, the young actor said in an interview to Aaj Tak that she was set to go to Paris on a professional assignment.
She said it was Rajput's idea to make a "Europe trip" about it and he cancelled the tickets booked by the company that was sponsoring her trip. She said her brother joined them in Italy at the insistence of the late actor.
"He paid for the rest of the trip and the hotels. He wanted to and I didn't have a problem with that. I had a problem with how much he was spending. But Sushant lived king size, he was like that," she said, adding that he once went on a trip to Thailand with his friends and spent "Rs 70 lakh" on that vacation.
"These were his lifestyle choices. Who are we to say how Sushant should live his life? He lived like a star, he loved it. It was his choice to take those men on that trip, did they also force him? No, I was not living off Sushant Singh Rajput's money. We were living like a couple," she told senior journalist Rajdeep Sardesai.
Asked about allegations that she was controlling Rajput's lifestyle and staff, Chakraborty rubbished them as "baseless" and most of the staff was either hired by Rajput and his sister Priyanka.
Asked when she got to know about Rajput's mental condition or the fact that he was bipolar, Chakraborty said it was during their Europe trip.
Posted By: Abhinav Gupta