'Who is this man'?: Tik Tok dancer stuns Hrithik Roshan with his 'smooth airwalking' skills | Watch
Bollywood Superstar Hrithik Roshan, who is known for his exceptional dancing skills, shared a video on his Twitter handle, and praised the dancer in the video declaring him to be the 'smoothest airwalker'. (Image Credits: Screengrab from the video)
Updated: Tue, 14 Jan 2020 10:56 AM IST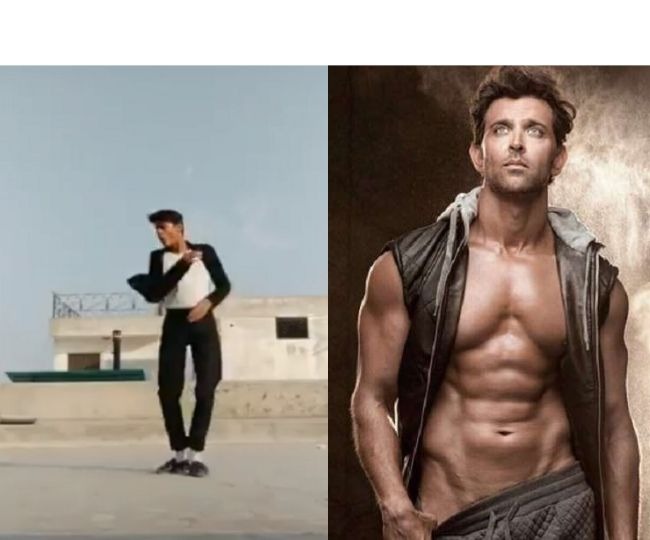 New Delhi | Jagran Entertainment Desk: Chinese video-sharing application Tik Tok has become a platform for many to showcase their acting and dancing skills to the world. In India, the app overtook Facebook as the most downloaded social networking application globally in the first quarter of 2019. It scored 188 million downloads, with India accounting for 47% of them, according to market intelligence firm Sensor Tower.
Also Read: Oscar 2020: 'Joker' leads with 11 nominations; 'The Irishman', Quentin Tarantino drew with 10 nominations | Check full list here
The app also grabbed the attention of Bollywood celebs as many of the B-town celebs joined the platform to treat their fans. Recently, Bollywood Superstar Hrithik Roshan, who is known for his exceptional dancing skills, shared a video on his Twitter handle, and praised the dancer in the video declaring him to be the 'smoothest airwalker'.
On the 20th anniversary of his Bollywood debut, actor Hrithik Roshan chose to use his stardom to shed some light on young talent. Hrithik shared a video of a dancer, and declared him to be the "smoothest airwalker I have seen".
Smoothest airwalker I have seen. Who is this man ? https://t.co/HojQdJowMD

— Hrithik Roshan (@iHrithik) January 13, 2020
"Smoothest airwalker I have seen. Who is this man ?" Hrithik wrote in his first tweet in the year 2020. Hrithik was reacting to a compilation video of TikTok user 'babajackson2020'.
"Please make him famous," the person who'd originally shared the video had written in his tweet tagging Hrithik and dancer-director-actor, Prabhdeva.
Watch till end. Last video made me compile his videos. Please make him famous @iHrithik @PDdancing pic.twitter.com/MJvBqUFLX5

— Shash (@pokershash) January 12, 2020
In the video, a young man was shown showcasing his smooth and perfect dancing skills on popular songs such as Mukkala Mukkabala and Tumse Milke Dil Ka Hai Jo Haal on the roof of his house. In the end of the video, the dancer asked his viewers if they'd be interested in seeing how he makes his videos. He then proceeds to place a mobile phone against a wall, and says "that's it."
Also Read: 'Winning Dulhania Team Are Back': Varun Dhawan collaborates with Shashank, shares first poster of 'Mr Lele' | See Pic
Hrithik's tweet has been 'liked' over 30,000 times already, and has attracted much appreciation. "Dear @iHrithik, he is on TikTok by the name "babajackson2020". This is perhaps for the first time i have found some worthwhile on #TikTok which can actually change someone's life. Thanks for your concern. He needs your support, guidance & mentoring," one person replied.
Posted By: Talib Khan