Watch: When Money Heist's Nairobi turned desi to speak fluent Telugu as 'Shamira'
In the video which has gone viral on the internet, Alba Flores can be seen saree-clad with braided hair and playing a Telugu woman's character: Shamira.
Updated: Wed, 20 May 2020 12:46 PM IST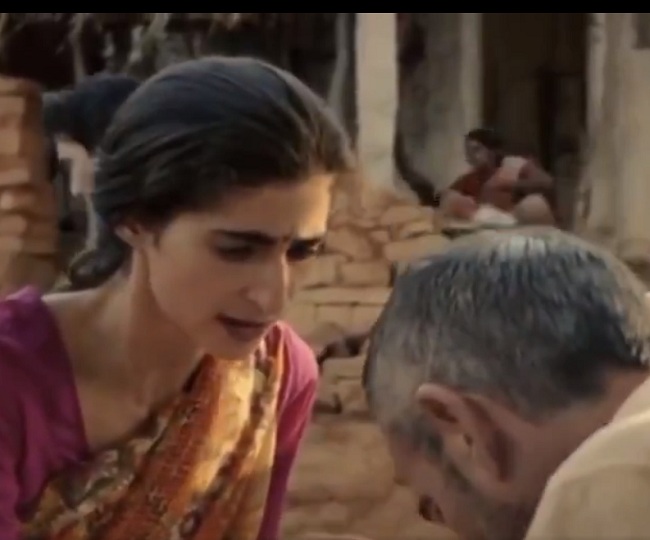 New Delhi | Jagran Entertainment Desk: The matriarchy had begun, much before Nairobi announced it on terrrificly-loved Spanish Netflix series Money Heist, which 45 days and counting since the release of its fourth season, has been trending on acclaimed OTT platform. But back when it all started for Spanish actress Alba Flores (who played Nairobi in Money Heist) the melody was not the revolutionary-popular Italian Bella Ciao, rather it was a simple background folklore from Andhra Pradesh on which she portrayed the character of an Indian woman, Shamira, while speaking fluent Telugu.
In the video which has gone viral on the internet, Alba Flores can be seen saree-clad with braided hair and playing a Telugu woman's character: Shamira.
#MoneyHeist bloods, check this gem! Our very own Nairobi aka Alba Flores speaking Telugu (acting as a Spanish-Telugu translator) in her portrayal of Shamira in the TV movie 'Vincente Ferrer', shot in India. Nairobi in saree vera! Even her Telugu sounds like Spanish. Too cute! :D pic.twitter.com/CHJjfeQQGm

May 17, 2020
Apparently, the video is from 2013-released film 'Vincente Ferrer' which was shot near Anantapur, Andhra Pradesh, and Alba Flores played the character of a teacher in it who tries to educate the women of Anantapur, while missioned towards bringing substantive change to the landscape of Anantpur with the help of a Spanish missionary Vincente Ferrer, on whose life the film is based.
In a scene from the film, Alba is seen speaking fluent Telugu while interacting with the locals of Anantpur. Her character tries to raise awareness among the locals and translates Spanish to Telugu and vice versa.
The fans couldn't keep calm but simply wonder the load of talent their endearingly warm and incredibly dynamic Nairobi has carried all during the timeline of her career.
See the reactions:
Lol. Just realised Vicente Ferrer is a Spanish movie in which #AlbaFlores speaks Telugu. Got mislead for a sec here 😂 Still cool though #Nairobi #MoneyHeist https://t.co/wfIKY7iPD8

— Haritha (@harithamohan) May 19, 2020
Wow, @AlbaGlezVilla speaking fluent #Telugu. Another reason to love her more. @NaveenPolishety
, bro you gotta watch this https://t.co/stCBQxBH5d

— LVRS (@BellaCiao9214) May 20, 2020
#Nairobi in Anantapur and speaking telugu #MoneyHeist https://t.co/4JF1nHWguK
— RAGHU (@BeUrSelf1991) May 17, 2020
😍 @AlbaGlezVilla you already stole lots of hearts from India by playing #Nairobi,
After watching this phenomenal act of #shamira and your telgu fluency we are more mesmerize with you.
Love from India.#MoneyHeist #moneyheistnairobihttps://t.co/1CdKBjAvyn

— Asim Shaikh عاصم شیخ (@asim_shk13) May 20, 2020
The fourth season of Spanish Netflix series La Casa De Papel (Money Heist) in which Alba Flores played the fan-favourite character as Nairobi, was released on the popular OTT platform early in April – and has received positive reviews from critics and viewers alike, globally, and continues to be immensely popular in India.
The series is based on a group of diverse anglo-saxon Heisters managing to pull off some incredibly planned heists, while covering a vast radius of moral dynamisms and pragmatically detached attachments necessary to keep the things going away from the Heist-sniffing police and intelligence authorities.
In India, Money Heist has lived up to its standard, as one of the most popular foreign creations in the recent times, with its fanbase penetrating Indian entertainment world as well.
Posted By: Abhinav Gupta