Thrill, Romance, Crime and Realism: These 15 OTT creations have it all to keep your June entertained
Jagran English has brought to you fifteen such creations which can be viewed on several OTT interfaces this June onward:
Updated: Tue, 02 Jun 2020 01:34 PM IST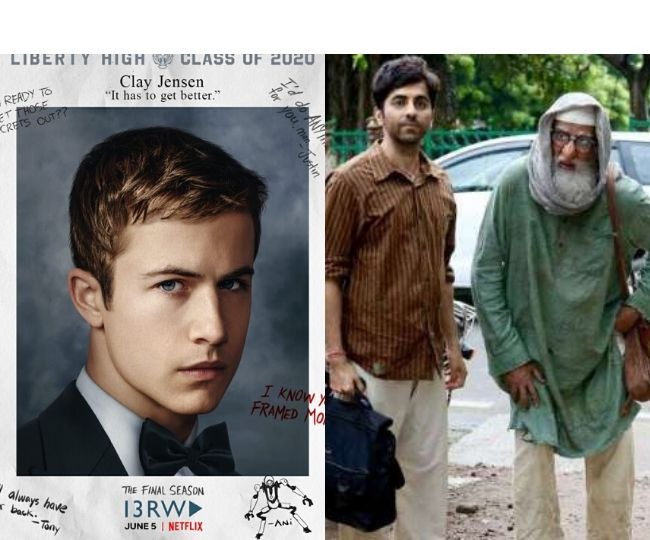 New Delhi | Jagran Entertainment Desk: The country and the world have gradually started to open up after months of lockdown to combat the Coronavirus crisis. Yet, at least till the weeks leading up to the start of July this year, the 'Work From Home' scheduling is here to stay, and with that comes an expected deficit of entertainment which the OTT platforms are going to fill in upto the point of on-screen gratification from an audience viewpoint.
This June, just like the monsoon would start expanding its drizzles from down south in Kerala and Andamans all up towards Bhopal, Jaipur, Lucknow, New Delhi and rest of the country, the novice creative quotient available on OTT platforms will increase likewise -- starting from Hannah Baker and footballer Bryce's final connotations of fightback and succumbing to depression in the final season of '13 reasons Why', going up to Scarlett Johansson driven nostalgia in 'Jojo Rabbit', and of course the best regards from Indian audience will flood over for one of the finest flagbearers of Indian cinematic brilliance; Ayushmann Khurrana and Amitabh Bachchan in 'Gulabo Sitaabo'.
Jagran English has brought to you fifteen such creations which can be viewed on several OTT interfaces this June onward:
13 Reasons Why: Season 4
When: 5th June
Where: Netflix
The first two seasons of this controversial series, favourited by Millennials the most, revolved around the layers of Hannah Baker's absolutely struggled personality, the display of final layer finally ends up to be the reason which pushed her to attempt the suicide. The season 3 detailed Footballer Bryce's struggle with his Game, Name and Fame which has enormous consequences in the end. In the final season, the core cast will graduate and that will follow the audience knowing the final connotations behind what Hanna and Bryce did.
The Casino: My Game, My Rules
When: 12 June
Where: Zee5
If Richa Chaddha-Vivek Oberoi starrer 'Inside Edge' compelled you to binge watch the fictional representation of Cricketing hooks and crooks with a distinct pinch of realism, then hold your horses, this Karanvir Bohra-Mandana Karimi starrer web series is expected to unravel multiple aspects behind the making of Las Vegas type Casino Royale in the heart of the nation.
Alexa and Katie: Season 4
When: 13 June
Where: Netflix
The creations filled with teenaged realism are being welcomed with open arms on the Netflix by the audience and critics alike. After breathtaking success of 'Never Have I Ever' in May, Netflix is set to release the fourth season of Alexa and Katie on the second weekend of June. So will Katie's unhinged support for enabling Alexa to explore her brilliance (academic or otherwise) despite her fight off with cancer will reach its conclusion, watch season 4 for that and let the world know.
Gulabo Sitabo
When: June 12
Where: Amazon Prime
The exceptionally brilliant cast comprising of Amitabh Bachchan and Ayushmann Khurrana, led by an equally anticipated film creator Shoojit Sircar, is all expected to rush the creative adrenalines of country's masses in the second week of June this year. Written by the critically acclaimed and one of the finest screenwriters of our times, Juhi Chaturvedi of 'October' (2018), 'Piku' (2015), 'Vicky Donor'(2012) and 'The Sky is Pink'(2019) fame -- Gulabo Sitabo is going to be a straight OTT release instead of previously decided cinema release due to COVID-19 Pandemic. Based in Lucknow, the film revolves around an explicit competition for galvanizing as many folks in two groups led by Khurrana and Bachchan's characters.
The Last Days of American Crime
When: 5th June 2020
Where: Netflix
Anna Brewster starrer Crime drama explores Netflix's charm around the wild success led by Money Heist-genre of creations. In this Rick Remender creation (of 'Secret Avengers' fame), two men and a woman plan the heist of the century before a government-broadcast signal wipes out crime forever.
Jojo Rabbit
When: 2nd June
Where: Disney-Hotstar
The 2019-released dramedy whose lead was played wonderfully by Scarlett Johansson and Taika Watiti (who played Adolf Hitler) is all set to charm your senses with an exceptional World War-two humour.
An Oscar-winning story, Jojo Rabbit is based on a lonely German boy who discovers that his single mother is hiding a Jewish girl in their attic. Aided only by his imaginary friend -- Adolf Hitler -- Jojo must confront his blind nationalism as World War II continues to rage on.
Choked: Paisa Bolta Hai
When: 5th June
Where: Netflix
A story based on financial exasperation is going to pierce the hearts of crime genre on Netflix in the first weekend of this year. Revolving around a quest to find unlimited finances by hook or crook, a bank employee's debt ridden life is all set for turnaround in this series.
Law
When: 26th June
Where: Amazon Prime
LAW is a woman-centric crime thriller which revolves around a law graduate and her quest for truth and justice in a world filled with crooked realm of privileged justice. It will be the second outing for director Raghu Samarth, who had previously helmed Smile Please. The film, originally in Kannada and hence is expected to have dubbed features in other languages, also has Mukyamanthri Chandra playing the role of a judge.
Penguin
When: June 19
Where: Amazon Prime
Written by Eshaver Karthik, this Tamil-Telugu bilingual film (dubbed in English and Hindi) will dub upon the life of Keerthy Suresh's character, who seems to be fighting for herself and her child's future while being in the last trimester of her pregnancy.
Lal Bazar
When: 19th June
Where: Zee5
Based in Kolkata, the series which will run over the course of ten episodes will be based on the lives of the police officers working in the Homicide department of Kolkata Police.
Many OTT platforms will start showing yester year's biggest blockbusters on this June. From 'Jurassic World: Fallen Kingdom' on Netflix to 'Knives Out' on Amazon Prime. The little Wobbly world of 'Smurfs', too will explore the OTT realms on Disney Hotstar alongside the Behind the scenes revelations of 'Frozen'. And did you know that 'Mission Impossible' and 'Terminator' too are set to release their Fallouts and Dark Fates on Prime and Netflix? Hold your seats because, this month of June is all set to push you towards its edge with its exceptional entertainment quotient out in the OTT Universe.
Posted By: Abhinav Gupta