'This is Bizarre': Sonam Kapoor expresses concerns over CBSE's decision to remove chapters on secularism, federalism
Sonam Kapoor wrote, "This is bizarre! Some of the most important topics are left out. How are young minds supposed to form political opinions?"
Publish Date: Thu, 16 Jul 2020 07:07 PM IST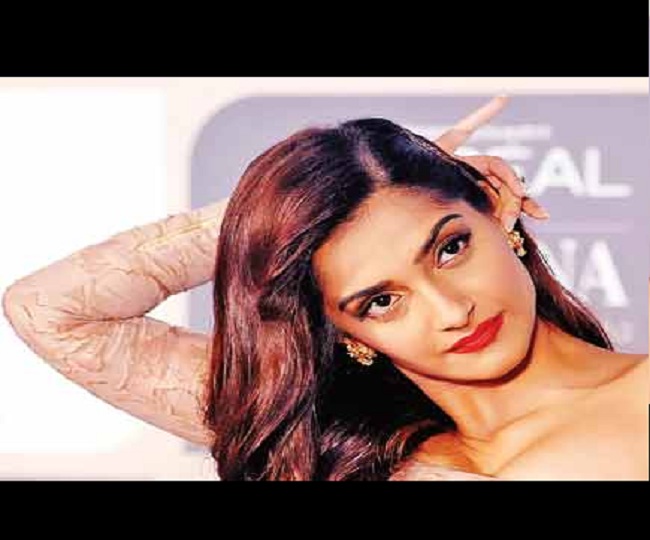 New Delhi | Jagran Entertainment Desk: Bollywood actress Sonam Kapoor Ahuja questioned the Central Board of Secondary Education (CBSE)'s recent "bizarre" decision to get rid of some "important topics in its bid to reduce the syllabus by 30%.
The actress put up an Instagram story of a news article stating the CBSE'S decision of cutting down on some of the chapters to "rationalize" syllabus.
The post read, "the CBSE has completely deleted chapters, federalism, citizenship, nationalism, and secularism from the political science curriculum of class 11 in a bid to rationalize syllabus."
Sonam Kapoor wrote, "This is bizarre! Some of the most important topics are left out. How are young minds supposed to form political opinions?"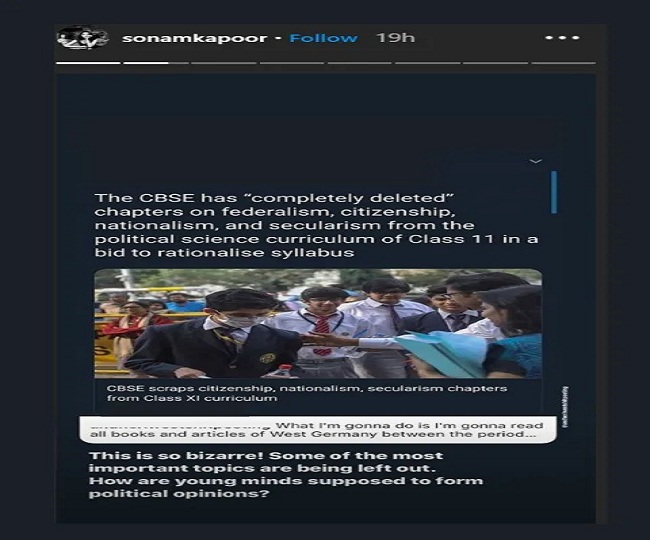 The Central Board of Secondary Education (CBSE) recently have been instructed by the Human Resource Development (HRD) Ministry to revise and reduce the syllabus by 30 per cent for the classes of 9th, 10th, 11th, and 12th which are based on secularism, nationalism, citizenship, democracy and other matters considering the pressure on students amid the novel coronavirus pandemic.
However, the HRD Ministry maintained that the curriculum has been "rationalized" while retaining the core elements. Along with the actress, political leaders have also stood against the decision by the HRD. The Chief Minister of West Bengal Mamata Banerjee also appealed to HRD Ministry not to delete the topics at any cost as they are important to understand.
Owing to the controversies, CBSE secretary Anurag Tripathi clarified that the rationalization of the syllabus is only a one-time measure. He said, "the reduction of the syllabus from classes 9 to 12 has been interpreted differently. Contrary to some of the impressions being created, it is clarified that the rationalization of syllabus up to 30 per cent has been undertaken for nearly 190 subjects for the academic session 2020-21 as a one-time measure only."
Posted By: Talib Khan