The Sky is Pink Movie Review: An unusual grief drama that reflects all shades of life
Updated: Fri, 11 Oct 2019 11:30 AM IST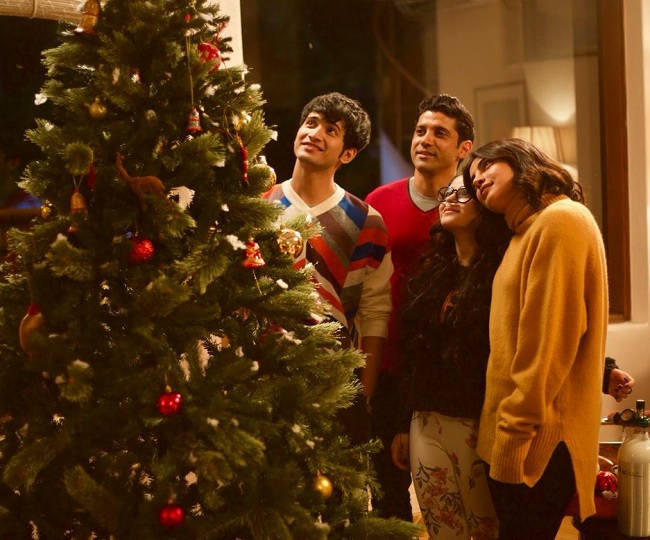 New Delhi | Jagran Entertainment Desk: Bollywood movies nowadays are full of masala, action and dance numbers. But some films are made that touch the heart of the audience and leave a long-lasting impact. These types of films are of delicate mood and the style of watching those films should be equally delicate.
The newly released 'The Sky is Pink' is that type of film which connects with you at every moment. Based on a real story of the Chaudhary family living in Delhi, who have passed from the struggles of life shown in the film. The film revolves around Niren (played by Farhan Akhtar), Aditi (played by Priyanka Chopra) and their children Ishaan (played by Rohit Saraf) and Ayesha (played by Zaira Wasim). The family goes through a tough time and tells the truth of the struggle of life from a different perspective.
Also Read: In Pics | Ranbir Kapoor flaunts heavy beard and chiseled biceps in leaked pics from 'Shamshera' sets
Ayesha Chaudhary, in the film, was a fun-loving and full of life teenager, who is suffering from a disease called 'Pulmonary Fibrosis' since her childhood. Due to her illness, the family knows that her life span is going to be a short one, but the way Ayesha lives that short span makes her live a big one. And finally, the day arrives when Ayesha leaves this world and her family behind, weeping to her memories and extraordinary courage to live up to the dreams of a teenager. How the family accepts and recovers from her death is the story of 'The Sky is Pink', which will definitely give you goosebumps.
The way director Shonali Bose has portrayed this real-life story on screen is truly praiseworthy. The film does not have any false moments, which will make you connect with the movie even more.
Talking about the acting, Priyanka Chopra as usual aces the role of Aditi Chaudhary and a weeping mother. The way she portrayed herself is extremely praiseworthy. At the same time, Farhan Akhtar has done justice to his role of Niren Chaudhary.
Talking about Zaira Wasim, it can be her last film, but if this is the end of her career in Bollywood, then no one can have a better ending than Zaira. The way she molds herself in the role of Ayesha is highly appreciable. Rohit Saraf, who became Ishaan, is also notable that he can get more work in Bollywood in the coming time.
Also Read: Sidharth Malhotra and Ritiesh Deshmukh's 'Marjaavaan' set to release on November 15
Overall, The Sky Is Pink is a beautiful film. When you go to see it, don't go with the mindset of watching a masala movie otherwise you will be disappointed. You can enjoy this film only when you start watching it just by being a witness and inadvertently become a part of the life of the Chaudhary family.
Posted By: Talib Khan