Updated: Thu, 18 Jun 2020 09:59 AM IST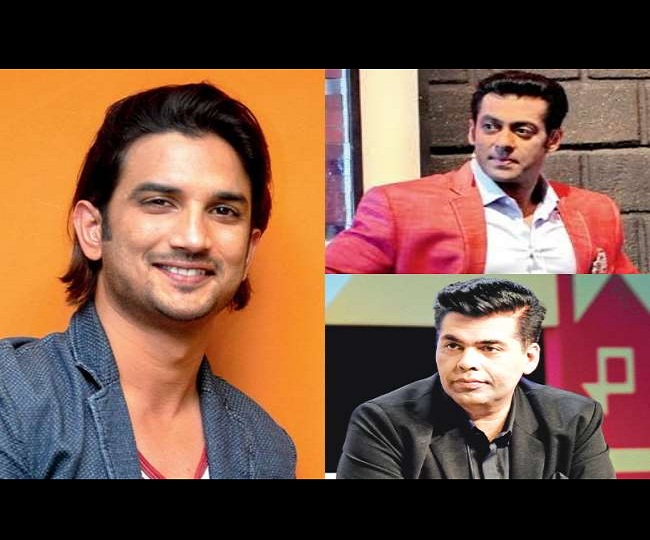 New Delhi | Jagran Entertainment Desk: Days after Bollywood actor Sushant Singh Rajput committed suicide on Sunday, debates regarding the lobbied structure of the film industry gained pace. Many on social media accused the big names of Bollywood industry in destroying the careers of the new talents not belonging to any star family.
Now in another development, a police case has been filed against eight people including Bollywood directors Karan Johar, Sanjay Leela Bhansali and Ekta Kapoor along with actor Salman Khan in connection with the death of actor Sushant Singh Rajput, news agency ANI reported on Wednesday.
The criminal case has been lodged by a lawyer named Sudhir Kumar Ojha at a local court in Bihar, which has scheduled the hearing on July 3.
In his complaint, the lawyer has alleged that the eight persons forced Sushant to committ suicide under a conspiracy, which he pleaded, amounts to murder.
"I have filed a case against 8 people including Karan Johar, Sanjay Leela Bhansali, Salman Khan & Ekta Kapoor under Sections 306, 109, 504 & 506 of IPC in connection with actor Sushant Singh Rajput's suicide case in a court in Muzaffarpur, Bihar," Advocate Sudhir Kumar Ojha was quoted as saying.
"In the complaint, I have alleged that Sushant Singh Rajput was removed from around seven films and some of his films were not released. Such a situation was created which forced him to take the extreme step," he added.
Aditya Chopra, Bhushan Kumar, Sajid Nadiadwala and director Dinesh are the remaining four persons named in the complaint. Ojha has alleged that these people did not let Sushant's movies get released under a conspiracy and the late actor was not even invited to film functions because of these people.
Bollywood actor Kangana Ranauat had been listed as a witness in the case.
Reacting to the news, Ekta responded to the allegations in an Instagram post and said that she was 'beyond upset' with the conspiracy theories which had no basis in truth. She wrote, "Thanku for the case for not casting sushi....when Actually I LAUNCHED HIM. I'm beyond upset at how convoluted theories can b! Pls@let family n frns mourn in peace! Truth shall@prevail. CANNOT BELIEVE THIS!!!!!"
Sushant was found dead at his Mumbai residence on Sunday. The postmortem report found asphyxiation due to hanging as the reason of death, confirming suicide.
The case had been lodged amid a section of Bollywood and society blaming sevrral Bollywood families and directors of promoting nepotism, which may have forced the actor to take the extreme step.
Sushant's fans have been slamming Salman, Karan and Alia Bhat among others for the same. As per reports, people in Patna burned effigies of the actors and directors, asking others to boycott them for promoting nepotism.
The untimely demise - a result of the shocking step taken by the actor who was apparently suffering from depression for the past several months - has prompted a shocked Bollywood to introspect on why outsiders find it so hard to get a foothold into an industry which many directors and actors say is ruled by its own people.
Following Sushant's death, several actors including Kangana Ranaut, Saif Ali Khan and Ranvir Shorey have come out to reveal the dark side of the B-Town.
Kangana said that Sushant's only fault was that he believed the industry when they called him worthless and that he should have remembered what his mother told him.
Abhinav Kashyap, director of 'Dabangg', accused Salman Khan and his family of 'exploitation and bullying', while adding on to a whole barrel of shocking claims, from molestation threats for his female family members, to the intimidation using 'ill-gotten money, political clout and connections with the underworld.'
Abhinav, sibling of acclaimed filmmaker Anurag Kashyap, appealed the government to 'launch a detailed investigation' into Sushant Singh Rajput's untimely death.
Filmmaker Shekhar Kapur hinted in his recent post that Rajput was let down by his industry peers. The director and the actor were trying to work on their ambitious project "Paani" but it got shelved.
"I knew the pain you were going through. I knew the story of the people that let you down so bad that you would weep on my shoulder. I wish I was around the last 6 months. I wish you had reached out to me. What happened to you was their Karma. Not yours. #SushantSinghRajput," Kapur tweeted on Sunday.
Without taking any names, actor Ranvir Shorey said the powerful in Bollywood hold all the cards.
"It wouldn't be fair to blame someone for a step that he took himself. He was playing a high stakes game, where it's win or lose it all. But something has to be said about the self appointed 'gatekeepers of Bollywood'.
"Something has to be said about the games they play and their two facedness. Something has to be said about the power they wield with zero accountability," Shorey, who worked with Rajput in critically-acclaimed feature "Sonchiriya", said.
Mumbai Police is investigating several angles, including 'professional rivalry', that may have prompted the 'Kai Po Che' actor to take the extreme step of ending his life.
According to media reports, the 34-year-old actor was preparing for Shekhar Kapur's 'Paani', and was intensely preparing for that 'career defining' role for many months. The film reportedly went to the cold box due to various financial crunches and intra-bollywood rivalries, which took a heavy toll over Sushant's mental health. The actor was reportedly being treated for depression for over last six months.
A complete outsider who studied to be an engineer, the Patna-born actor rose through the ranks from a background dancer to a television star and finally got his Bollywood debut with "Kai Po Che!", which released only seven years ago.
Rajput had his fair share of success in films like "M S Dhoni: The Untold Story" and "Chhichhore".
His tragic death has led many to question the "privileged groups" and "camps" in the industry.
Posted By: Abhinav Gupta