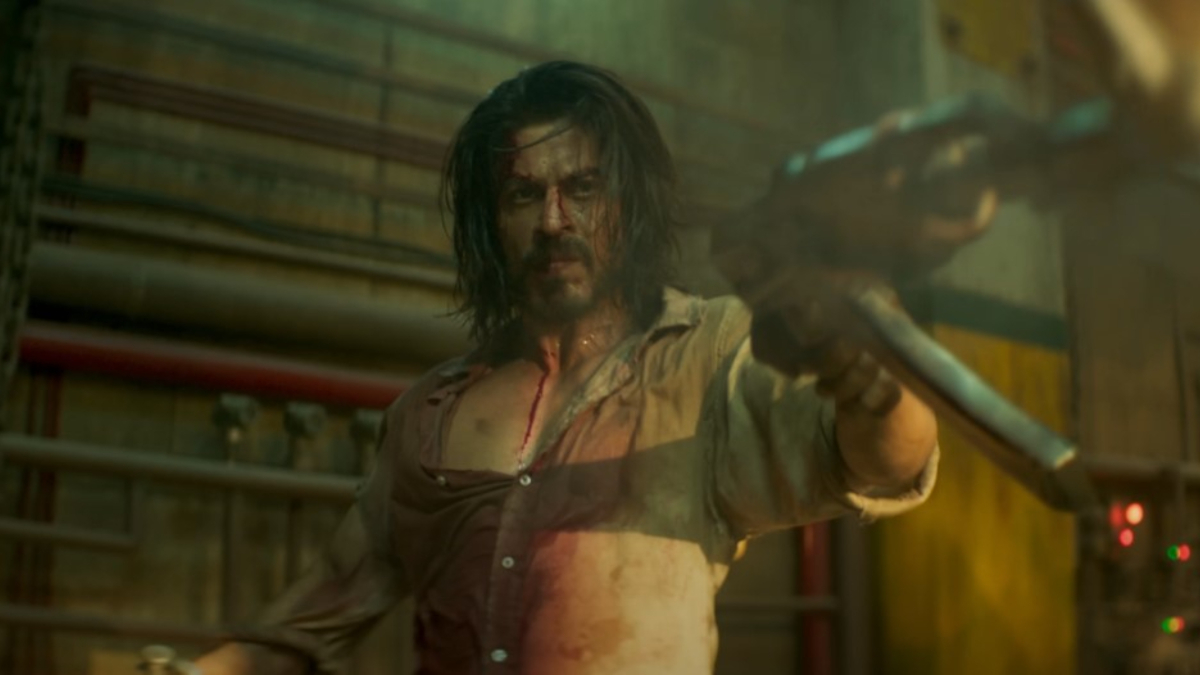 Shah Rukh Khan's highly anticipated spy thriller film Pathaan releases in cinemas today. The film marks King Khan's return to the big screen in a full fledged role after a gap of over 4 years. The first reviews of Pathaan are already out and the film is being hailed as a complete blockbuster.
Also starring Deepika Padukone and John Abraham, Pathaan has been helmed by Siddharth Anand. Check out what social media has to say about Pathaan:
#Pathaan Review

FIRST HALF:

Good 💯#ShahRukhKhan looks superb 👌#DeepikaPadukone & #JohnAbraham prove to be great choices 👍

BGM 🔥

Screenplay is Fast & Duration Is Crisp ✌️

Interval 👍

2nd Half Waiting 😁#PathaanReview #Pathan #SRK #PathaanFDFS #PathaanDay pic.twitter.com/Keid2bVPT5

— Kumar Swayam (@KumarSwayam3) January 25, 2023
SRK is back!!

Bollywood is scoring big with this one. King Khan has brought glory to the industry. Deepika's beauty is as hot as a volcano. Well written and greatly choreographed action sequences.

*SUSPENSE THRILLER*

Our rating for this film is 4/5. #Pathaan #PathaanReview

— Censor Reports 💎 (@CensorReports) January 25, 2023
#PathaanReview From My auckland and saudi friends
- Villain Powerful
- Interval Scene Suspense
- Film's Entertainment factor at Top notch
Overall a movie jisko aap dekh kar ye kahogey ki khatam kyu hogai yar
No hritik roshan 😭
But A very big suspense related to him

— Sahil Ahmed Khan (@Hello_MrKhan) January 25, 2023
#PathaanReview INTERVAL
If u think u know the whole story by watching the trailer.. Just wanna tell u all .. U ARE TOTALLY WRONG!! Nothing revealed in the trailer!

1st half: Gripping.. Intense.. Thrilling
Keeps u hooked through out.. SRK is incredible 🔥#Pathaan #ShahRukhKhan

— Es͜͡ha (@Esha_SRK) January 25, 2023
So majority of the #PathaanReview for the first half has been out - its a very engaging film, good twists and superb action blocks!

The WoM as now has been super good, lets wait for some official accounts to come up with their reviews!

— 𝐊𝐚𝐚𝐥𝐢🔥 (@SRKzKaali_) January 25, 2023
The film has already been setting new records while smashing previous ones. Recently, Pathaan surpassed Hrithik Roshan's War to record the highest advance booking for a Bollywood film ever.
Speaking about Pathaan in an exclusive video interview shared by Yash Raj Films, Shah Rukh Khan opened up on how the film is his dream come true. "I came to the film industry 32 years ago to be an action hero but I missed the boat because they made me a romantic hero instead. I've only wanted to be an action hero. I mean I love DDLJ and I love Rahul and Raj and all these good sweet boys but I always thought I was an action hero, so for me it is my dream come true," Shah Rukh Khan said in the video.
Briefing about his character in the film, Shah Rukh Khan said, "Pathaan is an easy guy, doing lot of tough things and I think he's naughty, he's tough but doesn't wear it on his sleeve. He's trusting. He's honest and I think he very single-mindedly thinks of India as his mother."
Deepika Padukone shared how it was working with her most favorite co-star ever and said, "Shah Rukh and I have been very lucky to have had the opportunity to work in some incredible movies starting with Om Shanti Om! I'm collaborating with my most favourite co-star Shah Rukh. We have a beautiful relationship and I think the audience always sees that in the movies that we do."
Pathaan releases in cinemas on January 25, 2023 in Hindi, Tamil and Telugu.