Updated: Sat, 04 Apr 2020 03:49 PM IST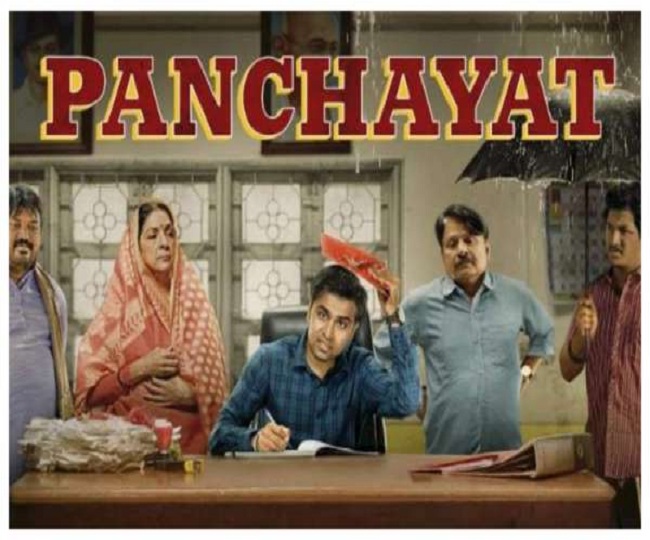 New Delhi | Jagran Entertainment Desk: TVF's latest creation for Amazon Prime -- Pnachayat -- can be described with many good sentences, but one line which perfectly defines the new webseries is, 'When the right talent blends with a perfect story, the display of a whole-hearted entertainment becomes imminent'.
The eight-episode long rural drama series is built upon the terrific writing which drops the mundane aspects of life in a rural setting in many enjoyably entertaining moods set upon by its beautifully written characters – an urban-bred Abhishek Tripathi (Jitender Kumar), Pradhan Manju Devi (Neena Gupta) and Pradhan Pati Brij Bhushan Dubey (Raghuvir Yadav).
When he finds no other jobs and sitting at home just doesn't seem feasible, Abhishek Tripathi (Jitendra Kumar) takes up a government job as the Panchayat Sachiv (secretary) of the Phulera village panchayat in Uttar Pradesh's Balliya district.
Given his urban upbringing, the salary is meagre, and the challenges of thriving or even surviving village life are beyond overwhelming -- barring the culinary shortcomings of eating Louki ki sabzi, however freshly plucked it is.
The panchayat head, is Manju Devi (Neena Gupta), but only on paper because Phulera is actually governed by Manju's husband Brij Bhushan Dubey (Raghuvir Yadav).
Brij takes pity on Abhishek and suggests that the young man stays with them, because he is of the same caste as them, but Manju strongly refuses, since they have a young college-going daughter whose wedding is bigger a concern for Manju than the job her husband does in disguise of her.
Brij Bhushan Dubey(Raghuvir Yadav) sets the tone for Abhishek Tripathi (Jitender Kumar) by mansplaining him the quirkiness of defecating in open fields despite two toilets at home, as Tripathi takes up the job of Panchayat Sachiv.
From making birth certificates to implementation of government policies like MNREGA and family planning – there are always too many nuts to crack in the rural hinterland, all with its own specific ensemble of problems.
The supporting cast is the real treat for the screen and every eye that goes on it. Vikas (Chandan Roy) and Prahlad (Faisal Mallik) deserve special mention as the accomplices to an anxiety-perplexed Abhishek and always-talk-of-the-village Brij Bhushan Pandey (given latter's Pati Pradhan stature). Neena Gupta is flawless as a trodden Manju Devi, and Jitender Kumar's TVF gigs dwarf down in front of this effortlessly excellent portrayal of Panchayat Sachiv of Phulera village.
There is a plethora of genuine laughs Panchayat offers all through its eight episodes, but just as many notions of rural quirkiness untouched by the progressivism Abhishek believed might have changed the hinterland he's going to work at.
Go ahead and watch Panchayat, it's exactly the kind of moonlight we need in such hardy-shady times of a pandemic and lockdown. It's a must watch for all those who love to see the real India in all its glory.
Posted By: Abhinav Gupta