By Swati Singh
Updated: Sat, 21 Jan 2023 05:04 PM IST
Minute Read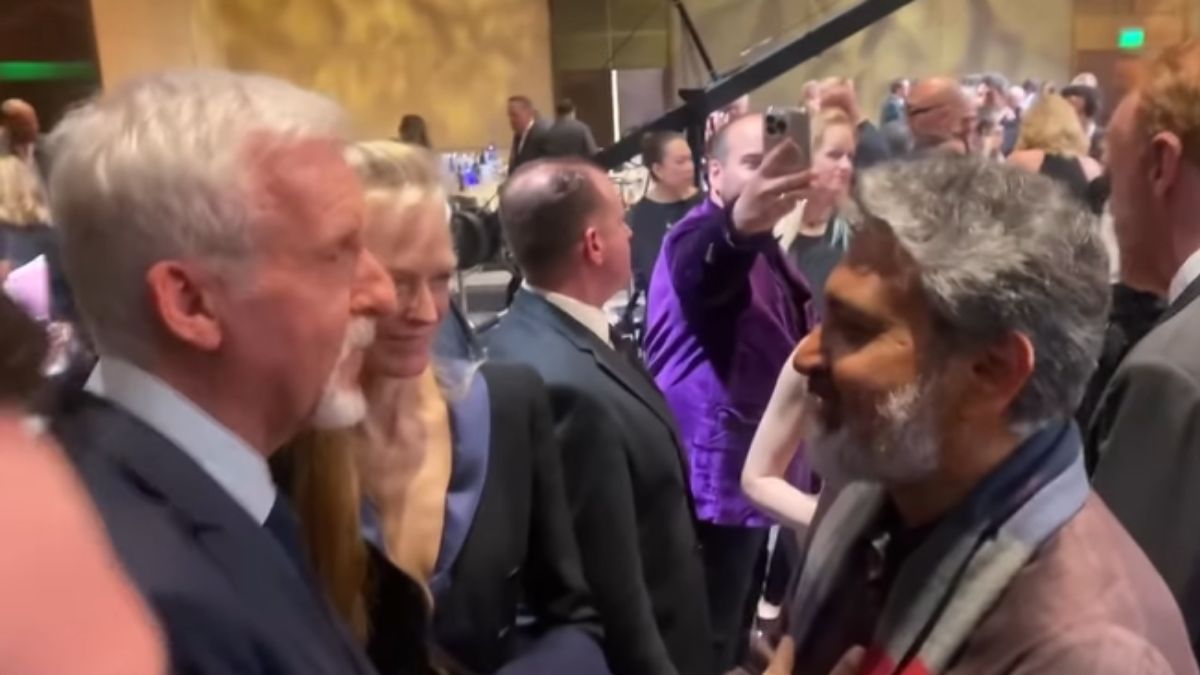 Ace filmmaker SS Rajamouli recently met Avatar director James Cameron, which the former documented on social media. The duo met at the Critics Choice Awards in Los Angeles this month, where RRR won two awards- Best Foreign Language Film and Best Original Song for Naatu Naatu, while Avatar: The Way Of Water won Best Visual Effects, for which RRR had also been nominated.
According to IANS, S.S. Rajamouli received high appreciation from Hollywood director James Cameron for his vision, his masterful narrative, and the feelings that underlie his characters. Cameron also told him, "If you ever wanna make a movie over here, let's talk."
On Saturday, the makers also shared a video of James Cameron's conversation with SS Rajamouli. The Bahubali director told him, "I saw all your movies... Big inspiration. From Terminator, Avatar, Titanic...Everything. Loved your work." Replying to this, Cameron said, "Thank you. That's right. Now watching your characters...It's just like such a feeling to watch them."
"And the setup... Your fire, water story. Reveal after reveal. And then you show what happened in the back story. Its like all of them are a homely setup. Why he's doing what he's doing and the twists and turns and the friendship and eventually it gets to a point that where he can't even kill him when the other reverses...It's just so, so powerful," he further added.
The filmmaker also acknowledged Naatu Naatu composer MM Keeravani who recently won a Golden Globe for the song. He said, "And you composed, right? Because I saw you at the Golden Globes. The score, it's kind of amazing. Because I like the music to kinda stay out of the way and kinda come on in and support when the audience is already feeling something so it builds the theme. But you are using the music very differently."
"If you ever wanna make a movie over here, let's talk"- #JamesCameron to #SSRajamouli. 🙏🏻🙏🏻

Here's the longer version of the two legendary directors talking to each other. #RRRMovie pic.twitter.com/q0COMnyyg2

— RRR Movie (@RRRMovie) January 21, 2023
"You can only imagine, what it must be like. Everything that goes behind the movie making process. Because of all the work and your passion you've put in... all that must be yours. All of them must be surprised, your audience back at your home. And I'm sure this must be a bonus one for you. What you must be enjoying today, the world encounters it." SS Rajamouli said this thanking the filmmaker: "These words from you are more than an award for me."