From Sushant Singh Rajput to Irrfan Khan to Rishi Kapoor: 2020 leaves India's showbiz industry reeling from deaths
Coming one after the other, the news of the death of many celebrities this year has sent shockwaves across the entertainment industry. While the demise of actors such as Irrfan Khan and Rishi Kapoor is citied to be severe health issues, the reason reported for the death of others has left fans and the media wondering over what went wrong. However, nothing can compensate for this loss, here is to give them a final goodbye.
Updated: Fri, 26 Jun 2020 05:42 PM IST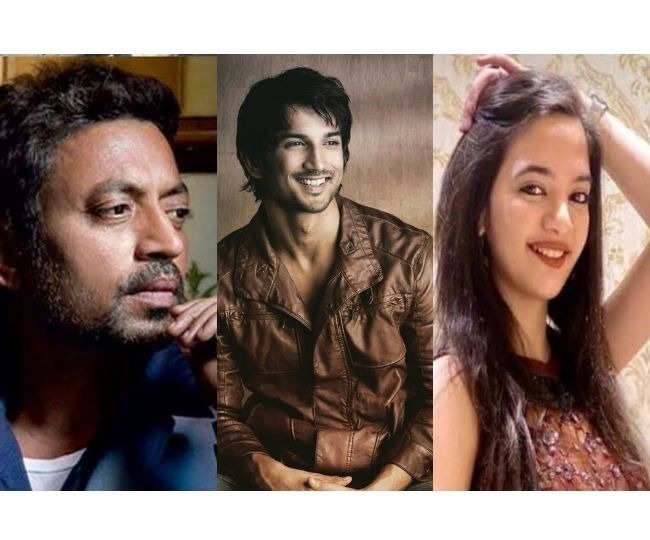 New Delhi | Jagran Entertainment Desk: The year 2020 has come down hard on the entire world which is fighting the coronavirus pandemic. Meanwhile, apart from this pandemic and suspension of film releases and shoots, the entertainment industry, including the Bollywood and TV, has been witnessing the demise of actors, one after another, making the year even worse for it.
Coming one after the other, the news of the demise of many celebrities this year has sent shockwaves across the country. While the demise of actors such as Irrfan Khan and Rishi Kapoor is cited to be severe health issues, the reasons reported for the death of others have left people wondering over what went wrong.
While nothing can compensate for the loss of lives, here is a look into the irreplaceable losses India's entertainment industry has suffered in 2020:
Rishi Kapoor
Legendary actor Rishi Kapoor died battling Leukemia on 30th April 2020. His legacy has left a massive contribution to the India Cinema. The 67-year-old veteran actor had been fighting a 2-year-long battle with cancer. In 2018, he was diagnosed with cancer and immediately shifted to New York for treatment. In recent months due to complications, the actor has been in and out of the hospital. He breathed cinema until the end of his journey and left everyone in awe with recent remarkable performances in movies such as Mulk and 102 Not Out.
Irrfan Khan
The loss of one of the finest actors in the industry, who delivered impeccably heart-touching and honest performances throughout his journey, has been mourned by the world. After a prolonged battle with colon infection, the 53-year-old was admitted to Kokilaben hospital. The actor also underwent Chemotherapy and treatment in 2018 in the US after being diagnosed with a rare type of Neuroendocrine tumor. He also made a comeback to acting then. Being an outsider in this industry, his legacy is celebrated by his distinguished characters in every movie. He has set the benchmark irrationally high for the upcoming generations to follow.
Wajid Khan
Associated with the hit Dabangg series, Bollywood music composer, Wajid Khan passed away at the age of 47. According to the statement issued by the family members, he was suffering from a kidney ailment and died of cardiac arrest on June 1 at a Mumbai hospital. The statement also revealed that he was undergoing treatment for a throat infection. Known for his compositions in popular Salman Khan movies such as "Wanted" and "Ek Tha Tiger", many celebrities took to the microblogging site to express grief over his demise.
Sushant Singh Rajput
The recent addition of Sushant Singh's death by suicide, sparked discussions revolving around the severity of depression, as the reports suggested, Sushant was suffering from depression for the past several months. His death also sparked the debate on Nepotism in Bollywood, with several stars coming out and sharing their ugly experiences in the industry on social media platforms. The untimely demise of the 34-year-old actor also led to several celebs and politicians demanding a CBI inquiry into his death.
Disha Salian
Just a few days before the death of Sushant Singh Rajput, the news of the death of his former manager hit everybody as a shock. It is alleged that Disha died after falling off the 14th floor of her friend's residence in Mumbai's Malad. The 28-year-old celebrity manager has also worked with actor Varun Sharma, Aishwarya Rai Bachchan, and comedian Bharti Singh.
Sejal Sharma
25-year-old Television actor Sejal Sharma committed suicide in January at her rented flat in Royal Nest society at Mira Road, Mumbai. During the probe, a note had been recovered, saying, "I can't take the pressure of this hard life." However, her mother claims that she was not suffering from depression had even got a leading role in a show. Sejal worked in the show Dil Toh Happy Hai Ji.

Mohit Baghel
Famously known for playing Amar Chaudhary in superstar Salman Khan's Ready, 26-year-old actor Mohit Baghel died of cancer. Undergoing treatment for six months, he passed away in his hometown Mathura. He also acted in films such as Ekkees Toppon Ki Salami and Gali Gali Chor Hai.
Preksha Mehta
On many similar fronts, Crime Patrol actress Preksha Mehta was also found hanging at her residence in Indore. Unlike Sushant, Preksha had posted an upsetting message on her Instagram story before taking her life, writing, "Sabse bura hota hai sapno ka mar jaana (sic)." (The worst is when your dreams die). The actor was reportedly worried about not being able to get work due to the imposed nationwide lockdown. Besides Crime Patrol, she was also seen in TV shows such as Meri Durga and Lal Ishq.
Siya Kakkar
Another chilling incident of 16-year-old Tik Tok star Siya Kakkar, who committed suicide on June 25 has left her fans shocked. Many took to social media reacting to this news and mourning the rising star. The news of her death was shared by celebrity photographer Viral Bhayani. Delhi-resident social media star was soon going to be roped in for a song collaboration. Kakkar, who gained popularity for her dance videos, has over 1,05,000 followers on Instagram and around 11 lakh followers on TikTok. The entertainment industry is blown up witnessing shocking news of celebrities allegedly dying by suicide.
The year 2020 lost many gems and has left a dark void for fans and professionals in this industry. While the world has already suffered a lot in the past few months, the loss of talent this year is unimaginable. However, notable similarities responsible for the cause of many celebrity deaths is reported as depression.
Posted By: Simran Babbar