Choked Movie Review: Anurag Kashyap's demonetisation saga is 'Choked' with a disappointing screen work
In 'Choked', Anurag Kashyap along with the writer Nihit Bhave explore the demonetisation tragedy for the audience on both sides of ideological aisle.
Updated: Fri, 05 Jun 2020 11:50 AM IST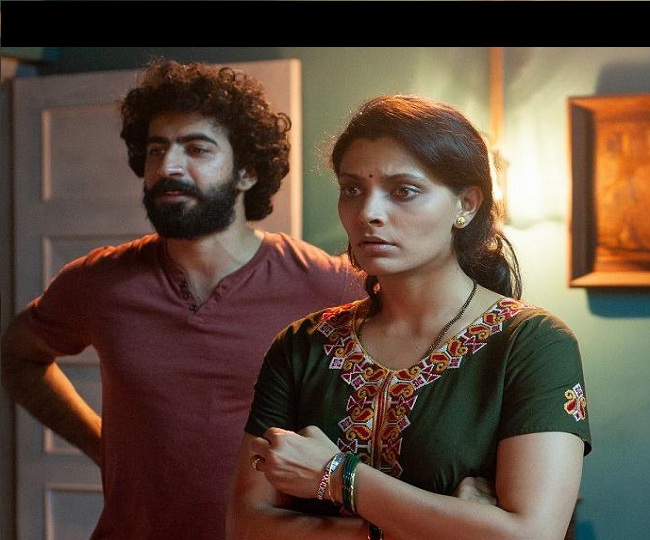 New Delhi | Jagran Entertainment Desk: The premise of finding a big stack of currency notes flowing into the oblivion of lifelessness can bring about an impressive charm on any desi middle class face stuck in the nuances of an urban setting after leaving behind those broken dreams of teenage and being pushed to survive an unimpressive husband and a child struggling between the two extremes of the couple.
So what really happens with Sarita, that her fast fainting equation with her jobless debtridden husband and hitherto with the neighbouring anonimities of financial backtracking just ends up becoming a conglomeration of unsolved complexities and bland clichés filled with monotony? A wasted premise?
The main lead of 'Choked: Paisa Bolta Hai', Saiyami Kher of 'Mirzya' (2016) fame, is a potter's gizmo, who goes about in this one hour and fifty four minutes long trajectory just the way the person behind the Potter Wheel takes her. The confused conceptualisation of the premise of demonetisation at the moments of reckoning in this Netflix original, amid the familiar go-abouts of middle class stimulus turns unengaging before you realise.
In 'Choked', Anurag Kashyap along with the writer Nihit Bhave explore the demonetisation tragedy for the audience on both sides of ideological aisle, but the impression on screen doesn't really hit the creative optimal because after those moments of reckoning in 'Choked', the plotline hinges away from what appears to be the early conception of the story.
And mind you, this is neither the surprise element nor a substitute for shock facet, which Anurag has plated out quite incredibly in the past making some fiercest of admirers who love Anurag Kashyap's brand of filmmaking. It's just obscurity at best, and confused writing at worst. While you expect more before Sarita finds out the stack of pre-8 November currency notes, but before all this is over, you find very less audience gratification if not negligible while getting an impression that a promising premise has already fallen like a stack of aces in a House of Cards. The ace, surely is Saiyami Kher but the house of a confused storyline makes her unengaging quite disruptively.
Malayalam actor Roshan Mathew is convincing as Sushant, Sarita's debtridden husband, but Sarita has most of the space both in their one bedroom apartment as well as on the screen too. The blend of a groundbreaking event like demonetisation with the life of despondency which Sarita is pushed to live could have been engaging, had the unconventional setup not become an obscured filtration of a thrusted pattern of resented disengagement.
Anurag Kashyap misses out his signature style and ends up shadowing his writing with what could have turned out as a convincing screen work. It's yet another disappointment which makes you reminisce the negligible audience gratification from the house of Bombay Velvet.
Posted By: Abhinav Gupta