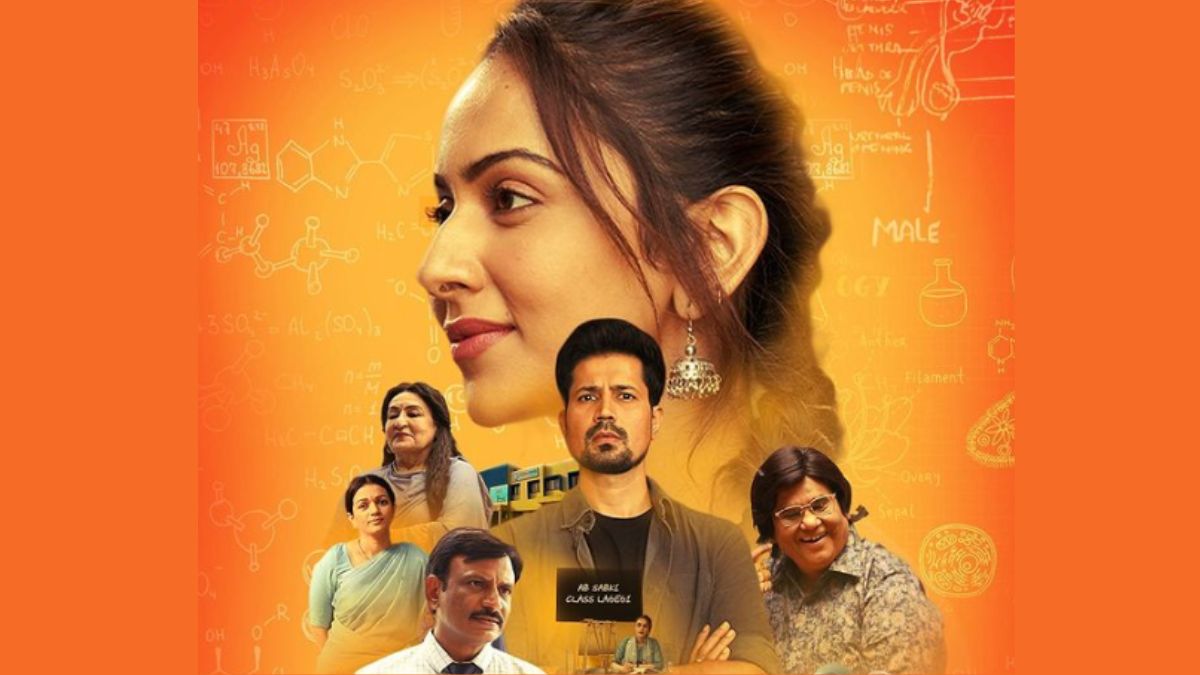 Rakul Preet and Sumeet Vyas-starrer 'Chhatriwali' has finally been released on Zee5. The movie talks about the safe s*x which is a taboo topic in India. Apart from Rakul and Sumeet, Chhatriwali stars Satish Kaushik, Dolly Ahluwalia and Rajesh Tailang.
If you are planning to watch the film this weekend, then read these 10 tweets before deciding.
#chhatriwali ⭐️⭐️⭐️⭐️/5
The film with Noble message on sensitive concept taken with such responsiblity @Rakulpreet done a very great job with such fine acting especially the way of Sanya's perceptive portrayed is astonishing

Kudos to #RakulPreetSingh and the entire team ✨️ pic.twitter.com/nEZZfiBVxd

— MANDALORIAN (@sampathraj23) January 20, 2023
@Rakulpreet #Chhatriwali Real. Relevant. Responsible. This comedy about condoms, is not to be condemned; but 'congratulated'. Rakul carries the entire film on her able shoulders; while the supporting cast are all so earnest. This film is a 'must wear'! ⭐️⭐️⭐️⭐️ (4 stars) pic.twitter.com/qnT9CChsTD

— Bhavikk Sangghvi (@bhavikksangghvi) January 20, 2023
Finally released chhatriwali on Zee5 and i really excited to watching this movie its so superb movie#ChhatriwaliOnZEE5 pic.twitter.com/VzmXyZy5SY

— savina (@savi_450) January 20, 2023

If you have time this weekend, the first thing you must do is to watch#ChhatriwaliOnZEE5. @Rakulpreet has conveyed a serious message with grace and elegance. She has handled the character with so much ease. Totally loved it❤️

— Sree N (@believer_sree) January 20, 2023
#Chhatriwali - A Socially Relevant Drama With Good Performances!

Full Review link :https://t.co/2Y9l7p2YL3 @Rakulpreet @tejasdeoskar @vyas_sumeet @satishkaushik2 @rajeshtailang @PracheePaandya #RivaArora @sanchit421 #PriyadarsheeSrivastava @dollyahluwalia @ronniescrewvala

— Popcorn Reviewss (@PopcornReviewss) January 20, 2023
Appreciation post for @Rakulpreet. Have been following all her work since last 5-6 years and everytime I see her, she absolutely kills it in her new avatar. Another blockbuster performance in #Chattriwali. #Superstar #performance #performer #RakulPreetSingh #RakulPreet

— Gaurav Srivastava (@Gaurav_1807) January 20, 2023
@Rakulpreet another mind blowing performance #ChhatriwaliOnZEE5 . Never seen a actress who can carry off any roles with such ease n elegance 🤩🤩🤩

— DaMoDaR BaLiGa (@DamodarBaliga81) January 20, 2023
Chhatriwali movie is in superb dialogue and amazing story so must watch this movie on Zee5#ChhatriwaliOnZEE5 pic.twitter.com/PIUWr8viSu

— rutu patel (@rutupat68395184) January 20, 2023
Talking about the film, Rakul said in a statement, "I hope this character inspires others to find their voice and speak up against unsafe s*x and the many health implications of not using protection. India's youth make up for majority of the population and educating them on safe s*x and s*x education is the need of the hour, so I am glad that Chhatriwali is catering to them and everyone else in a progressive and entertaining manner."
Co-star Sumeet said, "Chhatriwali breaks the wall of awkward silence around s*x between Indian parents and children, husbands and wives, teachers and students. Today's generation is curious about the word 's*x', and 'intimacy' because there is always a sense of 'hush-hush' around such topics."
The film is produced by Ronnie Screwvala and directed by Tejas Prabha Vijay Deoskar. The movie will stream on Zee5 on Jan 20.
Meanwhile, on the work front, Rakul was seen in five films in 2022-- Attack, Runway 34, Cuttputlli, Doctor G and Thank God. Cuttputlli became the most-watched Hindi film of the year. She will star in Meri Patni Ka Remake, Ayalaan, Indian 2 and 31 October Ladies Night.