By Swati Singh
Fri, 20 Jan 2023 01:20 PM IST
Minute Read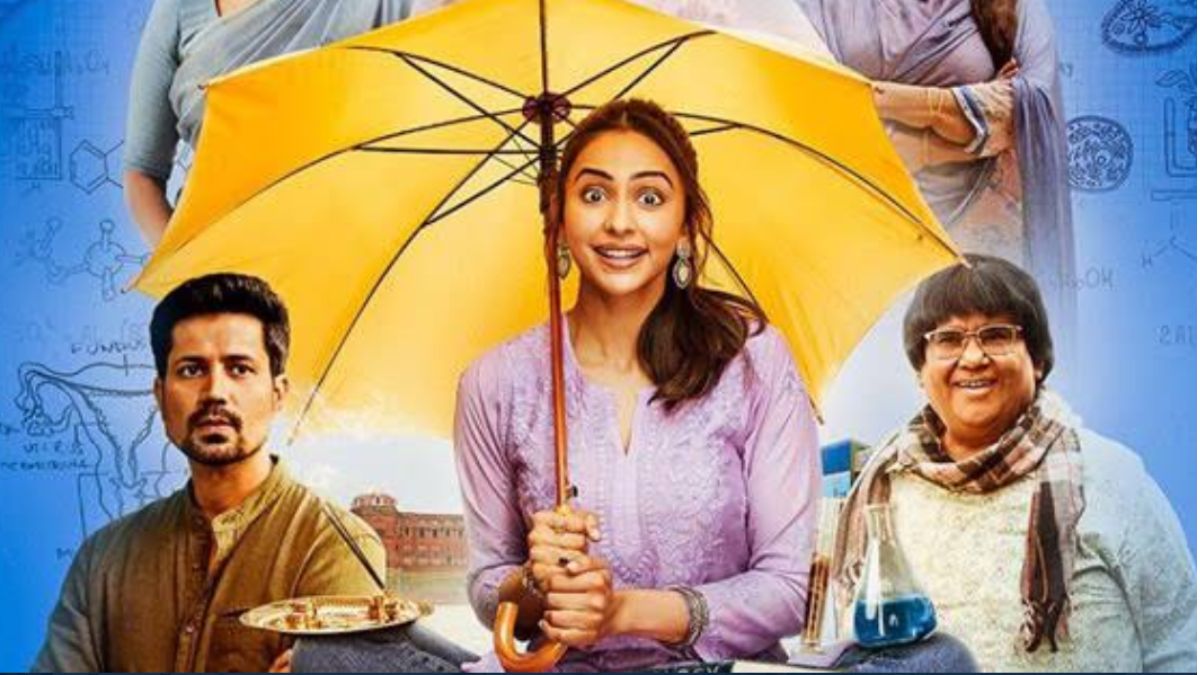 Calling condoms a Chattri (umbrella) is nothing new. Films that are mature enough to depict condoms must also be mature enough to discuss the act, right? Actress Nushhratt Bharuccha performed a very identical act in 2022 movie, Jan Hit Mein Jaari, only a few months prior.
Rakul Preet Singh-starrer movie, Chhatriwali, which premiered on the OTT platform Zee5 on January 20, aims at promoting the importance of male contraceptives and safe s*x. It stars Rakul, Sumeet Vyas, Satish Kaushik, Dolly Ahluwalia and Rajesh Tailang in the lead roles. Directed by Tejas Deoskar, the movie has been bankrolled by Ronnie Screwvala.
Sanya, played by Rakul Preet Singh, a local citizen of Karnal, is only able to find employment as a quality controller in a condom factory. Cando Condoms, owned by Ratan (Satish Kaushik), needs Sanya just as much as she needs it. Ratan thinks he isn't running a business; rather, he is providing a vital social service.
This is the same time when Sanya has an interaction with Rishi Kalra (Sumeet Vyas) who runs a devotional shop and later both fall in love. Sanya keeps her employment at the condom factory a secret from Ratan and her mother. She fabricates that she is employed by an umbrella firm. Her strict brother Rajan Kalra (Rajesh Tailang) and his wife Nisha are part of Rishi's family, and she also lies to them (Prachee Shah Paandya).
Now, there lies a challenge for Sanya as she has to take precautions to prevent her in-law from learning about her profession. Later, she starts to find a new job after she realizes that condoms are not something to be ashamed of, but it's a true life saviour.
The screenplay by Sanchit Gupta and Priyadarshee Srivastava is easy-going. There are some of the moments in the movie that keeps the audience intact. While the first half is quite similar to Jan Hit Mein Jari, the second half has some different elements that helps the movie differentiate from Nushhratt Bharuccha-starrer. A few developments lack credibility. It is puzzling that Sanya utilised chemicals to excel in kite flying yet lacked the necessary supplies to fix the leak in her home. Even though there was plenty of room for humour, there isn't much of it. Several developments seem unconvincing. Why Sanya used chemicals to excel at kite flying but none to halt the leak in her home is puzzling. Additionally, although having plenty of opportunity, the humour is sparse.
Rakul Preet Singh undoubtedly gives one of her best performances of her career, and believe it or not, she hasn't ever been this adorable in a Hindi movie. Rajesh Tailang keeps things under control, and it works, while Satish Kaushik is quite endearing, Prachee Shah Paandya makes an impression with her performance. Rajesh Bedi doesn't fail to grab the limelight as there is a scene in Chhatriwali where men line up to purchase condoms from his store.