Bigg Boss 13 Day 40 Highlights: Equations change as Rashami, Devoleena enter house, differences between Sidharth, Arti intensify
Updated: Fri, 08 Nov 2019 11:03 AM IST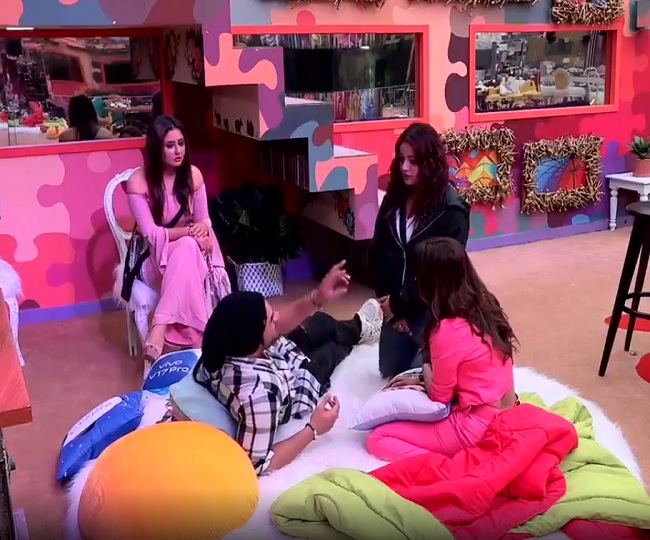 New Delhi | Jagran Entertainment Desk: The 38th day of Bigg Boss season 13, started in continuation of the last episode's task, Paras got hurt during the task accidentally by Sidharth Shukla. His hand had blood on it, and Mahira was helping him with the first aid. Later Mahira started yelling at Sidharth Shukla for being violent all the time. Himanshi then intervened and told Mahira that she came between Sidharth Shukla and he didn't hit her deliberately. Paras then took Mahira inside, later Shehnaz told her that she must allow Paras to fight for his own sake.
#ParasChhabra ko lagi chot par hui #MahiraSharma gussa!
Kya hoga jab #ShehnaazGill bolengi unko sabke saamne galat, dekhiye aaj raat 10:30 baje.

Anytime on @justvoot.@Vivo_India @BeingSalmanKhan #BiggBoss13 #BiggBoss #BB13 #SalmanKhan pic.twitter.com/leAFrjDV8S

— Bigg Boss (@BiggBoss) November 7, 2019
The next day, housemates woke up to 'Hamma Hamma' song. Sidharth Shukla's group including Asim, Shefali Jariwala, Himanshi Khurana and Hindustani Bhau talks about Shehnaz, Sidharth said that she changed her colours because now she is thinking that the other group is more strong. He also said that she has a child's brain but she is not dumb. He also said that he tried to explain things to her but she often changed her stance. I had decided I would not react to her behavior but she called me a villain and I am hurt.
Later Bhau and Sidharth can be seen taking a head massage from Shefali and Himanshi.
Sidharth, Shefali, and Asim later talks about Arti in the living area. Sidharth said that she switched sides after she was made the captain of the house. Shefali agreed with him and said that she called Arti thrice earlier in the day but she didn't listen. Later Arti can be seen sitting with Paras' group.
After a while, Arti and Shefali Jariwala can be seen talking to each other about Sidharth Shukla, Arti said that she stopped talking to him as he called her shadow. She said she was hurt but cried over it as she was often told that she is not deserving as she supported Sidharth.
During these talks of the housemates, the doorbell of the house rang, and Rashami Desai and Devoleena Bhattacharjee entered the house on the song, 'Tune Maari Enteriyan'. Everyone got shocked by seeing them both. While other housemates welcomed them, Sidharth Shukla and Asim Riaz frowned in sadness.
#BiggBoss ne phenki ek aur googly aur surprise entry hui @Devoleena_23 aur @TheRashamiDesai ki!
Dekhiye kaise badlega game dobaara aaj raat 10:30 baje.

Anytime on @justvoot.@Vivo_India @BeingSalmanKhan #BiggBoss13 #BB13 #SalmanKhan pic.twitter.com/f8YS1YIwWO

— Bigg Boss (@BiggBoss) November 7, 2019
After entering the house, Rashami and Devoleena talked about the duties assigned to the inmates. Rashami said that please guys learn to keep the kitchen clean. Devoleena entered the captain's room and was fascinated by seeing the beautiful room. Rashamai also got shocked after knowing that Arti has been made the captain of the house and her special room.
Asim asked Sidharth "Ab?", after seeing Rashami and Devoleena, and he replied that the other team is now very strong. Asim tried to convince him that they are strong players and do not need many people.
Shehnaaz said Sidharth Shukla was very happy when Rashami left. Bhau told Shefali that Sidharth and Asim are standing for each other and she must stand together with Himnanshi. Bhau said "Bigg Boss tum Chanakya ke baap ho".
#HindustaniBhau aur #ShehnaazGill ghar ke sabse bade entertainers, ho gaye hai ek dusre ke against. Dekhiye inki yeh takraar aaj raat 10:30 baje.

Anytime on @justvoot @vivo_india @AmlaDaburIndia @bharatpeindia @beingsalmankhan #BiggBoss13 #BiggBoss #BB13 #SalmanKhan pic.twitter.com/9AZUuAG8Wl

— Bigg Boss (@BiggBoss) November 7, 2019
Later, Rashami fought with Arhaan, asking him why he had claimed to make things normal. Rashami said she will not talk to Arti but Paras and Arhaan tried to convince her that she must talk and clarify things with her.
Sidharth then told Shefali, Himanshi and Asim that he will walk up to Arti and tell her to "F**** of." He further explained that he never needed Arti and is now not even comfortable with her. However, he only folded hands and gestured to Arti.
Posted By: Talib Khan