Bala Movie Review: Ayushmann aces again in complete entertainer filled with wit and humour, a must watch
Updated: Fri, 08 Nov 2019 04:02 PM IST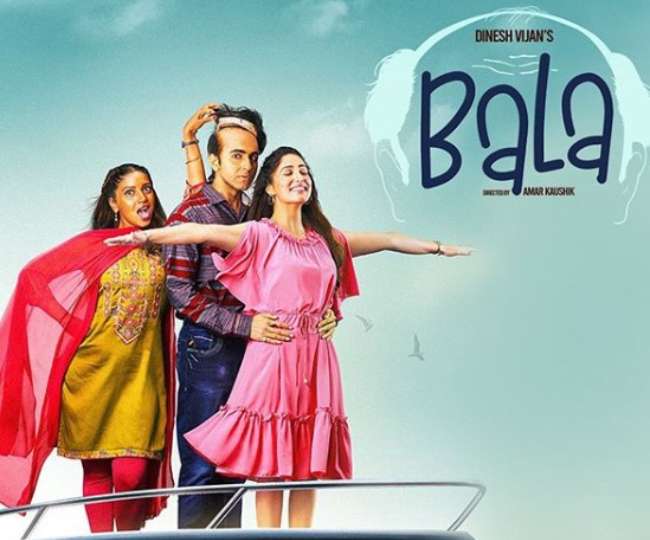 New Delhi | Jagran Entertainment Desk: Ayushmann Khurrana, nowadays has been giving real tough competition to each and every Bollywood actor. With every release of Ayushmann we are getting more assured that whichever script he will pick, it will turn into a blockbuster, just like the King Midas, who turns everything he touches into gold.
Ayushmann's latest film, 'Bala' is released today, and like his last seven films, the audience can't stop praising him for his brilliant acting and comic timing. Though the film also stars some prominent actors, who have done justice to their role, but the way Ayushmann acted in the film, he takes away all applauses.
Also Read: Bigg Boss 13 Day 40 Highlights: Equations change as Rashami, Devoleena enter house, differences between Sidharth, Arti intensify
Bala is the story of a young man struggling with premature balding. The story starts with a flashback from 2003 when Balmukund (Ayushmann) was a schoolboy, and that too a proud one, courtesy of his 'Lehraate Kaale Baal'. he was the Shah Rukh Khan of his school and everyone was attracted to because of his charm and mimicry skills. His pride doesn't let him hesitate in making fun of the dark-complexioned classmate and even his bald teacher by calling him 'takla'.
After the flashback stops, the film takes you to the present reality, where the Shah Rukh Khan of Kanpur (Bala) has lost all his pride and was left with some hair on his head which you can count on your fingers. Due to his receding hairline, Bala's girlfriend from the last 15 years also left him, who has more hair on his head. All the failures, diminishing the pride of Bala comes together in his life as he gets demoted in his marketing job of selling fairness creams.
Frustrated Bala tried everything to get his pride back but to no use. From applying a mixture of buffalo dung and bull's semen on his head to doing every asana possible, he tried hundreds of remedies but only disappointment is the thing he grows.
In his entire struggle, he has strong support of his lovely family - his parents (Saurabh Shukla and Sunita Rajbar), his brother (Dheerendra Kumar Gautam, who comes out to be a surprise package) and friends (Abhishek Banerjee and Jaaved Jaaferi).
Then comes the day when Bala, after failing at every attempt to grow his hair, resorted to using a wig, which was gifted by his bald father. Bala again got his pride (hair) back, but this time they are even more sensitive and 'fake'. Soon after he got his hair back, his love story starts with Pari (Yami Gautam), and to everyone's surprise, she is the face of the fairness cream Bala sells and a TikTok star. The love story takes a lot of twists and turns and eventually turns out to be a laugh riot.
Also Read: Bigg Boss 13: Contestants left in shock as Rashami, Devoleena enter house after eviction
Bhumi Pednekar plays a dark-complexioned lawyer Latika, who is confident in her skin. She is the epitome of feminism and doesn't compromise on her principles no matter what.
Talking about the acting, Ayushmann, as usual, aces the role of 'frustrated bald man' who loves his hair but ironically lost them at an early age. His dialogues and comic timings were right on the spot. Apart from Ayushmann Yami and Bhumi portray the role assigned to them perfectly, Bhumi surely does have an upper hand than Yami.
From Saurabh Shukla and Abhishek Banerjee to Jaaved Jaaferi, every character actor has played their role with a flavour that is unique to themselves. They are entertaining in their peculiarity and don't remind you of any character you have seen earlier.
Also Read: 'With our very own Jazz': Akshay Kumar recreates Namastey London scene with Katrina on the sets of Sooryavanshi | Watch
Helmed by Amar Kaushik, Bala is a complete entertainer and a must watch film with a message that you should be comfortable with who you are and stop bothering about things which you can't control just because of the stereotypes prevailing in the society. We give the film 4 out of 5 stars.
Posted By: Talib Khan