Aarya Review: Roaring like a 'Lioness mother', Sushmita Sen delivers startling performance in this crime drama
Such finesse in her expressions, extracted on screen by Ram Madhvani, makes Sushmita Sen's portrayal in-and-as 'Aarya' her career best performance.
Publish Date: Fri, 19 Jun 2020 03:02 PM IST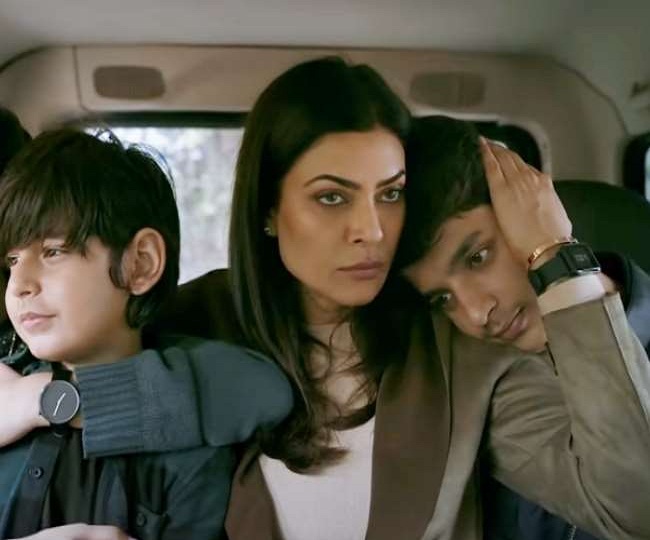 New Delhi | Jagran Entertainment Desk: Ram Madhvani's adaptation of Dutch-series 'Penoza' (2010) as 'Aarya' released on Disney-Hotstar June 19. The titular role is played by the former Miss Universe Sushmita Sen. Aarya displays the excellence of a poignantly researched script, modulated by a suitably-paced yet an unpredictable screenplay, and some terrific acting performances on top of all alongside the added pinches of some wonderfully curated Bollywood retro music.
The thrilling pace with which the story moves, makes it one of the finest creations by Ram Madhvani, topping above 'Neerja' at many levels, in a way that after watching the final frames of the series, you just cannot imagine somebody else playing 'Aarya Sareen' as phenomenally as Sushmita Sen.
Hands down, Aarya is undoubtedly the finest performance that the former Miss Universe has delivered on-screen so far in her career.
Based in a filthy-rich setting of Rajasthan, the story revolves around a terrifically concealed family business of drugs in disguise of a pharmaceutical trade, run by the patriarchs of Aarya's family – her brother, her father before that, and virtually helmed upon by Aarya's husband Tej Sareen (played by Chandrachur Singh) in the beginning of the series – all of whom are caught off the guard as the partnership dynamics of the shady business fall out eventually, making way for Aarya to hold the reins in order to primarily protect her three children at the face of most excruciating adversities.
Watch Trailer here:
The only aspect where the casting part of 'Aarya' seems lacking, was that of Tej Sareen's character, which despite being written quite well, was portrayed with a noted mediocrity by Chandrachur Singh. Some of his expressions, like the one in a wedding sequence in which he shares with his wife the future course of action as for exiting from the shady business of drug trafficking, were totally unconvincing and hardly tolerable for an excellent screenplay.
His early exit from the series, saves this Ram Madhvani-creation and audience viewing experience in-turn from a huge alteration of pacey-thrilling screenplay. Further on, Sangram (Ankur Bhatia), Daulat (Sikandar Kher), Jawahar (Namit Das) and Shekhawat (Manish Chaudhary) build the thrill of the story remarkably, although most of that is carried upon the shoulders of Aarya (Sen) herself.
There are some poignant moments in the series when you simply fall in love with the little tensed nuances picked up wonderfully by the makers. Like in a segment, when Aarya is strikingly happy as she enters the elevator of a hospital where her husband was showing significant recovery, and she goes on to wish a pregnant couple for their upcoming child. The series in hallmarked with such frames all until the cliffhanger climax, which displays the nuanced research makers seem to have done before shooting the first shot.
The Sareen siblings – Adi, Aru and Veer (Pratyaksh Panwar, Virti Vaghani and Viren Vazirani) – are a fresh breathe of oxygen in the OTT world, with an immaculate sense of realism devoid of typical clichés surrounding filthy-rich children, which makes the screenplay even more class-apart.
Specific emphasis on children's characters at some of the most well calculated moments in the series, define an incredible mother-child relationship between Aarya and her children, arguably one of the finest highlights of a twenty first century motherly instincts on-screen. Whenever faced with a problem never-seen-before in her life, Aarya repeatedly says that 'My kids are waiting'; the phrase acts like Aarya's shield, which initially after taking the reins of a collapsing business, becomes her pragmatically attached defense-mechanism against the antagonistic hallmarks of the story.
Because Daulat (Sikandar Kher) had announced it already, that if Aarya is to defend herself in some of her life's most threatening circumstances, she had to become a Lioness. And 'Lionesses are most dangerous when they are mothers'. Aren't they?
In the pop culture, Aarya, which literally means 'Shakti' or exceptional power in the inhabitants of ancient Aaryavrat, as a name was most notably played by Maisie Williams in 'Game of Thrones' as Arya Stark.
Incidentally, when it comes to being a mother, Sushmita Sen as Aarya Sareen drops the shades of Arya Stark's mother Lady Catelyn Stark (Michelle Fairley), in some of the most jaw dropping sequences in the penultimate episode of the series which can be compared to the Red Wedding sequence of the Thrones in terms of Sushmita's acting.
Such finesse in her expressions, extracted on screen by Ram Madhvani, makes Sushmita Sen's portrayal in-and-as 'Aarya' her career best performance.
Posted By: Talib Khan