Updated: Sun, 02 May 2021 08:27 PM IST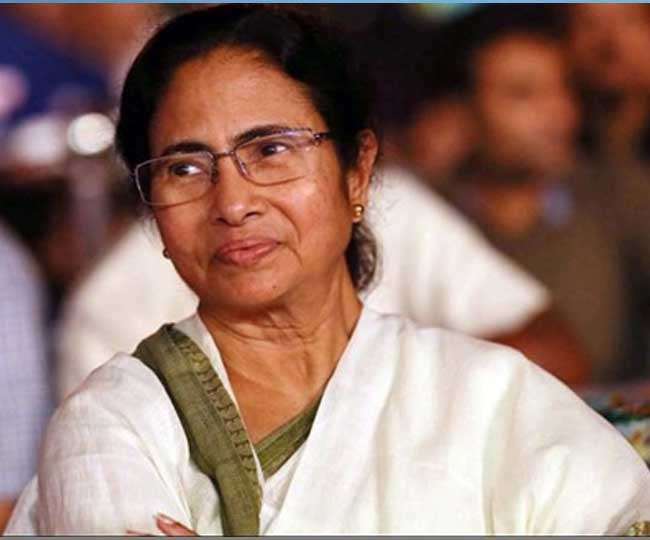 Kolkata | Jagran Politics Desk: In a major setback for the Bharatiya Janata Party (BJP), the Mamata Banerjee-led Trinamool Congress (TMC) has crossed the majority mark in West Bengal and is almost certain to retain the power in the state for the third straight time. As per the trends, the TMC is leading on 213 seats while the BJP is ahead on just 77 seats.
The BJP, buoyed by its success in the 2019 Lok Sabha elections, was hoping to form its own government in the state for the first time since independence. However, it looks the TMC would certainly retain power in the state. Earlier, the exit polls had predicted that a neck and neck battle between the BJP and TMC.
The assembly elections in West Bengal, which were held in eight phases from March 27 to April 29, saw a triangular contest this year between the TMC, the BJP and the Congress-Left alliance.
Here are the highlights of the day:
19:30 pm: Mamata Banerjee has lost the battle of Nandigram to Suvendhu Adhikari
18:51 pm: I appeal to all my workers to not take out any victory rally, says Mamata Banerjee.
18:21 pm: Don't worry about Nandigram, I struggled for Nandigram because I fought a movement. It's ok. Let the Nandigram people give whatever verdict they want, I accept that. I don't mind. We won more than 221 seats and BJP has lost the election, says Mamata Banerjee.
18:19 pm: BJP has lost the elections. They played bad politics. We faced the horror of Election Commission, says Mamata Banerjee.
18:14 pm: We are grateful to the people for this landslide victory. I have to start working for COVID19 immediately. The swearing-in will be a low-key event because of the prevailing COVID19 situation, says Mamata Banerjee.
17:13 pm: I would like to thank everyone. I request all to not take out victory processions. I urge everyone to go back to their homes now. I will address the media after 6 pm: West Bengal CM Mamata Banerjee
17:06 pm: Just In: Defence Minister Rajnath Singh congratulates Mamata Banerjee as TMC looks set to win West Bengal assembly elections
16:30 pm: BREAKING: West Bengal Chief Minister Mamata Banerjee wins Nandigram constituency by 1200 votes, defeating BJP's Suvendu Adhikari.
16:08 pm: TMC's Manoj Tiwaru has won the Shibpur seat by over 25,000 votes as per unofficial trend.
15:46 pm: According to official EC trends, BJP candidate Suvendu Adhikari is leading by just 6 votes from Nandigram after the 16th round of counting.
15:05 pm:
#WATCH Trinamool Congress supporters in large numbers gathered outside the BJP office in Kolkata's Hastings area, as TMC leads in 200 plus seats #WestBengalElections pic.twitter.com/KywRZVoq2v

— ANI (@ANI) May 2, 2021
15:05 pm: We really don't want to celebrate but there was an anti-campaign against TMC. Our workers were under pressure. This mandate has given them energy. Still, we're telling them not to celebrate due to COVID situation, says Trinamool Youth Congress state secretary Sayan Deb Chatterjee
14:00 pm: Just In: Mamata Banerjee is now leading against Suvendu Adhikari from the high profile seat of Nandigram.
13:36 pm: I was always telling the press that Mamata Banerjee will be CM for the 3rd time. BJP tried their best to crack but they didn't succeed. The Left has now vanished from West Bengal due to their wrong policy of taking a communal force against a communal force, says TMC's Firhad Hakim.
You've to be secular in fight against a communal force. That was done by TMC. We're committed to secularism, committed to development. We're committed to bringing the people together. We can't fight a communal battle against a communal force, he added.
13:25 pm: Also Read -- West Bengal Election Results 2021: TMC set to retain power, but can Mamata remain CM if she loses from Nandigram?
12:40 pm: TMC supporters celebrate in Kolkata as party leads on 202 seats.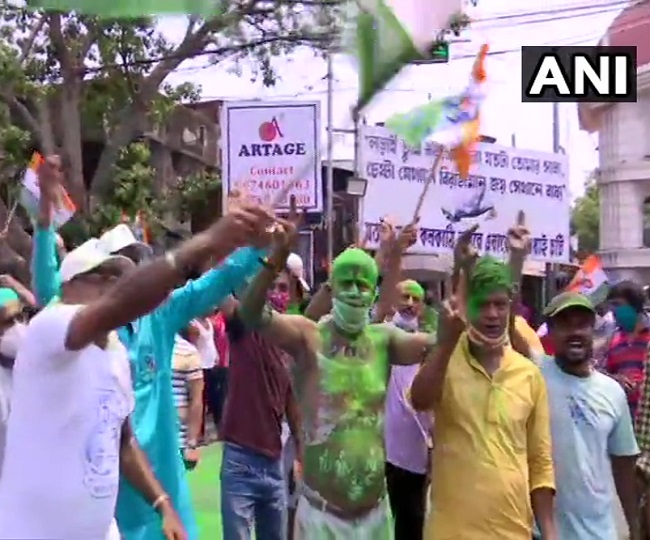 12:30 pm: As per the trends, the TMC is now leading on 202 seats while the BJP is just ahead on 77 seats.
11:29 am: As per the trends, the TMC is leading on 191 seats while the BJP is ahead on just 95 seats. From here, it is certain that Mamata Banerjee would get another term.
11:19 am: Official trends for 253 seats | TMC leading on 166 seats, BJP leading on 83

10:52 am: Too early to say anything because there are so many rounds. Situation will be clear only by evening. We had started from 3 and were challenged that we won't get even 100, we have crossed that mark. We will cross the magic number too, says BJP's Kailash Vijayvargiya.
10:45 am: Also Read -- West Bengal Election Results 2021: Mamata-led TMC cruises past majority mark in early trends, BJP leads on 104 seats
10:26 am: The TMC is currently leading on 187 seats while the BJP is now just ahead on 100 seats. However, Suvendu Adhikari is leading over Mamta Banerjee in Nandigram.
10:25 am: Also Read -- LIVE Nandigram Election Results 2021: Suvendu Adhikari ahead of Mamata Banerjee by over 4,500 votes in key battleground
9:55 am: The TMC has crossed the halfway mark and has taken lead on 161 seats. The BJP, on the other hand, is ahead only on 115 seats.
9:38 am: Currently, the TMC is cruising towards the majority mark as the party has taken lead on 137 seats while the BJP, which is banking on the Modi wave, is ahead on 110 seats.
9:13 am: As per official EC trends, TMC is leading on one seat.

9:05 am: In Nandigram, Suvendu Adhikari has taken lead over Mamata Banerjee, as per an India Today report.
9:03 am: BJP's Sabyasachi Dutta, Rajib Banerjee and Rajib Bhattacharya have taken leads on their respective seats.
9:01 am: BJP's Locket Chatterjee and Babul Supriyo take lead.
8:49 am: The BJP is now ahead on 63 seats while the TMC is leading on 65 seats.
8:37 am: The initial trends have suggested that BJP is ahead on 48 seats while TMC is leading on 45.
8:22 am: BJP takes lead on 14 seats, TMC ahead on 11 seats, say initial trends
8:12 am: A neck and neck battle is going in Bengal with both BJP and TMC taking lead on 3 seats each.
8:00 am: Counting of votes begin.
7:48 am: Catch all the LIVE Updates from Tamil Nadu Assembly Elections Results 2021 here
7:40 am: Officials, counting agents and others arrive at a counting centre at Siliguri College in Siliguri.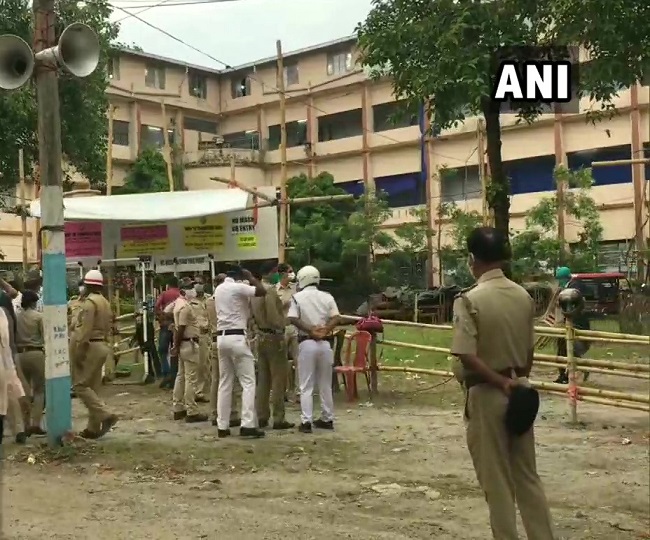 7:32 am: Counting of votes to begin from 8 am. Visual from a counting centre at St Thomas' Boys' School in Kolkata.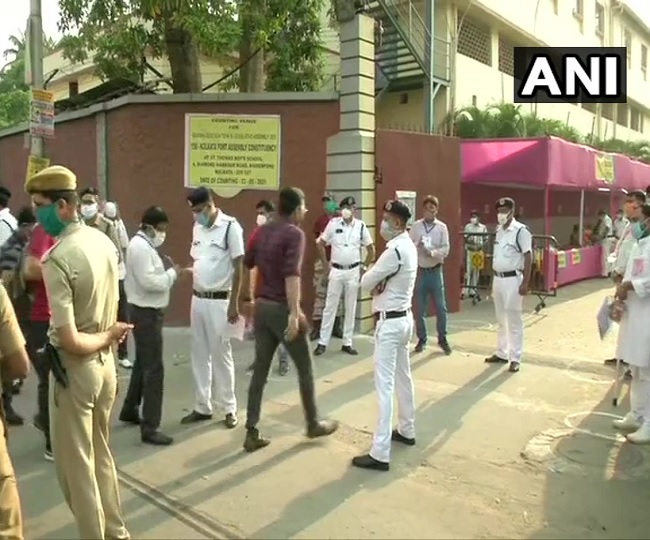 7:27 am: The TMC, however, has claimed that Mamata Banerjee will get another term.
7:25 am: The BJP is buoyed by its success in the 2019 Lok Sabha elections and is hoping to turn the tide in the state.
7:00 am: Also Read -- West Bengal Exit Polls 2021: Poll of polls predicts hung assembly with BJP to get slight edge over TMC
6:55 am: According to poll of polls by English Jagran, BJP will get around 140 seats while the TMC will win 139 seats.
6:50 am: A tough competition is expected in West Bengal with the exit polls predicting a hung assembly in the state.
6:45 am: The counting of votes for the West Bengal Assembly Elections Results 2021 will be held today at 8 am.
Posted By: Aalok Sensharma