Mamata Banerjee calls PM Modi 'biggest dangabaaz' of India, says Gujarat cannot rule West Bengal
West Bengal Assembly Election 2021: Terming the BJP government as Gundas (miscreants), Mamata Banerjee said, "Bengal will rule Bengal. Gujarat will not rule Bengal. Modi will not rule Bengal. 'Gundas' (miscreants) will not rule Bengal".
Updated: Wed, 24 Feb 2021 04:51 PM IST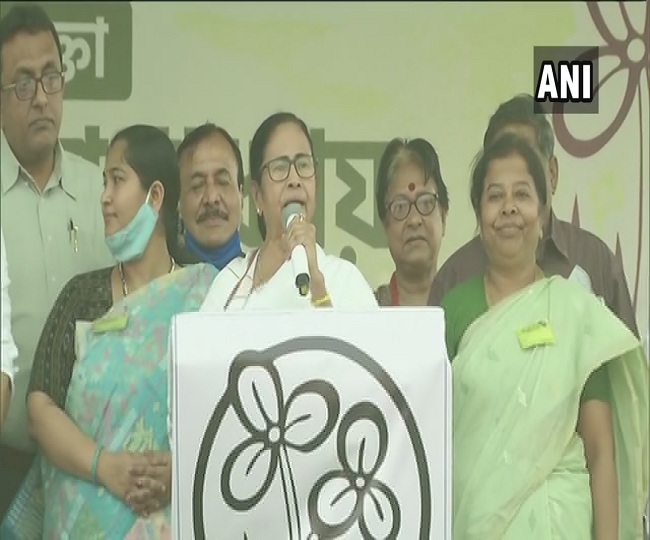 New Delhi | Jagran News Desk: Ahead of the West Bengal Assembly Elections 2021, chief minister Mamata Banerjee today lashed out at Prime Minister Narendra Modi and called him 'the biggest dangabaaz (rioter) of the country'. She also said that PM Modi will face an even worse fate than former US President Donald Trump.
"Narendra Modi is the biggest 'dangabaaz' (rioter) in the country... What has happened to Trump, he (Modi) will meet an even worse fate. Nothing can be gained from violence," she said. "Every time you (BJP) say that Trinamool Congress is 'Tolabaaj' but I say you (BJP) are dangabaaz and dhandabaaz", Mamata Banerjee added.
Mamata Banerjee while addressing a public rally at Sahaganj in Hooghly district, also said Modi and Home Minister Amit Shah are spreading lies and hatred throughout the country, adding that the state will not be ruled by Gujarat, but will rule itself.
"Bengal will rule Bengal. Gujarat will not rule Bengal. Modi will not rule Bengal. 'Gundas' (miscreants) will not rule Bengal. I will be the goalkeeper in the assembly polls and you (BJP) will not be able to score a single goal. All shots will fly above the goal post," Banerjee said.

The chief minister also condemned the recent CBI interrogation of TMC MP Abhishek Banerjee's wife in connection with a coal pilferage scam, saying it was an insult to our women. She also remarked that the women in the Bharatiya Janata Party (BJP) are not safe and urged people not to send their women to the party.
"Today, if I tell each and every story on BJP women, they will hang their heads in shame. Today, BJP women are not safe, do not send women to that party. Many people have kept silent and cannot speak on this issue. Whereas, women of our party are respected like one respects a mother...The reason why there is peace in West Bengal is that it is a land of mothers and sisters," she said.
Challenging the BJP head-on, the West Bengal Chief Minister said, "Khela to hobei re" (The game will commence). We have to correct BJP through this game. Whether they will stay in the country tomorrow or not. If you defeat them in this game in Bengal, please know, they will say farewell to this country".
This comes amid an intense tussle between the TMC and the BJP ahead of the Assembly polls this year. Elections for 294 Assembly seats in West Bengal are likely to take place in April-May this year.
Posted By: Talibuddin Khan