Updated: Sun, 02 May 2021 04:34 PM IST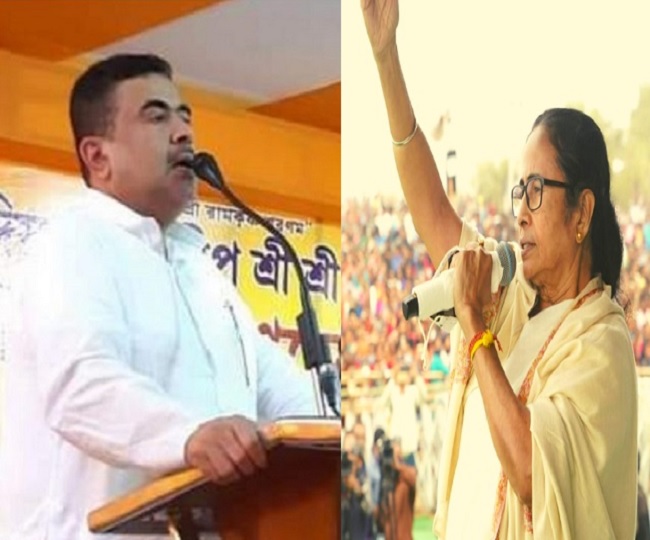 New Delhi | Jagran News Desk: Amid counting on votes on Sunday, West Bengal Chief Minister Mamata Banerjee claimed that she has information that some manipulations were done after the declaration of results for the Nandigram seat. Meanwhile, BJP leader Suvendu Adhikari won the Nandigram seat by over 1,700 votes.

Briefing the media persons, Mamata said, "Do not worry about Nandigram, I struggled for Nandigram because I fought a movement. It is ok. Let the Nandigram people give whatever verdict they want, I accept that. I do not mind. We won more than 221 seats and BJP has lost the election."

"I accept the verdict. But I will move the Court because I have information that after the declaration of results there were some manipulations done and I will reveal those. BJP has lost the elections. They played cheap politics. We faced the horror of the Election Commission. We are grateful to the people for this landslide victory. I have to start working for COVID-19 immediately. The swearing-in will be a low-key event because of the prevailing COVID-19 situation," she stated.

Earlier today, there were reports of Mamata winning from the Nandigram constituency. However, the counting of votes is still in the progress and Mamata was trailing by 9,862 votes.
Here are the LIVE Updates from Nandigram Assembly Constituency:
6:00 pm: Suvandu Adhikari wins Nandigram seat by a margin of over 1,700 votes
3:30 pm: EC Official trends | BJP candidate from Nandigram, Suvendu Adhikari leads by 6 votes after the 16th round of counting
3:00 pm: Once a TMC veteran, Suvendu Adhikari joined the BJP ahead of Bengal polls, challenging his former boss Mamata Banerjee's regime in the state.
2:30 pm: At Nandigram, CM Mamata Banerjee leading now
1:00 pm: "I was always telling the press that Mamata Banerjee will be CM for the 3rd time. BJP tried their best to crack but they didn't succeed. The Left has now vanished from West Bengal due to their wrong policy of taking a communal force against a communal force", TMC leader Firhad Hakim
12:15 pm: Suvendu Adhikari, BJP candidate from Nandigram continues to lead from the Assembly constituency.
11:45 am: According to a report by ABP Ananda news, the vote margin between both BJP and TMC has reduced. Now, BJP is leading the seat by more than 3,686 votes
11:25 am: As per trend, TMC has crossed the majority figure to form government in the state for the third time. However, final counting is underway.
11:00 am: Adhikari secured 23,495 EVM votes so far while Banerjee secured 15,294 votes. Counting is still underway
10:25 am: Initial trends suggest Suvendu Adhikari leading Nandigram by over 8,000 votes. Mamata Banerjee trailing.
10:15 am: Adhikari had won the Nandigram seat in 2016 on a Trinamool ticket. But the constituency has been held by Banerjee's party since 2009.
10:00 am: The trends changed shortly and the trends coming out at 10 am shows Suvendu Adhikari by a margin of over 4,500 votes.
9:45 am: Initial trends suggest that Mamata Banerjee is leading from the Nandigram seat.
9:25 am: Nandigram seat, this year, is witnessing a high-profile contest between West Bengal CM Mamata Banerjee and her former right hand Suvendu Adhikari who joined the BJP ahead of the polls in the state.
9:00 am: The counting of votes started today at 8 am across 294 seats in West Bengal.
Posted By: Talibuddin Khan