Updated: Thu, 24 Oct 2019 08:38 PM IST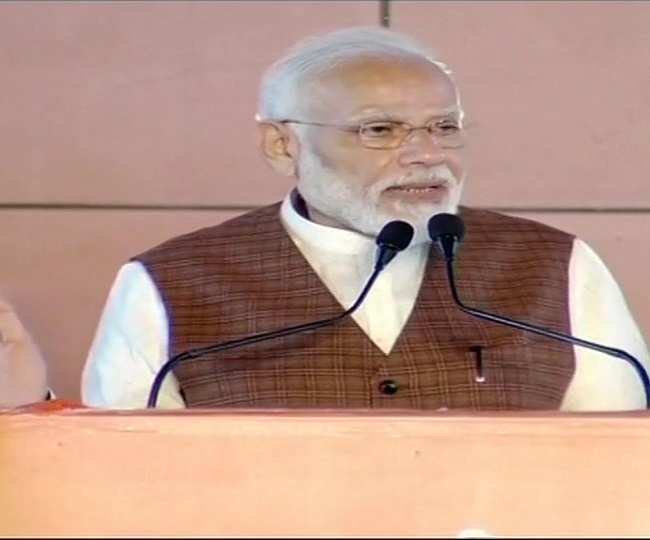 New Delhi | Jagran News Desk: Prime Minister Narendra Modi on Thursday addressed the BJP workers at the party headquarters in Delhi and thanked the people of Haryana and Maharashtra for reposing faith in Manohar Lal Khattar and Devendra Fadnavis-led governments.
"Devendra Fadnavis ji and Manohar Lal ji both were first time chief ministers, they did not even have the experience as ministers. And for five years they kept working for people's welfare and as a result people have again put their faith in them," said PM Modi during his address at the BJP headquarters in Delhi.
Also Read | BJP retains Maharashtra, Fadnavis blunts Shiv Sena's muscle flexing over CM post with '15 rebels' claim
"I would like to convey many wishes to Devendra Fadnavis ji and Manohar Lal ji's team, and I want to thank people of the country for this gift. I hope Diwali brings new light and energy into your lives," PM Modi added.
Speaking about the Assembly election results in Maharashtra and Haryana, the Prime Minister said that said that results in these two states are exceptional as there have been less instances of winning against after completing a five year term.
"The political pundits who are analysing today's election results, Haryana in itself is an exceptional win since these days there have been less instances of winning again after completing a five year term," he said.
Also Read | Congress tries 2018 Karnataka coup in Haryana as Dushyant Chautala emerges kingmaker in cliffhanger
"It is not always easy to make a comeback. We have established ourselves now," the Prime Minister added.
The Prime Minister's remarks come at a time when the BJP struggled to get a majority in Haryana where there is a hung assembly in the state.
This was a major setback for the saffron party which was expecting to get a majority in the state. As per the data available on the website of the Election Commission, the BJP has won 40seats while the Congress, led by former Chief Minister Bhupinder Singh Hooda, has won 31 seats.
Meanwhile, the Jannayak Janata Party (JJP) -- led by Dhushyant Singh Chautala -- is emerging as the kingmaker in the state by winning 10 seats. Meanwhile, Hooda -- as soon as the trends were out -- reached out to Chautala and other regional parties to keep the BJP out of power in Haryana.
Also Read | Bypolls 2019 result: BJP loses grip over four assembly seats, 'dark horse' Congress fares well in Punjab, Gujarat
"The time has come for Congress, JJP, INLD, and independents to come together to form a strong government. I assure that each one will be respected and given a respectable position," said Hooda.
However, Chautala said, "I have not had any discussions with any one. Decision will be taken only after the final numbers are out."
Now all eyes are on the JJP which has called a party meeting in Delhi tomorrow which will be followed by the national executive at 2 pm.
Meanwhile, Khattar -- despite the BJP falling short of the majority mark -- has sought time the Haryana Governor Satyadev Narayan Arya to stake claim to form a government.
Also Read | Haryana Assembly Elections | 'Save this tweet': When Deependra Hooda predicted the fall of Khattar govt
Posted By: Aalok Sensharma