Maha Govt Formation | Fadnavis sworn in as CM, Ajit Pawar his deputy; Sharad Pawar says 'not NCP's decision'
The surprise move came at a time when deliberations between Congress, NCP and Shiv Sena seemingly reached the final stage on Friday.
Updated: Sat, 23 Nov 2019 11:11 AM IST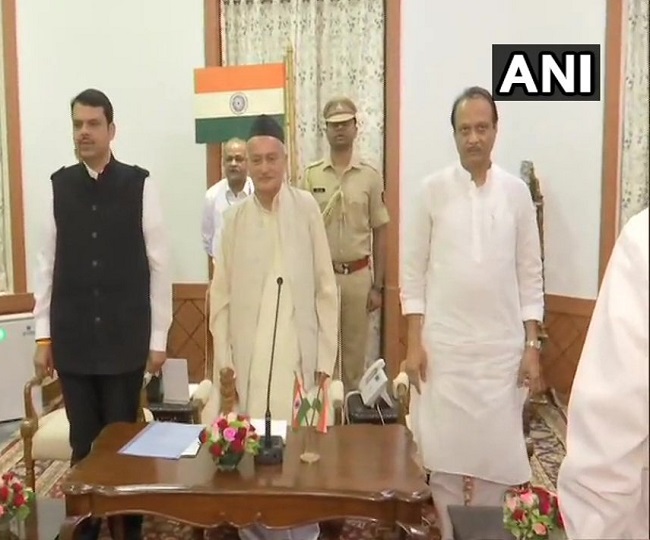 Mumbai | Jagran News Desk: The month-long political impasse ended dramatically with an unprecedented development on Saturday as Devendra Fadnavis took oath as the chief minister of Maharashtra for a second term while NCP's Ajit Pawar took oath as the deputy CM.
Governor Bhagat Singh Koshyari administered the oath to the two in the morning ceremony, where only official media was present. The big development also revoked the President's rule which was imposed in the state earlier this month.
NCP chief Sharad Pawar said that Ajit Pawar's decision to support the BJP was of his own and not of the party. He said that he got to know at 7 am in the morning that Ajit Pawar had extended support to the saffron party. Sharad Pawar has also called for a meeting of all NCP MLAs at 4.30 pm today.
"Ajit Pawar's decision to support the BJP to form the Maharashtra Government is his personal decision and not that of the Nationalist Congress Party (NCP). We place on record that we do not support or endorse this decision of his," he said.
Also Read | Maharashtra Govt Formation LIVE | 'State needed a stable govt not a 'khichdi' govt,' says Devendra Fadnavis
However, political experts are describing the move as a political masterstroke of Sharad Pawar, who on Thursday night had said there was a consensus among the NCP, Congress and Shiv Sena that Uddhav Thackeray should lead the new government.
The Congress-NCP combine had announced that it was joining hands with the Shiv Sena to form an alternative goverment in Maharashtra, with NCP chief Sharad Pawar saying that that the three parties had agreed upon Sena chief Uddhav Thackeray as the chief minister.
However, news agency ANI quoted sources saying on Saturday that Sharad Pawar was part of the deliberations between the BJP and NCP and had given assent to Ajit Pawar as the deputy CM.
"Ajit Pawar is the leader of Parliamentary board of NCP and no decision of NCP is taken without Sharad Pawar's assent," sources told ANI.
While the NCP-Congress combine was in talks with the Sena for government formation, it was reported that Sharad Pawar was being approached by the BJP to join hands to run the state.
Pawar had also indicated his party's reluctance towards joining hands with the ideologically opposite Sena. Earlier this week, he had also met Prime Minister Narendra Modi over the issue of agrarian crisis in the state.
Reacting to the development, Sena leader Sanjay Raut said that "Ajit Pawar has stabbed Maharashtra in the back and has cheated Sharad Pawar."
"Sharad Pawar is not at all related to any of these developments," he said, adding that "Ajit Pawar's body language was different in the meeting."
"Uddhav Thackeray ji and Sharad Pawar ji are in touch and will meet also today, they might also address the media together. But fact is that Ajit Pawar and the MLAs supporting him have insulted Chhatrapati Shivaji Maharaj and Maharashtra," he added.
#WATCH Sanjay Raut, Shiv Sena: Kal 9 baje tak ye mahashaye (Ajit Pawar) hamare saath baithe the, achanak se gayab ho gaye baad mein. Vo nazro se nazre mila kar nahi bol rahe the, jo vyakti paap karne jata hai uski nazar jaise jhukti hai, waise jhuki nazro se baat kar rahe the. pic.twitter.com/dL6olqXFK9

— ANI (@ANI) November 23, 2019
Earlier today, Prime Minister Narendra Modi congratulated the two leaders, saying: "Congratulations to Devendra Fadnavis ji and Ajit Pawar ji on taking oath as the CM and Deputy CM of Maharashtra respectively. I am confident they will work diligently for the bright future of Maharashtra."
After taking oath as the chief minister for the second consecutive term, Fadnavis took a jibe at the proposed Sena-NCP-Congress alliance, saying that the state wanted a stable, not a "khichdi government."
"People had given us a clear mandate, but Shiv Sena tried to ally with other parties after results, as a result President's rule was imposed. Maharashtra needed a stable govt not a 'khichdi' govt," he said.
Meanwhile, Ajit Pawar said that no party was able to form government, following which, they (NCP and BJP) decided to form a stable government.
"From result day to this day no party was able to form Govt, Maharashtra was facing many problems including farmer issues, so we decided to form a stable government," Pawar said.
Congress leader Abhishek Manu Singhvi took a potshot at his own party over the development, blaming it for the delay in finalising the deal with Sena.
"Surreal what I read about Maharashtra. Thought it was fake news. Candidly and personally speaking, our tripartite negotiations should not have gone on for more than 3 days it took too long. Window given was grabbed by fast movers," he tweeted.
With President's rule imposed in Maharashtra earlier this month, state has been facing a political crisis after the Sena broke its three-decade-long ties with the BJP after the latter declined to share the chief minister's post.
The BJP, when approached by the Governor, declined to stake claim to form government due to lack of numbers. Sena, after parting its ways with the BJP, explored options to form a government. It, however, failed to prove the support of the required number of MLAs in the time given by Governor Koshyari.
The Governor had then invited NCP -- the third largest party in the state -- to prove its ability to form government, following which President's rule was imposed in Maharashtra on Koshyari's recommendation to the Centre and President Ram Nath Kovind.
The BJP and the Sena, which fought the Assembly polls in alliance, had secured a comfortable majority by winning 105 and 56 seats, respectively, in the 288-member Assembly. The NCP and the Congress, pre-poll allies, won 54 and 44 seats, respectively.
Posted By: Abhinav Gupta