Updated: Thu, 19 Sep 2019 04:00 PM IST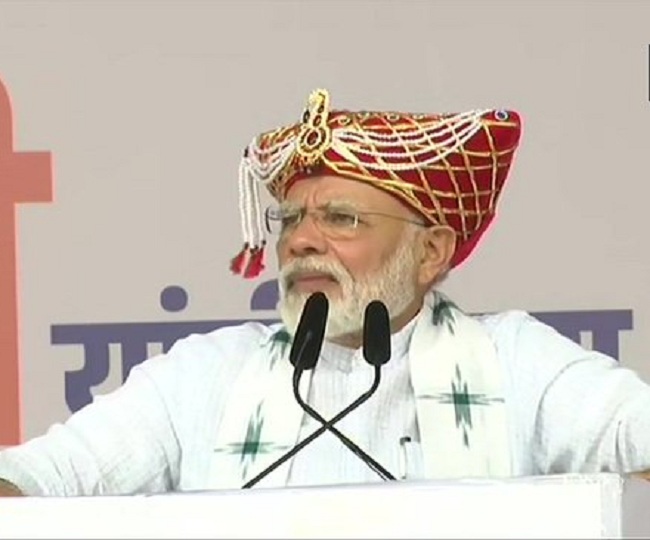 Nashik | Jagran News Desk: Prime Minister Narendra Modi on Thursday launched a scathing attack on the Congress blaming the party for the plight of Kashmiris for decades, while called for making efforts to create a "new paradise" in the Valley.
Launching the BJP's poll campaign for the next month's Maharashtra Assembly elections, PM Modi said that people of Jammu and Kashmir were "victims of bad politics" and ensured that the decision to abrogate Article 370, which gave special status to the state, will fulfil aspirations of J&K and its people.
"We have to create a new paradise (in Kashmir)... hug each Kashmiri," he said.
"The decision has been taken to save the Kashmiris from the cycle of violence, terror and separatism. They suffered for 40 years due to Delhi's (previous Congress-led governments) wrong policies and 42,000 people were killed," he said.
Also Read | Maharashtra Assembly Polls: Rift between BJP, Shiv Sena over seat-sharing, CM post
Instead of supporting the government on the decision taken in national interest, opposition leaders are making comments for their selfish political interests, Modi said
"Cattle don't vote," PM Modi said on criticism that his government's programme to vaccinate 50 crore livestock is a political move.
The national animal disease control programme is aimed at eradicating foot and mouth disease and brucellosis in livestock and vaccinating over 50 crore livestock, including cattle, buffalo, sheep, goats and pigs against foot and mouth disease.
Without naming Rahul Gandhi, Modi said the Congress leaders are making comments which are being used by other countries and terror outfits against India.
"I can understand the confusion of the Congress. But Sharad Pawar? I feel bad when an experienced leader like him makes wrong statements for votes. He said he likes the neighbouring country. But every one knows where the terror factory is," Modi said.
Presenting the report card of 100 days of the second term of his government, PM Modi said there has been "promise, performance and delivery".
"We had promised to scrap Article 370 and delivered. This decision will benefit the people of Jammu and Kashmir as well as Ladakh. We will heal the wounds of Kashmiris," he said.
"Kashmiris want new job opportunities and this sevak of yours will bring a new dawn of development. Scrapping Article 370 was a groundbreaking decision and we will turn Jammu & Kashmir into paradise," he added.
PM Modi said Maharashtra had blessed chief minister Devendra Fadnavis immensely during his yatra and had made up their mind about retaining him as their CM.
"When I came to you during Lok Sabha elections, I had told you that the pace of development will be increased; it'll be done within a time frame and I'll come to you from time to time with answers. We just completed the first 100 days and the first century is before you," he said.
"In the first 100 days, there is a glimpse of the point of view of the new India, there is the message of global power of India, there is the belief of welfare, there is efforts for development of the country's economic structure and creation of new job opportunities," the prime minister added.
On Wednesday, Fadnavis held a road show in Nashik, which covered all the three Assembly segments - Nashik East, Nashik West and Nashik Central.
All these seats are being held by BJP MLAs. The 'Mahajanadesh Yatra' has been held in phases in a bid to reach out to masses ahead of the Assembly polls.
Posted By: Abhinav Gupta