Updated: Tue, 19 Nov 2019 12:33 PM IST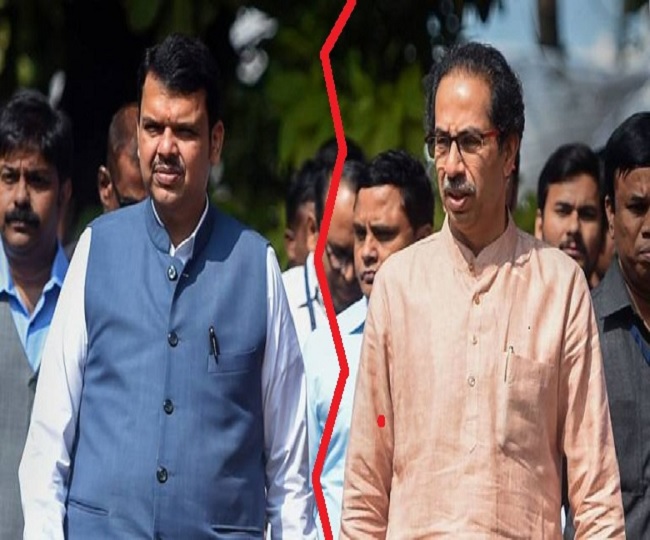 New Delhi | Jagran News Desk: Amid the tussle to form the government in Maharashtra, the Shiv Sena on Tuesday again targeted its ally, BJP, accusing them of announcing the exclusion of Shiv Sena from the NDA alliance without any discussions, as the differences between the two allies touched new low.
In its mouthpiece Saamana, the Shiv Sena said that they "supported Hindutva at a time when nobody touched it… when many of you were not even born".
"If you thought we had gone against the NDA, why didn't you have the courage to discuss it in an NDA meeting? Did the BJP seek NDA's permission before coming together with Mehbooba Mufti or with Nitish Kumar?", the Sena asked in Saamana.
Also Read: Maharashtra Govt Formation | Ramdas Athawale suggests 60:40 formula, says 'will talk to BJP if Shiv Sena agrees'
The Shiv Sena also accused the BJP of pushing them out of the NDA on the death anniversary of Balasahab Thackeray. "When everyone had gone against [Prime Minister Narendra] Modi, Balasaheb was the one who protected him. And on his death anniversary, you throw the Sena out of NDA?"
The scuffle between the two allies worsened even more on Sunday when former Maharashtra CM Devendra Fadnavis was subjected to sloganeering by the Shiv Seniks. The slogans against him were raised when Fadnavis was leaving Shivaji Park in the metropolis minutes after offering his respects to the leader. The Shiv Seniks raised slogans like, "sarkar kunauchi. shiv sena chi (whose government? Shiv Sena's)". They also raised Fadnavis' assembly poll campaign slogan, 'I will be back (as CM)' along with the Sena's traditional 'Chhatrapati Shivaji Maharaj ki jai' war cry.
The Sena also challenged the BJP to attack them as the party is ready to face all challenges, "If you have the courage, attack us. We are ready."
The Sena and the BJP contested the October Assembly polls together and won 161 seats between them before the Shiv Sena demanded equal sharing of the chief minister post which led to a stalemate in government formation.
Also Read: Maharashtra Govt Formation | 'Have not discussed alliance with any party': Sharad Pawar after meeting Sonia Gandhi
The Shiv Sena, making its exit from NDA more clear, also refused to attend the meeting of NDA constituencies on the eve of Parliament's Winter Session. The party also changed the seating arrangements of its members. They are now sitting in the fifth row on the opposition side.
Posted By: Talib Khan