Updated: Wed, 20 Nov 2019 01:31 PM IST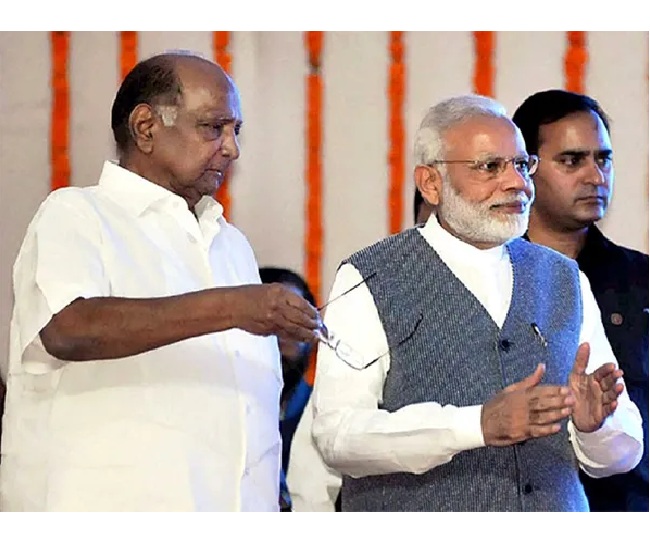 New Delhi | Jagran News Desk: Amid the ongoing discussions with Shiv Sena over government formation in Maharashtra, NCP chief Sharad Pawar met Prime Minister Narendra Modi on Wednesday afternoon in Parliament.
In a letter to the prime minister, Pawar apprised him of the problems of crop damage faced by farmers in view of the severe rainfall in Maharashtra and sought his intervention.
"I have collected data on crop damage from two districts, but damage because of excessive rains extends to rest of Maharashtra,including Marathwada and Vidarbha. I am collecting details and info regarding the same, which should be sent to you at the earliest," read his letter to the PM.
"Due to the prevalence of Presidential Rule in the state, your urgent intervention is highly necessitated. I shall be grateful, if you take immediate steps to initiate massive relief measures and ameliorate the miseries of the distressed farmers," it added.
Also Read: Maharashtra Govt Formation | NCP, Congress leaders to hold final talks on alliance with Shiv Sena today
The meeting comes on a day when senior leaders of the NCP and Congress are set to discuss the final deliberations over forming a government with Shiv Sena in Maharashtra.
Following a meeting with Congress president Sonia Gandhi's, Pawar's remarks that there was no discussion on forging an alliance with the Sena, had raised eyebrows in the political arena.
Earlier that day, Pawar had also said that the BJP and Shiv Sena had fought the elections together and "they have to choose their paths".
Interesntingly, the same, speaking in the 250th session of the Rajya Sabha, had praised the NCP, along with BJD, for "adhering to parliamentary norms."
PM Modi's praise for NCP gained significance as the Sharad Pawar-led party has emerged as a kingmaker in Maharashtra and has been approached by Shiv Sena to form an alternative government in the state.
It has been reported in the media that while negotiations between the Congress-NCP and Sena are underway, BJP is also making attempts to pursuade Pawar for government formation.
The state has been under President's rule since last Tuesday after Governor Bhagat Singh Koshyari submitted a report to the Centre, saying that none of the parties expressed willingness to for government in the state.
Sena has approached the NCP-Congress alliance to form government in the state. As per media reports, the three parties have majorly agreed upon a 16-14-12 formula with the Sena insisting on a full-term CM post along with 16 ministerial berths. In that case, NCP will get 14 ministerial berths and Congress 12, with one deputy chief minister from both the parties.
Posted By: Abhinav Gupta