Updated: Tue, 26 Nov 2019 05:08 PM IST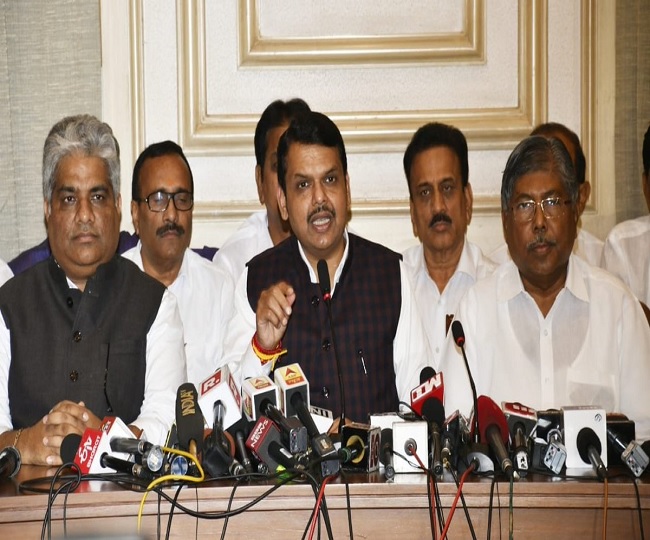 New Delhi | Jagran News Desk: After assuming office for three days, Chief Minister Devendra Fadnavis and his deputy Ajit Pawar, on Tuesday resigned from their respective posts. The resignation of the two leaders came hours after the Supreme Court ordered the parties to prove the majority in a floor test to be held on Wednesday.
Addressing the media to announce his resignation, Devendra Fadnavis lashed out on the Shiv Sena-NCP-Congress alliance and said that the three parties cobbled together to keep the BJP out of power. He also said that he was quitting as they did not have the numbers after Pawar's resignation.
Also Read: Maharashtra Coup | Fadnavis quits as CM ahead of floor test, says 'don't have numbers after Pawar's resignation'
"We now do not have the majority and hence we cannot form the government. We don't have a majority after Ajit Pawar's resignation as deputy CM," he said.
Here are the top quotes from Devendra Fadnavis' address today:
Attacking the Shiv Sena for demanding, what was not discussed between the two parties before the polls, he said, "In elections, the clear majority was given to Mahayuti and BJP got maximum 105 seats. We contested with Shiv Sena, but this mandate was for BJP because BJP won 70 percent seats out of all seats we contested. Shiv Sena told us before the election, that they will go with anyone which gives them the CM post".
"We had decided that we will never indulge in horse-trading, that we will never try to break away any MLA. Those who said that we indulge in horse-trading bought the entire horse stable," he said.
"I am afraid the government will not last long, it will fall under its own contradictions. The Sena-Congress-NCP will not be able to sustain its own burden," Fadnavis said.
"Three completely different parties whose ideologies never matched tried to create the government. Their agenda was to keep the BJP out of power."
Sena leaders yesterday took Sonia Gandhi's oath. Such helplessness for power for Sena. Congratulations on that helplessness. Only to remove BJP, they have all come together. The BJP will work as an effective opposition. We will give voice to the people. Now, this government with three wheels."
Catch all the LIVE updates from Maharashtra Coup here:
"The common minimum programme is just an eyewash. Shiv Sena's Hindutva has bowed to Sonia Gandhi", he said.
"Even an auto runs on three wheels, but if the three wheels work in three directions, then we know what happens. That is what is in store for the Sena+NCP+Congress government," he added.
He also thanked the people of Maharashtra, PM Modi and Amit Shah for trusting him and said, "I am happy and thankful to my party for trusting in me. I thank Prime Minister Narendra Modi, party president Amit Shah and woking president JP Nadda for their trust in me".
Posted By: Talib Khan