'People asking you to run govt or cook meals?': Sharad Pawar's dig at Shiv Sena's subsidised meal promise
"Are people asking you to run the state or to cook meals", Pawar questioned.
Publish Date: Sun, 13 Oct 2019 09:59 AM IST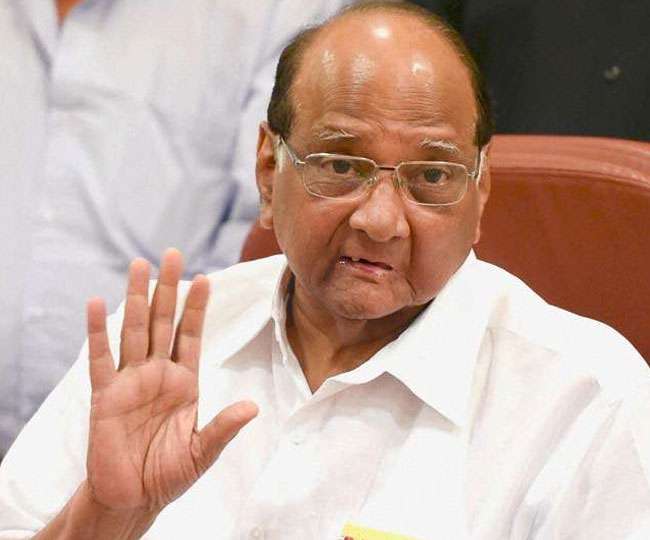 New Delhi | Jagran News Desk: The assembly elections in Maharashtra are only eight days away and the political war cry has been called by the heads of the contestants. The BJP-Shiv Sena alliance and the Congress-NCP alliance have started to attack each other.
On Saturday, NCP chief and former union minister Sharad Pawar, at a campaign rally in Solapur district lashes out on the BJP-Shiv Sena alliance and questioned the promises made by the BJP and Shiv Sena. He took a jibe at Sena's promise to provide meals at Rs 10 reminding them of the 'zunka-bhakar' introduced by Shiv Sena, which were later vanished.
The Shiv Sena has promised to provide meals for the poor at just Rs 10.
Also Read: Dragon, elephant dance only 'correct choice' for China and India: Jinping after 2-day meet with PM Modi
While speaking at the rally he said, "that in 1990, the BJP and Shiv Sena got into an alliance for the first time and started 'zunka-bhakar' centers a rural staple at subsidized rates. But nobody ever realised when these centers vanished and Sena workers grabbed the space of centers provided for them. And now these Rs 10 meal scheme", he said as quoted by news agency PTI.
"Are people asking you to run the state or to cook meals", Pawar questioned.
He also mocked the statements of Shiv Sena chief Uddhav Thackeray and Chief Minister Devendra Fadnavis that there is no fight in Maharashtra between the opposition and BJP-Sena alliance and they will win with big margin.
"The chief minister said their wrestler is ready, but there is none (to fight). But you fight with a wrestler, and not with 'such' people. If there is no strong opponent in these polls, why there is a need for nine rallies of prime minister Narendra Modi, twenty rallies of home minister Amit Shah?" Pawar said.
Also Read: Maharashtra Assembly Elections 2019: From Aditya Thackeray to Ashok Chavan, a look at major dynast candidates
"They will find out on October 24 when 'gulal' of victory will be applied to our candidate. The only answer Shah, in his campaign speeches, is offering to people's questions about unemployment, agrarian issues, women's safety and development of villages was abrogation of Article 370", Sharad Pawar said as quoted by news agency PTI.
"From morning to night, he talks about Article 370. You abrogated it, we are happy, we support it. But there is also Article 371 about north-eastern states (which, like 370, makes special provisions for those states). Why don't you remove Article 371?" Pawar asked according to news agency PTI.
He also alleged that the ruling alliance have not made any progress in the state and also questioned the chief minister's claim of providing 50,000 crore package to farmers.
"I was Union agriculture minister, I have been roaming across Maharashtra, I could not find anything (anyone benefiting). In reality, 16,000 people committed suicide during this period," he said.
Posted By: Talib Khan