Maha Govt Formation | Sena may get 16 berths, NCP 14 and Cong 12; trio to meet Governor today
According to media reports, consensus has been broadly reached upon among the three parties on a 16-14-12 formula with Sena insisting on the lion's share.
Updated: Sat, 16 Nov 2019 07:48 AM IST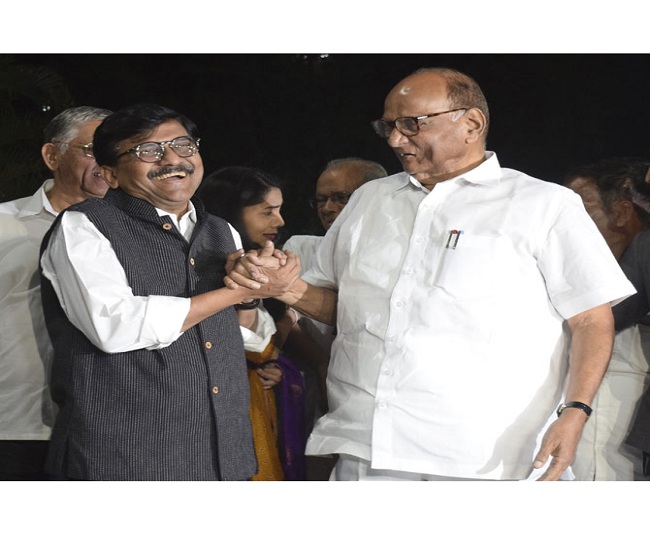 New Delhi | Jagran News Desk: In what seems to be the first concrete step that may end the ongoing power tussle in Maharashtra, the Shiv Sena, Congress and NCP are believed to have agreed upon a 40-point common minimum programme (CMP). The negotiations are underway and a final announcement can be expected by early next week.
According to media reports, consensus has been broadly reached upon among the three parties on a 16-14-12 formula with Sena insisting on the lion's share along with a full-term chief minister from the party.
If the formula is finalised, Sena will get 16 cabinet members, NCP 14 and Congress 12. Both the NCP and Congress will get one deputy CM each in the new government. The Speaker, in that case, will be likely from the Congress while the deputy will be from Sena.
NCP chief Sharad Pawar said a Shiv Sena-NCP-Congress government will be formed and it will complete five-year term as he ruled out the possibility of mid-term polls in Maharashtra which is currently under Presidents rule.
Earlier in the day, Congress leader Nawab Malik's remarks on queries over the next chief minister indicated that the three parties have reached upon an agreement, with Sena managing to get the top post.
"Questions are being repeatedly asked whether the next CM will be of Shiv Sena. CM post was the reason behind the tussle between BJP and Sena, so it's obvious that the CM will be from Shiv Sena. Sena has been insulted (by the BJP), it is our responsibility keep their pride," Malik was quoted by ANI as saying.
It is also reported in the media that while Sena is adamant on chief ministerial post for five years, the NCP may propose for a 50-50 sharing of the top post.
News 18 quoted a source saying that Congress does not want to give an impression that it had gone soft on Sena. Instead, it wanted to convey that Uddhav Thackeray-led party had approached it. The source further said that between NCP and Congress, the UPA allies want six ministries, including revenue, urban development and home.
"Shiv Sena has staked claim for the CM's post. It is not clear if it will be for five years or it will be for by rotation for two and half years, or it should be for an equal period among Congress, Sena and NCP," a senior Congress leader was quoted by Times of India as saying.
Addressing the media on Friday, Sena leader Sanjay Raut said: "We want the chief minister from Shiv Sena for the next 25 years, why only think about next five years."
The major development comes three days after President's rule was imposed in Maharashtra after Governor Bhagat Singh Koshyari sent a report to the Centre stating that formation of a stable government was impossible in the current situation despite all his efforts.
After the BJP declined the proposal by the Governor to stake claim to form government, Koshyari asked Sena -- second largest party in the state -- to express its willingness to form government.
Sena on Monday claimed that the NCP and Congress have agreed "in-principle" to back its government without the BJP in Maharashtra but failed to get letters of support from the political rivals before the deadline set by the Governor who rejected its plea for three more days to do so.
Posted By: Abhinav Gupta